Dr Sean Jenkins, Principal Innovation Fellow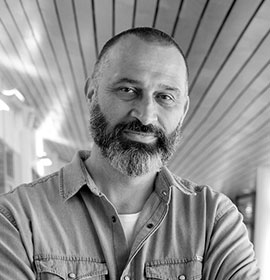 Dr Sean Jenkins' key research interest is the application of Infrared Thermography to the study of user experience during human-product interaction. 
Sean's PhD and published research has established that psychological activity during different levels of product interaction evokes autonomic physiological responses, which are manifest in the vasodynamics of the human forehead and observable as temperature changes that can be captured and analysed using thermal imaging. 
Sean's work demonstrates that Infrared Thermography offers a viable non-contact objective measurement technique that may be used as a research tool to understand and predict user experiences during product interaction.
Sean's experimental work has successfully used triangulation between thermal imaging, frontal Electroencephalogram (EEG) and subjective measures to identify and measure tonic and phasic cognitive and affective states during simulated human-product interaction. 
The findings suggest that specific 'types' within a sample population may be identified using the differential of forehead temperature asymmetry, which was shown to be associated with underlying asymmetry in frontal EEG activity, a recognised marker of affective traits and states. 
This imaging modality has potential applications within the field of user experience and product design and is also applicable to other research fields including Psychophysiology, Psychology and Healthcare.
In addition to this, Sean's academic and professional research interests include all facets of Product Design (Theory and Practice) with specific teaching and research specialism in Computer Aided Design (2D Sketching to 3D Surface Modelling, Visualisation and Prototyping) and Human Factors (Product Interaction and User Experience).
Tel: 01792 481242 (ext 3242)
E-mail: sean.jenkins@uwtsd.ac.uk