Sgwâr y Cynulliad 3, Bae Caerdydd, CF10 4PL
The Welsh Cancer Network, on behalf of the Cancer Implementation Group in Wales is convening industry colleagues to share a briefing on the landscape of the current challenges, strategic direction, research, interventions and opportunities for collaborative innovation.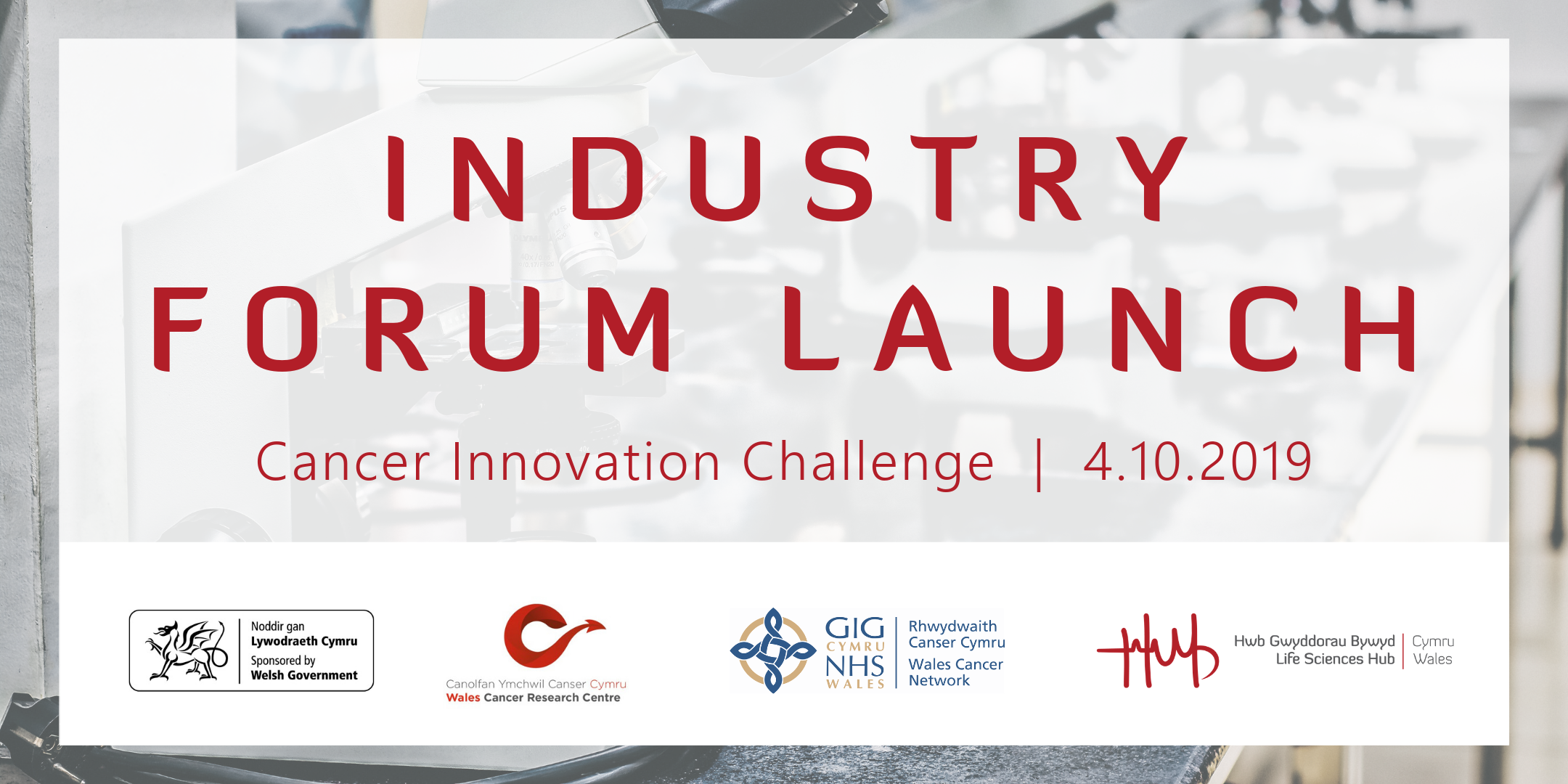 The group, with the Welsh Cancer Research Centre and Life Sciences Hub Wales have come together to deliver a series of activities, kicking-off with this Industry Forum Launch on 4 October. Book your place to attend here 
We will also be introducing our next collaborative event, the Cancer Innovation Challenge, taking place on 28 and 29 November. Over two days, participants have the chance to work intensively on creating solutions to pre-proposed challenges from those involved in cancer research and care, the solutions to which might come through collaboration with you or colleagues in industry. 
The wonderful Tenovus Cancer Care choir will be joining us for a performance and there will be a charity bake sale, with money raised will being between Macmillan Cancer Support and Tenovus Cancer Care.
For those who wish to join after lunch, the Public Health Wales Screening Division (PHWSD) will provide details of their digitised data systems and their possible applications in two services, Breast Test Wales (BTW) and Diabetic Eye Screening Wales (DESW). PHWSD are particularly interested to explore how artificial intelligence (AI) can be applied to assist challenges affecting these two services around increased demand and reduced capacity due to workforce challenges. An outline of the work of PHWSD and a more detailed description of the collaboration can be found in this paper shared by the Division. Industry colleagues are invited to develop and deliver a short pitch for how your company would like to work in partnership with PHWSD to use this data to further develop world class services.
See the full agenda below and register to be a part of this opportunity to create relationships between key representatives in both industry and the cancer research and care systems in Wales.
Should you have any questions, please contact the Life Sciences Hub Wales events team on events@lshubwales.com who can handle or direct your enquiry.
EVENT AGENDA
Welcome – 9am

Setting the scene in Wales: Small nation, large opportunities

(Tom Crosby, Welsh Cancer Network)

Innovation case studies

(Steve Conlan – Welsh Cancer Research Centre)

Priorities for industry: How can Wales help deliver industry ambitions?  Questions and discussion with the floor to understand industry priorities and where opportunities to collaborate might exist.

An introduction to the Cancer Innovation Challenge event

Summary of discussions and how we move forward

Tenovus Choir

Lunch and networking

Overview from Public Health Wales Screening Division on data and strategic direction

 

- Breast Test Wales (BTW)

 

- Diabetic Eye Screening Wales (DESW)

Close - by 3pm