Cornerstone, Charles St, Cardiff CF10 2SF
Join us for Life Sciences Hub Wales' second event in the HUB SPARKS series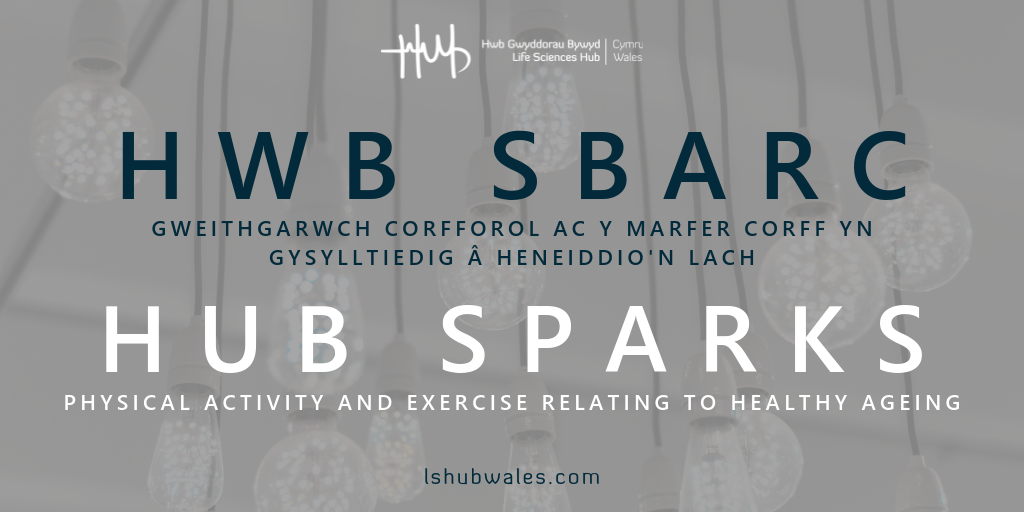 Rising life expectancy and falling birth rates mean populations around the world are getting older.
As the population grows older across the UK, there are growing pressures on health and social care services. With over 800,000 people living in Wales aged 50+ and set to rise to 1 million+ in the next 20 years, the healthy ageing agenda has never been more pertinent.
About HUB SPARKS
HUB SPARKS is an event series aimed at bringing together academia, third sector, industry and health and social care working in the area of healthy ageing to understand the issues facing older people and their health and social care needs, now and in the future.
Speakers
This workshop will hear from Dr Joanne Hudson (Associate Professor, Sports Science at Swansea University) on the challenges of promoting physical activity with older adults; how and why we can overcome them. She will be joined by PhD students, Rachel Knight and Taylor Waters.
HUB SPARKS is a series of events fostering multidisciplinary discovery around the key challenges facing our health and social care systems in Wales and beyond. Bringing together academics, health and social care, third sector and industry to discuss key questions and explore ideas and strategies. The events include participatory workshops with opportunities to voice opinions and knowledge on innovative solutions, services and products that could potentially address these challenges. HUB SPARKS will focus on areas such as healthy ageing, AI and data, precision medicine, and bringing care closer to home.
The first set of workshops shines a light on the issue of healthy ageing; taking an ecological approach to health in later life to understand the environment where older people live, work and play, covering areas such as: Age friendly communities, loneliness and isolation, physical activity, dementia support, falls prevention, health inequalities and opportunities for learning and employment.
If we are to achieve the UK Government's ideal for people to 'add five more years of healthy, independent life in their own home by 2035, whilst narrowing the gap between the experience of the richest and poorest', we need to consider the wider determinants of health, such as work, homes, built environment and social connections in addition to health and care innovations.