Looking to know more about the educational opportunities on offer at the Welsh Intensive Learning Academies?
Sign up and drop into our online recruitment fayre at a time that suits you on 9 June!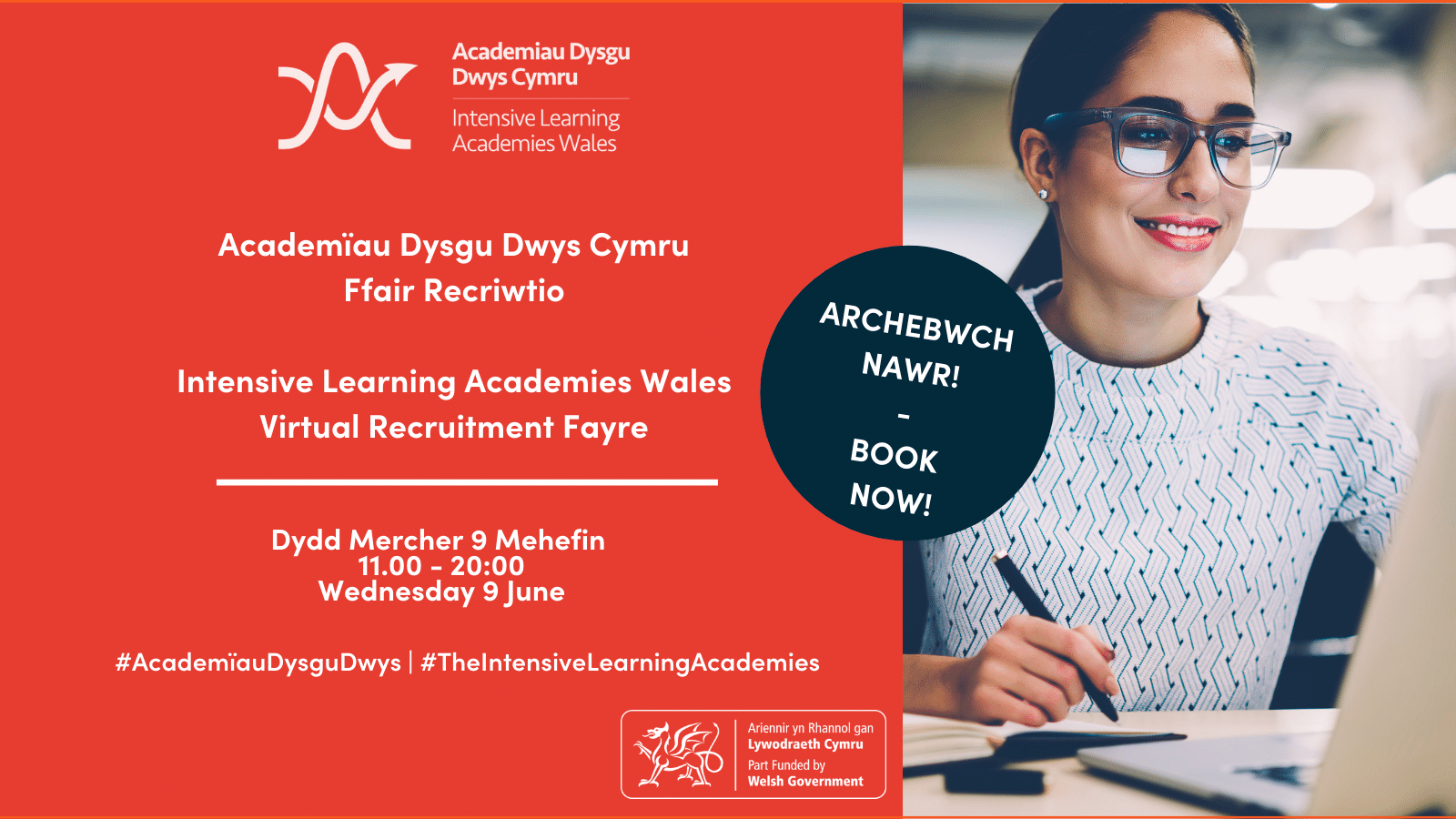 The Intensive Learning Academies (ILAs)  based at prestigious universities across Wales, are supporting the transformation of health and social care across the globe, through Education, Research and Consultancy. 
This open day style event on 9 June is your chance to learn more about the courses, as well as to speak to representatives from each of the academic institutions who can answer questions on the Academies, the courses, and give advice on next steps. You can also find out about the WG ILA scholarship programme for these courses for people working in the NHS, Social Care or Third Sector in Wales, but you need to hurry as some of these scholarships close on 18 June. 
Agenda 
At five points throughout the day, we will host a 50 minute session comprising an overview presentation introducing the Intensive Learning Academies Wales, followed by 20 minute breakouts where you will be able to speak to a representative from the Academy hosting a course you are interested in finding out more about. 
Session 1: 11am to 11.50am
Session 2: 12pm to 12.50pm
Session 3: 5pm to 5.50pm
Session 4: 6pm to 6.50pm
Session 5: 7pm to 7.50pm
Each session will feature the same content and line-up. Therefore, guests only need attend one session. 
Sign-up here to reserve your spot and gain access to the event
Privacy note: Due to the nature of the Intensive Learning Academies Wales and this event as a joint venture led by Bangor University, Swansea University, and Life Sciences Hub Wales, personal details provided on sign-up will be made available to all three organisations to deliver the event and deliver follow-up communications related to Intensive Learning Academies Wales.
There are three Academies, each offering degree level courses with a distinct focus:
ALPHAcademy - Supporting the push towards prevention by focusing on how it can be delivered in practice. ALPHAcademy is delivered by Bangor University and has been developed in partnership with the Betsi Cadwaladr University Health Board to produce leaders who can play a key role in supporting the transform of systems and organisations to ensure prevention takes centre stage.
Courses:
MSc Preventative Health and Health Equity
PG Certificate Preventative Health and Health Equity
PG Diploma Preventative Health and Health Equity
All-Wales Intensive Learning Academy for Innovation in Health and Social Care – a new world-class teaching and research base at Swansea University to equip existing and future leaders with the ability to deliver innovation across health, social care, and the third sector. 
Courses:
MSc Advanced Health and Care Management (Innovation)
Value-Based Health and Care Academy  - Swansea University offers courses supporting current and future leaders  from across global health, social care, and life science industries to adopt Value-Based Health and Care within their individual organisations successfully. In addition to its executive education programme, it offers
Courses:
Doctorate of Business Administration (DBA) with a focus on Value-Based Health and Care
MSc Advanced Health and Care Management (Value-Based)
Short course, Executive Education focusing on Value-Based Health and Care