-
PAST EVENT
As part of our work supporting health and social care in responding to Covid-19, Life sciences Hub Wales hosted this online event in partnership with Shared Services on Personal Protection Equipment.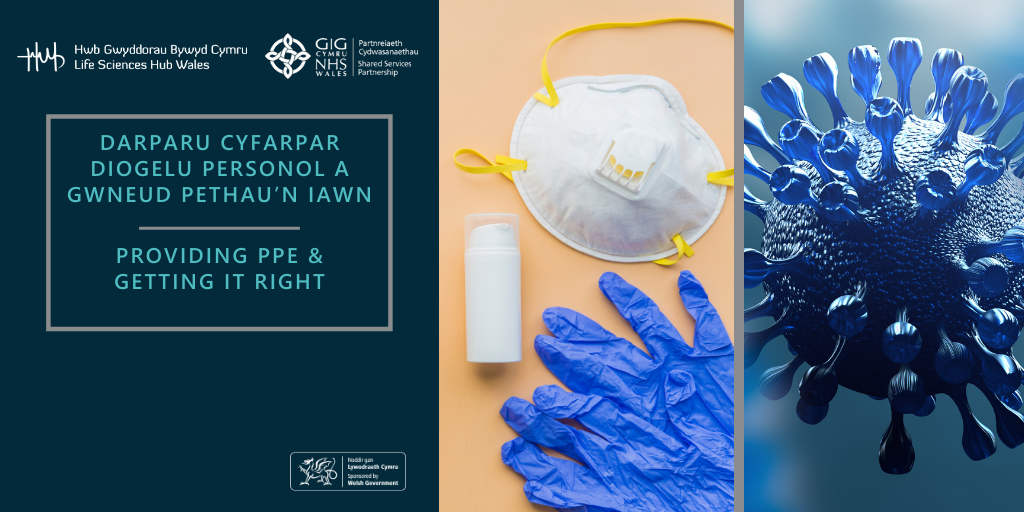 The purpose of the event was to provide a clear understanding of what correct Personal Protection Equipment (PPE) is to help frontline staff working with those infected with Covid-19. The event featured key personnel outlining the specifications and regulations which need to be met for PPE equipment to be manufactured, procured and used.
The event was chaired by Chris Martin, Vice Chair, Life Sciences Hub Wales, with guests from Wales NHS Confederation, NHS Wales Shared Services Partnership and Surgical Materials Testing Laboratory. In addition, Lorenzo Angelucci, CEO, Transcend Packaging was invited to share his experience of going through the required procurement and validation processes to be certified to supply to the NHS.
Delegates were invited to participate by submitting their questions when registering for the event. Questions touched on a range of topics from PPE quantities, the certification process, the procurement process, including the triage role provided by Life Sciences Hub Wales.
Specialists were able to give explanations in response to the range of questions on UK regulatory requirements both for the procurement and donation of PPE items to frontline workers. NHS Wales Shared Services Partnership provided a summary of what PPE is currently required for frontline workers, as well as how much has already been distributed across Wales to health and social care staff. Lorenzo Angelucci provided an insight to participants by talking through the journey of his company to meet the requirements from his initial enquiry to supply.
If you would like to hear more from the event, please listen to the latest edition of our Healthy Thinking podcast which reports on the event.