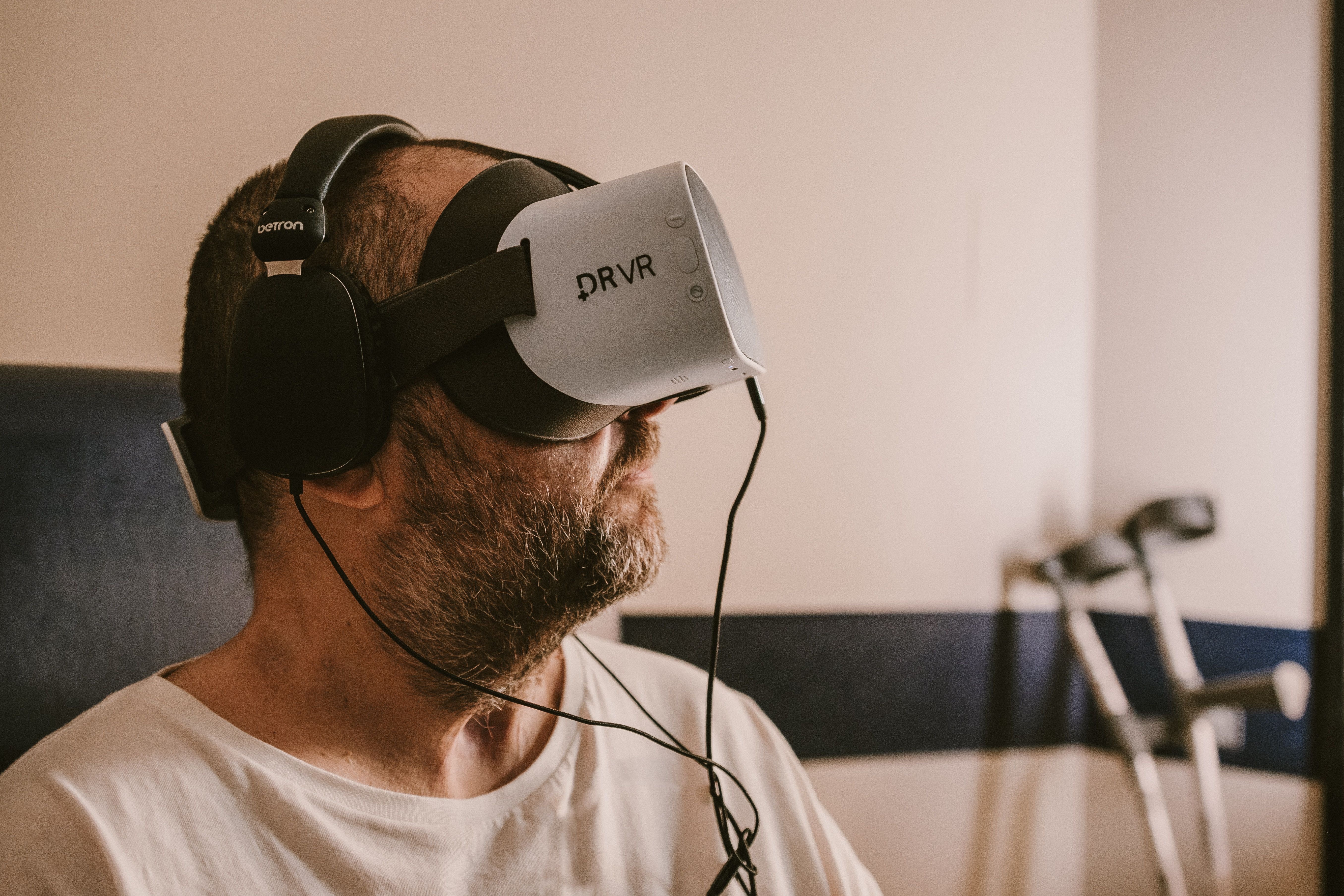 Project overview
Virtual reality (VR) enables users to interact with a 3D virtual world, in a safe, real-time environment. It is increasingly being used in the field of healthcare, to enhance the experiences of both patients and staff. Rescape Innovation Limited are pioneering the use of VR in healthcare to reduce pain, anxiety and improve the patient journey.
They have established a Virtual Reality (VR) platform, called DR.VR™, that has been used successfully in the NHS, Care homes and Hospices. This platform has also been used to help reduce anxiety and stress in frontline care staff, as well successfully training empathy and other emotional skills in blue light services. With the emergence of COVID-19 the requirement for robust infection control measures has become increasingly paramount.
This project was focused around the development of the infection control protocols needed for the successful deployment of VR within healthcare settings.
Accelerate's involvement
Accelerate supported this project with Rescape through multi-partner input from the Assistive Technology Innovation Centre (ATiC [University of Wales Trinity St David]) and the Cardiff Innovation Accelerator (CIA [Cardiff University]).
ATiC undertook a usability study in order to:
Establish infection control challenges during deployment of DR.VR™ across a range of uses
Evaluate the effectiveness of the new infection control protocol material designed and produced by Rescape.
CIA's role included supporting:
 Access to an infection control specialist
Identification of relevant medical device/ infection control regulations
Implementation of infection control guidelines suitable for the DR.VR™ technology
Exploring the efficiency of relevant products in controlling the spread of infection when using the DR.VR™ technology
Outcomes
The development and implementation of new infection control protocols and service provision for the DR.VR™ platform.
Potential to unlock further development and sales of new products and content for new applications within the NHS, care homes and private clinics.
Increased market penetration and revenue leading to an employment increase in highly skilled jobs.
Peer reviewed publications and case studies
Future impact
Future collaborations between industry, academic, and clinical partners
Long term benefits to healthcare staff and services through the improved management of stress and anxiety in frontline staff
Improved well-being across the health and care sector in Wales, whilst aligning with the principles of Prudent Healthcare and A Healthier Wales
Company growth through an increasing market demand,
A VR platform that could act as an infection control model beyond Wales
Rescape, ATiC and CIA will use the outputs of this initial phase of work to explore further project opportunities.
This project is part of the Accelerate programme which is part-funded by the European Regional Development fund, through Welsh Government.