Green Impact is a United Nations award-winning programme that is designed to drive environmentally and socially sustainable practices within organisations.
Cardiff University is one of many worldwide organisations signed up to this programme. It which focuses on bringing together staff and students from diverse backgrounds to deliver behaviour and positive environmental change.
The Clinical Innovation Hub, which is home to the Clinical Innovation Accelerator (CIA), a partner of the Accelerate programme, and situated within Cardiff University's School of Medicine, began its involvement with Green Impact in 2019. In addition to engaging with Cardiff University's Environmental Sustainability Strategy, the Green Impact programme has provided an opportunity to contribute to the Accelerate programme's cross-cutting themes. These are as follows:
equal opportunities
gender mainstreaming
sustainable development.
Cross-cutting themes Accelerate group
An all-partner working group has been set up within the Accelerate programme, with the goal of improving Accelerate's action toward championing sustainable development, social exclusion and tackling poverty, and promoting equal opportunities for all. This is through work with project beneficiaries, support of internal staff members, and engagement with the wider community in Wales.
Despite the impact of Covid-19 the Clinical Innovation Hub achieved a Bronze Award with honours in the 2019-220 academic year.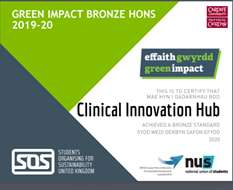 There have been further delays to the 2021 Green Impact Programme launch, but the Clinical Innovation Hub Green Impact Team have recently begun work on this year's submission.
With a new focus on home working and the embedding of the United Nation's 17 Sustainable Development Goals. this year's programme has delivered many exciting changes. From our  team,  it has emphasised the importance of sustainable practices, and what we can learn from each other to support improvement work.
This year's submission (2nd June) from the Clinical Innovation Hub is for a Silver Award to demonstrate our progression.