A Welsh manufacturer, which is on a mission to tackle the world's growing personal protective equipment (PPE) waste problem, is set to expand its global presence after securing its first export deals in Australia and Canada.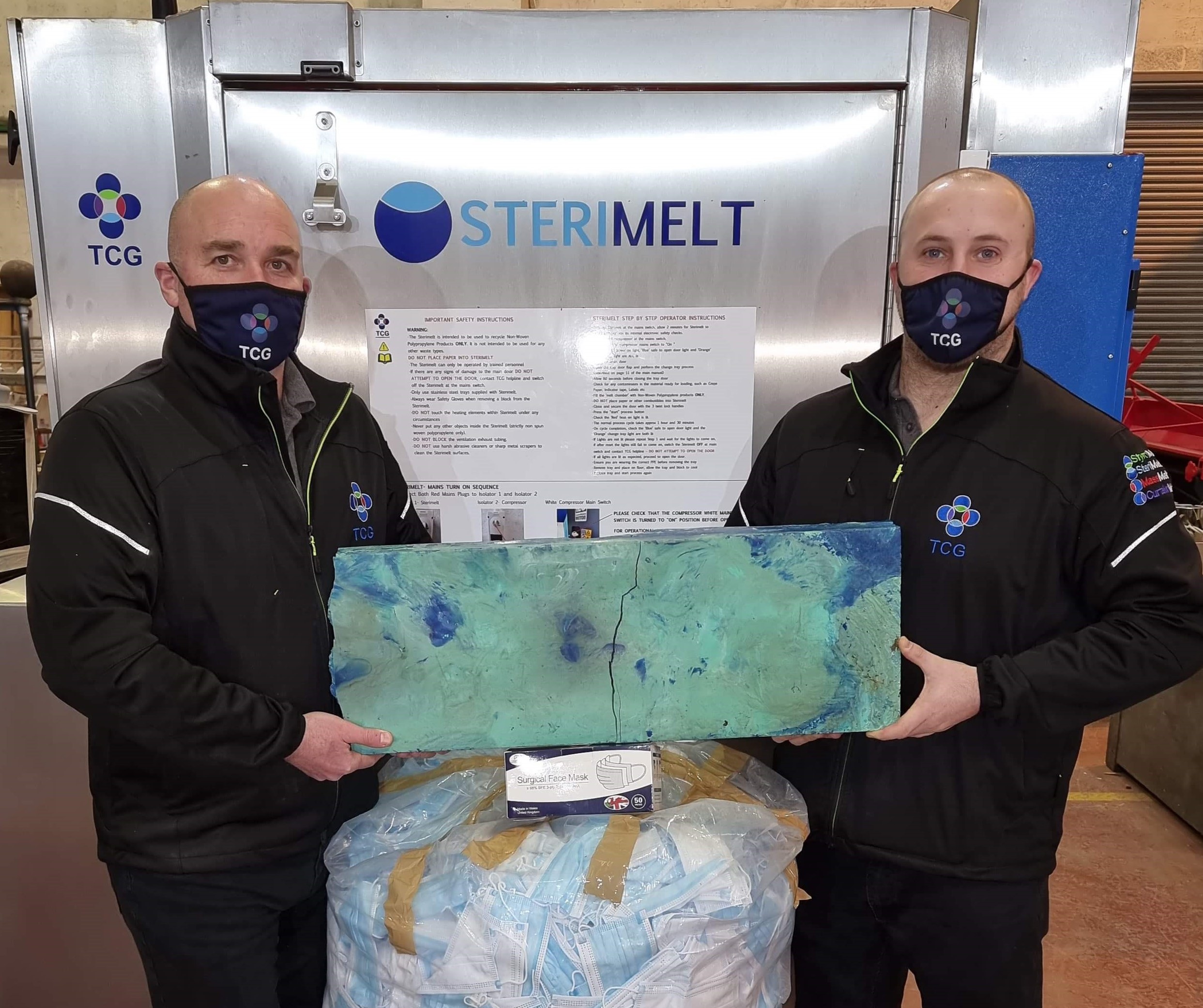 Cardiff-based Thermal Compaction Group (TCG) specialises in the manufacture of innovative technology used to recycle single-use, disposable plastic PPE, including surgical tray wraps, drapes and medical-grade face masks. The company was one of the first in the world to develop the new technology and has seen interest in its recycling solutions soar in light of the pandemic. 
Earlier this year, it unveiled its patented 'Sterimelt' device, which thermally compacts polypropylene at 350°C and re-engineers it so that it can be used to make new plastic products. Following initial success in the UK, with the device being rolled out to hospital trusts across England and Wales, TCG is now looking at expanding into international markets.
The company has just signed deals to export the Sterimelt to leading industry names in Australia and Canada, agreeing contracts to supply over 100 of the devices to Australian waste management firm, 180 Waste Group, as well as Vancouver-based Alternative Recycling, and Advanced Extraction Systems, located on Prince Edward Island. The firms, which are TCG's first clients outside of the UK, will distribute the product across the health and social care sectors in both regions.
Research estimates that, since the start of the Covid-19 outbreak which began last year, over 129 billion face masks are used globally every month, the majority of which are made from single-use plastic, leading to a significant amount of waste going to landfill. 
TCG is confident that its device could help to tackle this global problem and play a key role in helping countries across the world reduce their PPE waste. 
Following its initial deals in Australia and Canada, the company is now looking to further expand its international client base, with plans to also enter Africa and develop its European markets.
Mathew Rapson, Managing Director at Thermal Compaction Group, said:
"PPE waste is very much a global problem and securing these new international partnerships is the first step in achieving our goal of preventing as much plastic as possible ending up in incineration, landfill or in our oceans and rivers. PPE is of course still very much an essential part of protecting people during the pandemic, but it's essential that these products are used sustainably. 

As both an innovator and manufacturer, we are continually working on new developments and ways to provide solutions to the global waste issue currently facing us. Exporting our equipment will exponentially increase the recovery of single use plastics worldwide and therefore help the planet, whilst supporting the adoption of 'resource recovery' solutions for the world."
Commenting on the global success and innovation of the TCG, Cari-Anne Quinn, CEO, Life Sciences Hub Wales, said:
"The technology created by TCG is ground-breaking, and we're proud to share another example of the brilliant innovation and dedication we are seeing from the life sciences industry in Wales. 

The global response and uptake to this made-in-Wales technology is incredible, and we hope to see TCG continue to grow and innovate new solutions to combat the mass waste generated from the pandemic and tackle the ongoing environmental crisis."
Wales' Economy Minister, Vaughan Gething said:
"As a government, we want to build a stronger, greener economy here in Wales. In our ambitious five-year programme for government, we have a clear focus on sustainability and developing the industries of the future. So it's great to see a Welsh business like TCG starting to export its recycling equipment, which could help solve a real and growing global waste problem resulting from the pandemic." 
Welsh company unmasks solution to global PPE waste problem
TCG and Hardshell recently took part in our Innovation Stories, find out more about their solution to the global waste problem here.
You can watch the video on their partnership below:
Tell us about your innovation
If you have an innovative project or idea and are looking to elevate your work programme, tell us more about it via our Innovation Enquiry Form.