Life Sciences Hub Wales offers its warmest congratulations to Hywel Dda University Health Board as winners of the MediWales Innovation 'NHS Wales Collaboration with Industry' Award.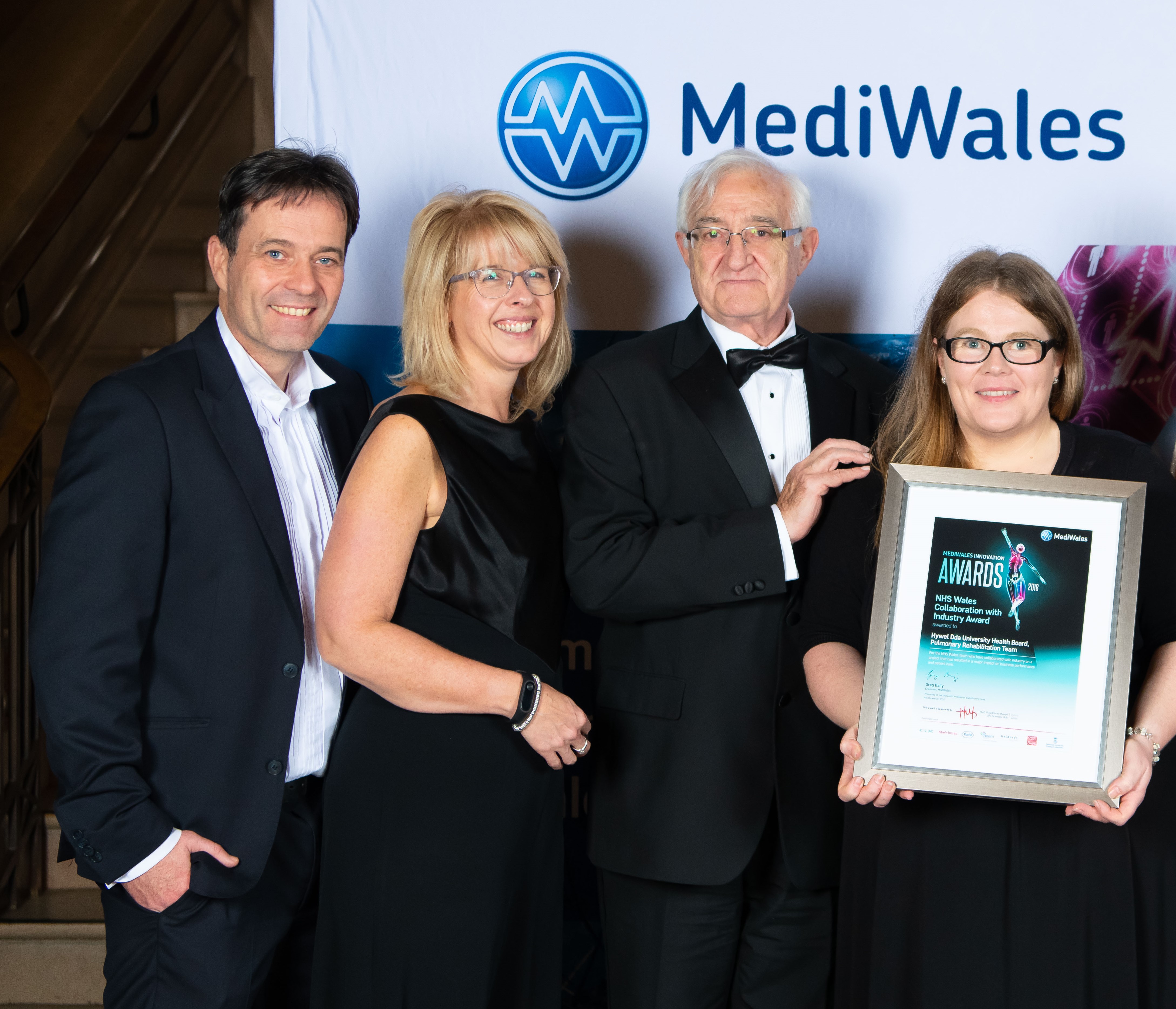 Photo (from Left to Right): Prof. Keir Lewis, Cari-Anne Quinn, Prof. Sir Mansel Aylward, Michelle Dunning. Photo by Matthew Horwood.
As sponsors of the Award, Life Sciences Hub Wales are delighted that the innovative health solution that Hywel Dda University Health Board primary care and the pulmonary rehabilitation team has developed and implemented. As part of the Bevan Commission's Exemplar programme, the team has been working in partnership with the Bevan Commission and industry partners Comcen and Polycom and as a result, has dramatically improved the rehabilitation, functioning and wellbeing of patients with chronic lung conditions across Wales.
The 'NHS Wales Collaboration with Industry' award is closely aligned with the aims of Life Sciences Hub Wales, highlighting and valuing collaboration between health and industry that leads to improved patient outcomes, experience and resource efficiency.
The collaboration led to the development of a Virtual Pulmonary Rehabilitation (VIPAR) service that uses video-conferencing to connect a standard rehabilitation service to local village halls and independent living centres, spanning an area that covers one-third of Wales. This has resulted in the delivery of a service that was more cost-effective, safe and more accessible for patients.
Michelle Dunning, Senior Primary Care Locality Development Manager (north Ceredigion) and Project Manager for VIPAR (Virtual Pulmonary Rehabilitation), said: "The team are delighted to have won this award. Our project has demonstrated that technology can enhance service delivery especially in rural areas to benefit our citizens".
"Working with the Bevan Commission and in partnership with industry has brought the concept of virtual service delivery to life. The support from Matthew Sims (Comcen) has been invaluable throughout the project. This really was true collaboration by all involved in the development of the VIPAR service".
Over 300 guests attended the MediWales Innovation Awards Dinner to celebrate the achievements of the NHS, life science and health technology communities. With ten awards across industry and NHS categories, the awards offer a platform to identify outstanding achievements in the life science sector in Wales.
Professor Sir Mansel Aylward CB, said: "I am delighted to have presented the 'NHS Wales Collaboration with Industry' award on behalf of Life Sciences Hub Wales to Hywel Dda University Health Board's pulmonary rehabilitation team supported by the Bevan Commission and working in partnership with Comcen and Polycom.
"This initiative capitalises on collaboration, innovation and technology in full measure by delivering safe, effective and prudent rehabilitation services closer to people's own homes and where none existed previously. VIPAR has most certainly led to improved patient outcomes and experiences with an improved utilisation of resources."
Find out more about the positive impact of VIPAR on patients.