Earlier this month, Professor Sir Michael Marmot visited Life Sciences Hub Wales for a series of meetings with senior Welsh Government officials and to lead a morning seminar for health and social care leaders in Wales.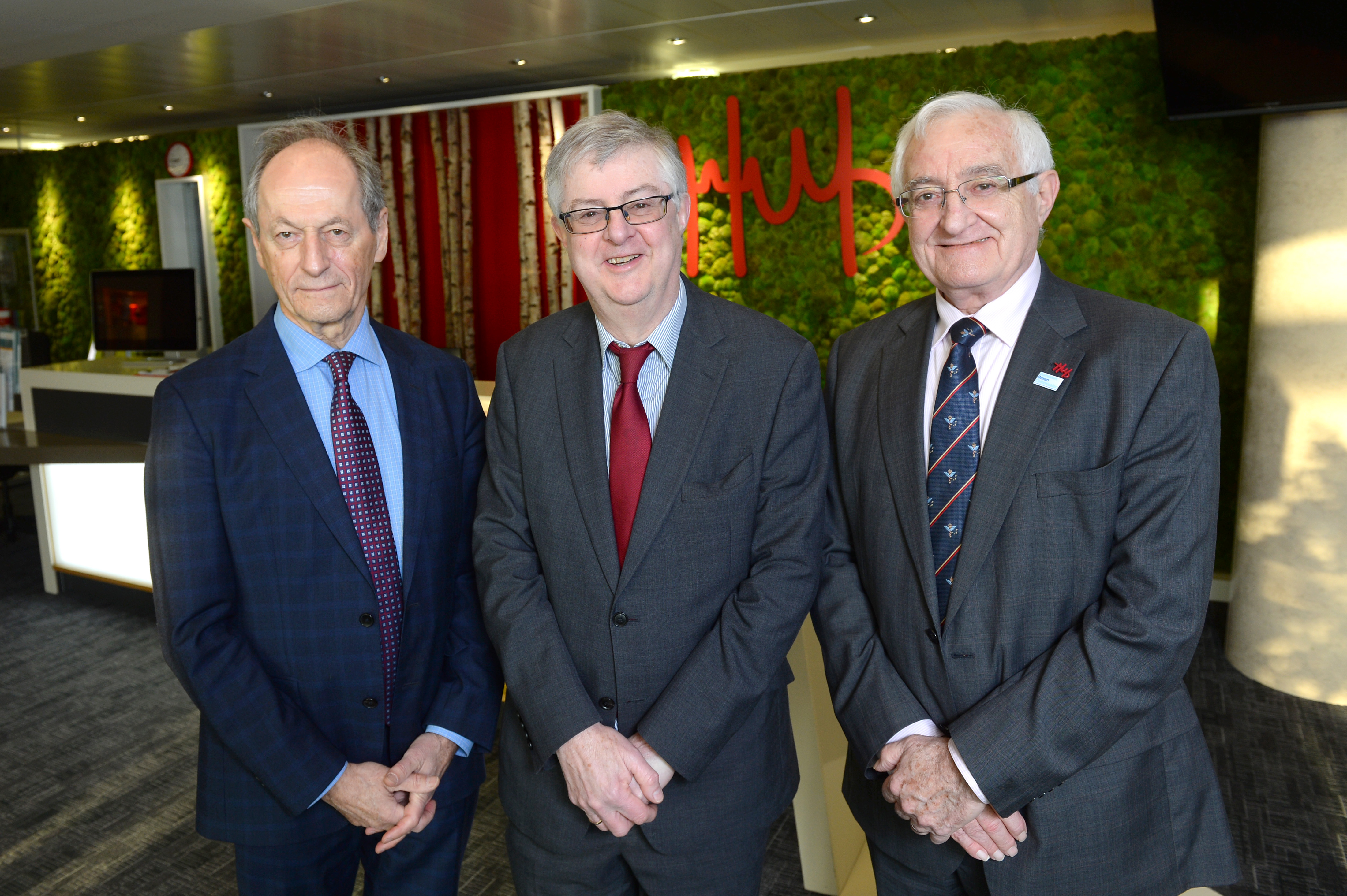 In meetings with First Minister Mark Drakeford AM, Health Minister Vaughan Gething AM and Dr Andrew Goodall, Director General, Health and Social Services and Chief Executive, NHS Wales. Sir Michael shared from a lifetime's work his insights on the cause, effect and challenges of health inequalities across the world.
In a morning seminar, run in collaboration with the Bevan Commission, Sir Michael presented both his findings and recommendations to an audience of healthcare professionals, academics, charities and industry leaders.
Commenting on the unprecedented decline in life expectancy in deprived areas on a global level – as well as the impact of education, crime and housing on health and wellbeing – Sir Michael asked: "How can people eat healthily and be well, if they have to make a choice between paying for food or heating their homes?"
Several guest contributors responded to Sir Michael's address with their personal reflections and work being taken forward in Wales to tackle health inequalities. These included: Dr Frank Atherton (Chief Medical Officer for Wales), Dr Jyoti Atri (Interim Director of Health and Wellbeing at Public Health Wales) and Len Richards (CEO of Cardiff & Vale University Health Board).
Sir Michael provided challenging insights, including "29 per cent of children growing up in poverty in what is arguably the richest country in the world", with one US city having "a difference in life expectancy of 20 years between the richest and poorest neighbourhoods. 
However, he also praised the "glimmers of light – those working hard to support people in poverty" and advocated for widespread adoption, six Marmot Principles to improve – and eventually – eradicate health inequalities:
Give every child the best start in life

.
Enable all children, young people, and adults to maximise their capabilities and have control over their lives.
Create fair employment and good work for all.
Ensure healthy standards of living for all.
Create and develop healthy and sustainable places and communities.
Strengthen the role and impact of ill health prevention.
Sir Michael closed his presentation with a call to arms: "We need evidence-based policy, presented in a spirit of social justice. It's not rocket science - it's better than rocket science. It's taking evidence that makes sense and its getting people to work together to make a difference". Sir Michael called for urgent action to address the social injustice of health inequalities that are "killing on a grand scale".
For further details, read this piece from the Bevan Commission Opinion series: 'Addressing Health Inequalities in Wales' and watch the video compilation from the morning seminar here.