Surgical teams in Bangor and Cardiff are celebrating a major milestone after recently completing their 100th robotic operation.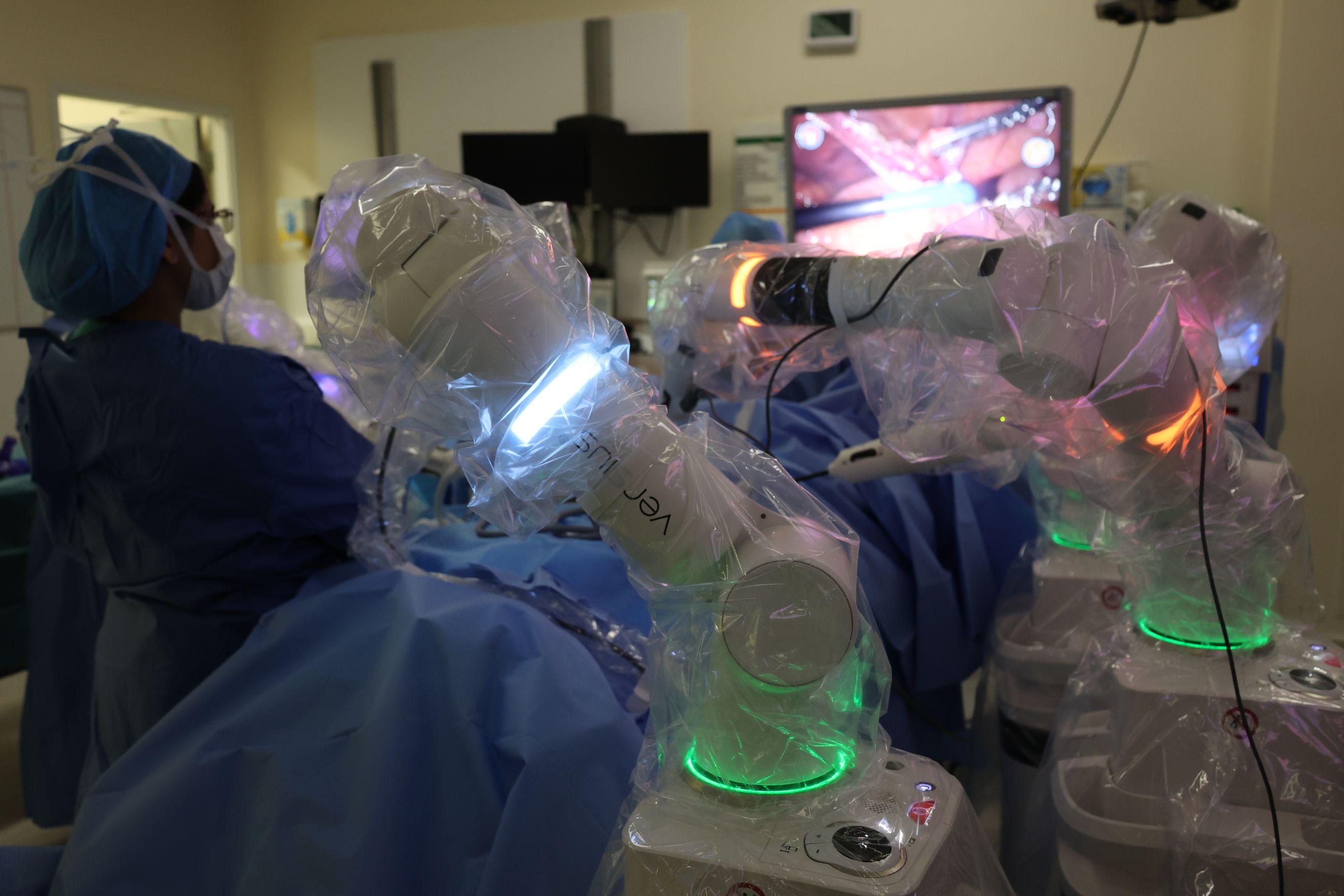 The National Robotic Assisted Surgery Programme was introduced by the Welsh Government to improve outcomes for cancer patients by increasing the number of patients across Wales who have access to less-invasive, minimal access surgery (MAS). MAS offers well-recognised benefits to the patients, when compared to open surgery, including reduced pain, scarring and recovery time.  
Over the last year, CMR Surgical's Versius has been used to treat colorectal and gynaecological cancer patients at Ysbyty Gwynedd in Bangor and The University Hospital of Wales in Cardiff.  
Having been diagnosed with mid-rectal cancer, Raymond Leyshon, 62, was the 100th person to undergo Colorectal surgery in Wales using the Versius robot.  
Talking about his experience of surgery at the University Hospital of Wales, he said: "I am amazed by my experience of having undergone keyhole surgery for an anterior resection. For me, keyhole surgery was much more desirable than normal surgery, as I was uncomfortable with the idea of prolonged recovery period and being left with large scarring on my abdomen.  
"The robotics surgery has been life changing for me, as it enabled me to get back home to my family just four days after my procedure, and aside from my stoma bag, I have virtually no scarring and am now in a position to progress with the next stage of my recovery journey.  
"The entire team at the hospital have been incredible, from the specialist teams, the consultants and the radiographers, everyone has been amazing, and I truly would bang the drum for the innovations made in robotics surgery and what this has meant for me and my recovery."  
Joan Roberts, 79, from Pwllheli recently underwent robotic surgery to treat Endometrial Cancer at Ysbyty Gwynedd with Consultant Gynaecological Surgeon Mr Richard Peevor.  
Mrs Roberts said: "It was around Christmas time I started to experience stomach aches and I noticed my stomach had started to swell.  
"I went to see my GP who was brilliant and who then referred me to the hospital for further tests and unfortunately they found it was Endometrial Cancer.  
"When I was told I was having robotic surgery, I was slightly nervous as it was something new but I did some research with my daughter and we read what the benefits of this type of surgery were.   
"It's incredible that we have this technology available to us in North West Wales and we don't have to travel further afield to undergo this type of surgery." 
Mr Peevor says the programme is progressing well at Ysbyty Gwynedd with positive feedback received from patients.  
He said: "Crossing the 100th milestone is certainly a great achievement and is a testament to the teams which has supported us all the way to achieve this.  
"We started using robotics around six months ago and we have seen nearly all of our patients going home the next day. Our patients are really happy with the robotic experience they are getting – the project is going really well and is continuing to grow month by month with the extra experience we are getting." 
Professor Jared Torkington, Consultant Colorectal Surgeon and Clinical Lead for the National Robotic Assisted Surgery Programme at The University Hospital of Wales added: "The achievement of 100 cases of robotic assisted surgery across two cancer specialities using the Versius system is a seminal moment for the NHS in Wales. It represents a huge success for the programme which we continue to expand. It is thanks to the support of the Welsh Government, Moondance Cancer Initiative, Life Sciences Hub Wales and the agility and energy of the NHS clinical and procurement teams that we have been able to forge this partnership with CMR Surgical and offer such cutting edge cancer treatments for patients in Wales." 
To learn more about the All-Wales National Robotics-Assisted Surgery Programme, then visit our Project Page.