Medication management in Bridgend takes a bold step toward digitalisation as the first group of participants receive their digital medication management technology.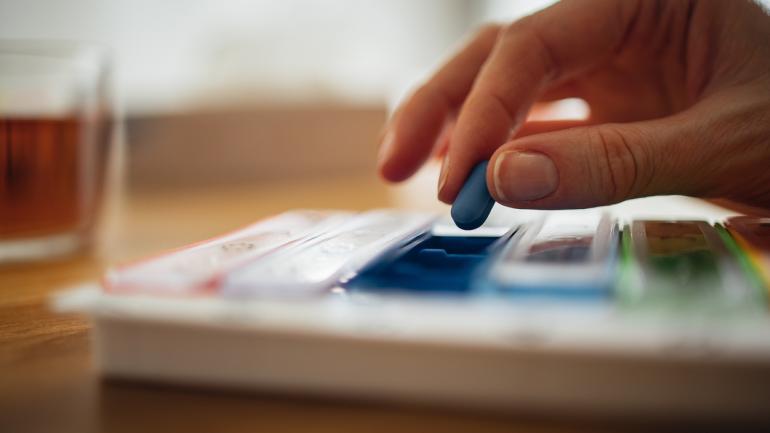 The collaborative project between Life Sciences Hub Wales, Cwm Taf Morgannwg University Health Board, and Bridgend County Borough Council has officially launched this month with the first people receiving the YourMeds digital medicine management device.
YourMeds is a digital pill box, with pods pre-filled by community pharmacists and delivered directly to the user. Unlike traditional medicine management, YourMeds features audio and visual aids to remind the user when to take their medicine. A complementary online portal is connected to the device which will alert a circle of care, including friends and family, Bridgelink Telecare Alarm Receiving Centre (ARC) and Mobile Response Team Service, if medication is not accessed.
This marks the beginning of an exciting time as a gradual rollout is planned for the next few months, allowing time for device recipients, families and carers, community pharmacies, and Cwm Taf Morgannwg University Health Board teams to successfully integrate the technology.
Louise Baker, Project Lead for Life Sciences Hub Wales, said:

"The initial idea for this project was to support people who take routine medication, empowering them to independently manage their health and wellbeing. The collaboration between community pharmacy teams and Bridgend County Borough Council will provide a robust, integrated service that will form a strong foundation for any potential future developments and transformations because of this technology. This unique approach makes it a truly exciting time to be part of remote monitoring services in Wales."
The collaborative approach between community pharmacies, the local authority, and local healthcare services is a first for Wales, and it's anticipated that the technology will have huge potential to transform services. It's hoped that the technology will empower users to manage their health and wellbeing independently, whilst also streamlining social care services and resource management.
Thomas Sauter, Clinical Lead Pharmacist for Cwm Taf Morgannwg University Health Board, said:

"Being able to provide new innovative ways to support people take their medication safely will help improve personal health and wellbeing. The remote monitoring aspect is important as it enables families and services to further support individuals when needed. "This collaborative project highlights the very real benefits of health and social care services working together to achieve outcomes which benefit our service users and their families."
Councillor Jane Gebbie, Cabinet Member for Social Services and Early Help at Bridgend County Borough Council, added:

"As well as increasing independence and providing greater freedom for carers and family members, this innovative new approach ensures that people can receive their medication regularly while enabling us to redirect staff and resources into other essential services and deliver major savings. "It represents a unique digital solution and is just one example of how the council is continuing to work closely with Cwm Taf Morgannwg University Health Board to deliver new ways of providing people with high-quality levels of care and support."
If you would like support in the development and adoption of innovation into health and social care services, let's start a conversation. Please contact us at hello@lshubwales.com