Project Duration: 14+ months
Partners: Huntleigh Healthcare, Cardiff University and the Welsh Wound Innovation Centre
Project aim: To undertake a clinical evaluation of Wound Express, an intermittent pneumatic compression device, in patients with chronic leg ulcers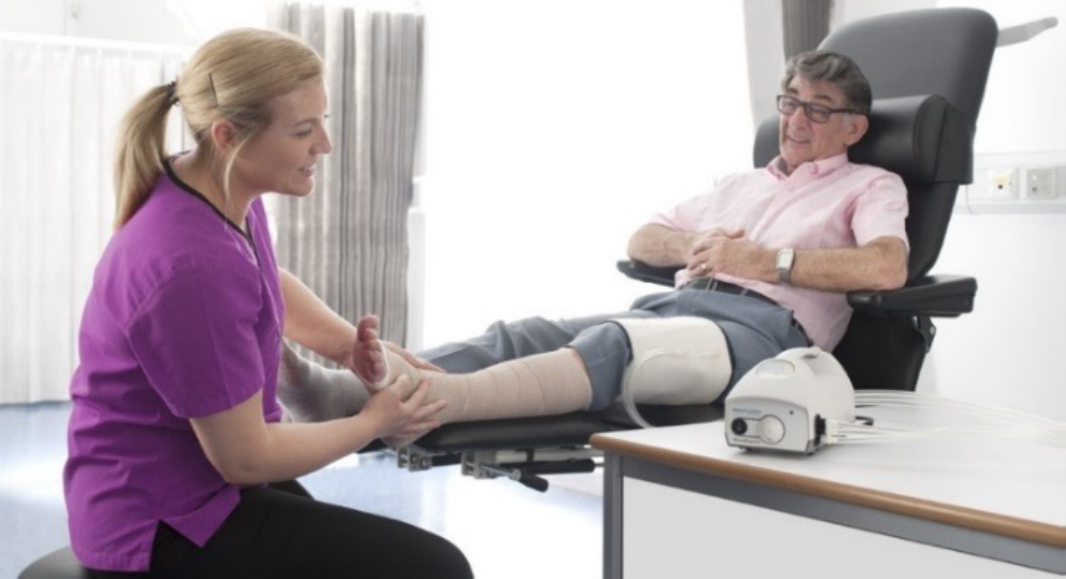 Leg ulcers (a long-lasting sore resulting from a break in the skin) represent a significant source of morbidity with many adverse physical, social and psychological consequences. With appropriate treatment, some ulcers heal successfully with a few weeks, however many persist for months and even years. Such lengthy treatment periods have led to the annual cost of wound treatment in the UK being estimated at £5.6 billion (Guest et.al. BMJ 2020).
Compression therapy in the form of graduated, multi-layered bandaging, is the gold standard therapy for the prevention and management of venous leg ulcers. However, a proportion of wounds still do not progress towards healing and some patients cannot tolerate wearing continual high compression bandaging.
Intermittent Pneumatic Compression (IPC) is an alternative/adjunctive treatment modality which has been shown to be effective in the treatment of leg ulceration. IPC involves the application of controlled mechanical cyclical pressure to the limbs (or part of) by means of compressed air from an electronically operated pump through specialised encircling garments. Pressure and inflation cycles vary, and compression can be applied to the entire limb, or region of the leg.
Certain types of IPC have been shown to promote the healing of wounds, and the reduction of the associated chronic pain. However, IPC devices usually apply relatively high intermittent pressure over a wound site, which may cause concern to patients and clinicians, may interfere with existing treatments, and may not always be tolerated.
Huntleigh have developed an innovative IPC device (WoundExpress) which applies compression to the thigh of the afflicted leg, away from the actual leg ulcer sites. This device consists of a 3-chamber thigh garment and pneumatic compression pump and delivers a 4-minute compression cycle consisting of a 2-minute venous emptying phase followed by a 2-minute rest phase, It is used for 2 hours per day in a hospital, community or home setting.
Preliminary findings have suggested that WoundExpress may be effective in decreasing pain and facilitating healing. However randomised controlled clinical trials (RCTs) are the gold standard for ascertaining the efficacy and safety of a treatment, and for demonstrating the superiority of a new treatment. This is the next important step for WoundExpress.
To determine the impact of this treatment on chronic venous leg ulcers, a large-scale Randomised Control Trial (RCT) has now begun recruiting patients and will look at whether the new method provides added benefit when used with existing standard treatments. It will operate across 4 countries with up to 10 sites across UK and Europe to assess the clinical evidence in support of the WoundExpress™ device.
Accelerate support is enabling IPCOTT, a large scale, multi-site pivotal Randomised Control Trial to be conducted in patients with chronic leg ulcers with venous aetiology. This will:
De-risk the step into clinical trials for Huntleigh

Provide clinical trials/project management expertise

Support the delivery of a comprehensive evaluation
Such a study would assist health care professionals, clinical commissioning groups etc. to make informed decisions about whether this device could provide better outcomes for patients with chronic lower limb wounds.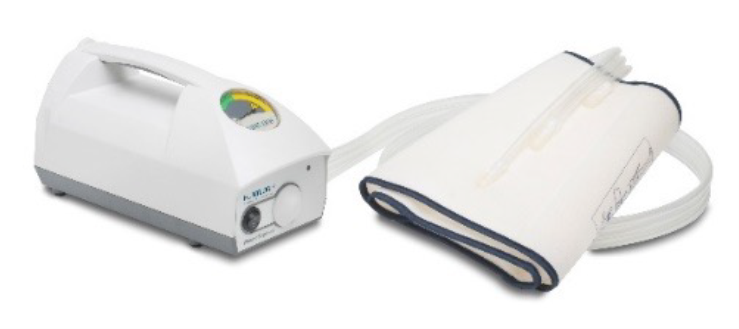 Image courtesy of WoundExpress.com
Expected Outcomes
Introduction of new disruptive technology into the field of wound healing

Improved management of chronic leg ulcers for clinicians and patients, through reduced demands on clinical services, and improved healing, pain control, mobility and wellbeing

Data for further academic-industry research collaborations

Economic growth

Knowledge generation and insight into the field of leg ulcer management

Health economic assessment
Future Impact
Future collaborations between industry, academic and clinical partners

Opportunity to explore the use of intermittent pneumatic compression in the management of other types of chronic wound.
To learn more about WoundExpress'.coms' latest projects, visit their website.
This project is part of the Accelerate programme which is part-funded by the European Regional Development fund, through Welsh Government.