Third party
The Hive is a multi-functional staff area with dedicated space to relax, collaborate and network in the heart of the University Hospital of Wales. Developed by the Health Board's Innovation Team in partnership with Cardiff & Vale Health Charity, Camerados and Welsh Government with strong support from the Executive Leadership.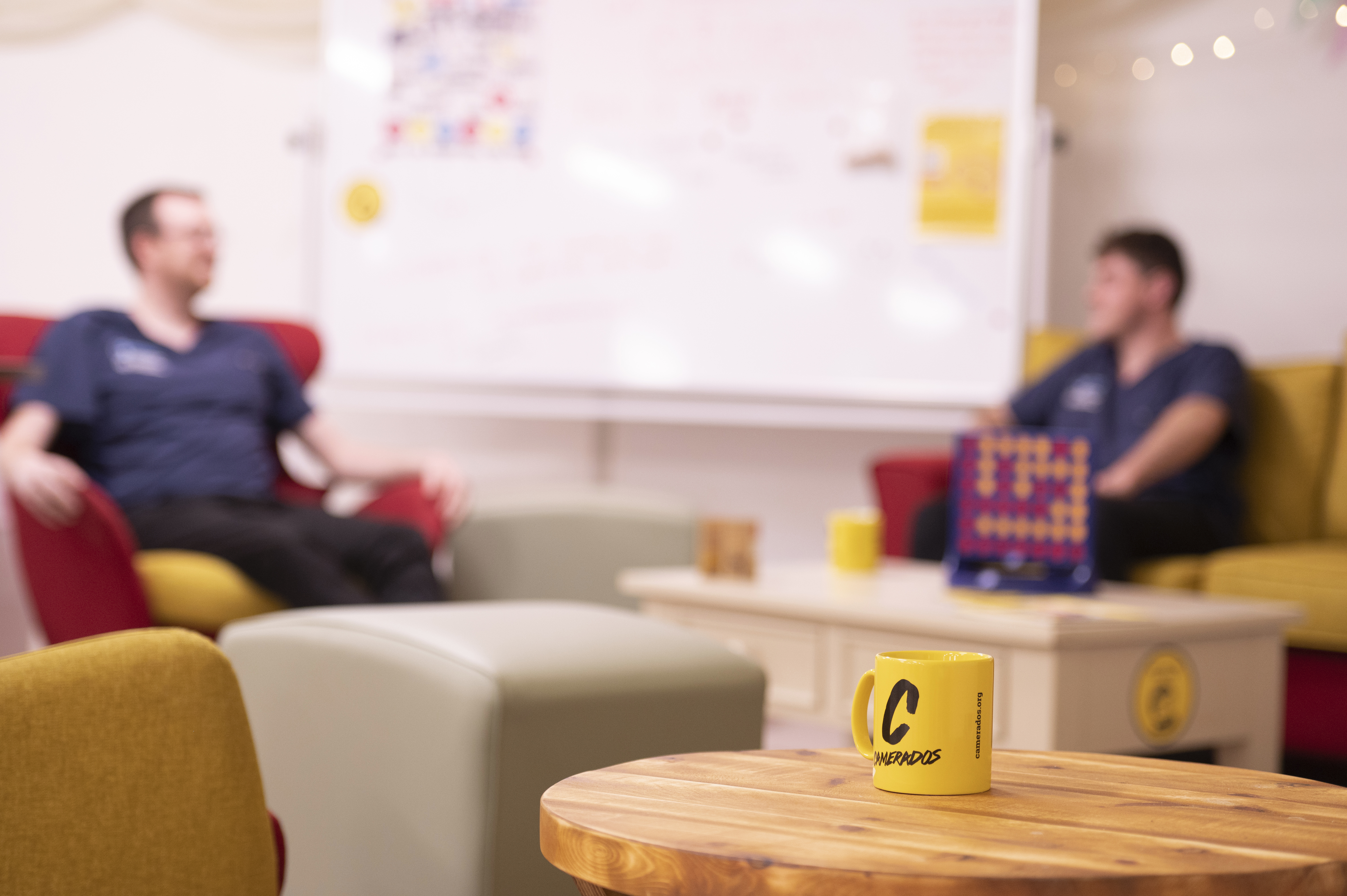 Project aims:
The aim of the space is to promote an engaged, motivated and healthy workforce by creating a space that supports collaborative work and focuses on mental wellbeing, supportive conversations and staff engagement. It also champions the People and Culture Plan which aims to attract, recruit and retain employees. 
Project kick-off:
In March 2022 the Innovation Team was successful in securing £35k from Welsh Government to create an Innovation Collision Space in C&V. It became clear after liaising with health board workforce that a priority for staff was this was located in a central location. Therefore, a marquee situated in the centre of the University Hospital of Wales (previously being used as a staff haven), was repurposed and developed. 
Project challenges:
The biggest challenge was finding the correct location for staff engagement and accessibility. Once this was secured with support from the executive team we were able to use the funding to implement the technology and create the environment required. 
It proved essential to talk to our workforce, to establish what they needed and what there was capacity to provide. This resulted in a number of changes to the original plans, such a shift from the Improvement team to physically support the space, to a more relaxed are for staff to meet, eat and relax.
Project outcomes:
The Hive has three areas; the Camerados Public Living Room, a bookable collaboration area with interactive screens for training and group meetings, and a general collision space for staff to share lunch and have informal meetings. 
 This project has been proven to be popular with our workforce, with a footfall over 9000 people last October. 
It is used by a cross section of staff from the hospital including medics, nurses and specialist posts. 
The qualitative feedback collected has confirmed many benefits such as: 
Communal aspect of the space was noted by many, stating that they enjoyed mixing with staff they wouldn't ordinarily cross paths with. 
The location of the space has been key for staff as it is off the beaten track of patients. It is set back, clearly marked out for staff only and staff expressed that this meant that it gave them a chance to talk and socialise more freely without public judgement. 
The aesthetics of the space were important to users. Many felt that the use sofas, library, games and living room style layout meant that it didn't look like a clinical space so they felt very relaxed. It took them 'out' of the pressurised hospital environment. 
"The Hive provides the perfect physical space for CAVUHB staff to come together. We've visited on two separate occasions and at both times it was buzzing (pun intended) with activity. Also, as an external collaboration partner, it provided us with a fantastic space for meeting with CAVUHB senior staff but outside of the traditional, formal office setting" - Anonymous Staff . 

"The Hive also provides the perfect space to run events, workshops and network meetings for CAVUHB staff. For example, we would be happy to deliver fun and light idea generation sessions at the Hive to help deliver against innovation and improvement strategic objectives."- Anonymous Staff.

"Seeing the team transform what was a necessary COVID space into a colourful hub where staff, visitors, and businesses can meet for lunch, coffee, or conduct meetings has been fantastic." - Anonymous Staff. 
Project funding:
Welsh Government 35k 
CAV Health Charity 5k 
Project team and partners:
Cardiff and Vale Health Charity 
Camerados 
Welsh Government 
Next steps:
The project has been very influential nationally and is now being considered by Powys HB and Hywel Da. 
C&V are keen to create a similar spaces in our other hospitals with an area currently being considered in the University hospital of Llandough.