Project Duration: 5 months
Partners: Agile Kinetic and Cardiff University Musculoskeletal Biomechanics Research Facility
Project Aim: To develop and validate a pose estimation medical device for remote measurement of patient joint angles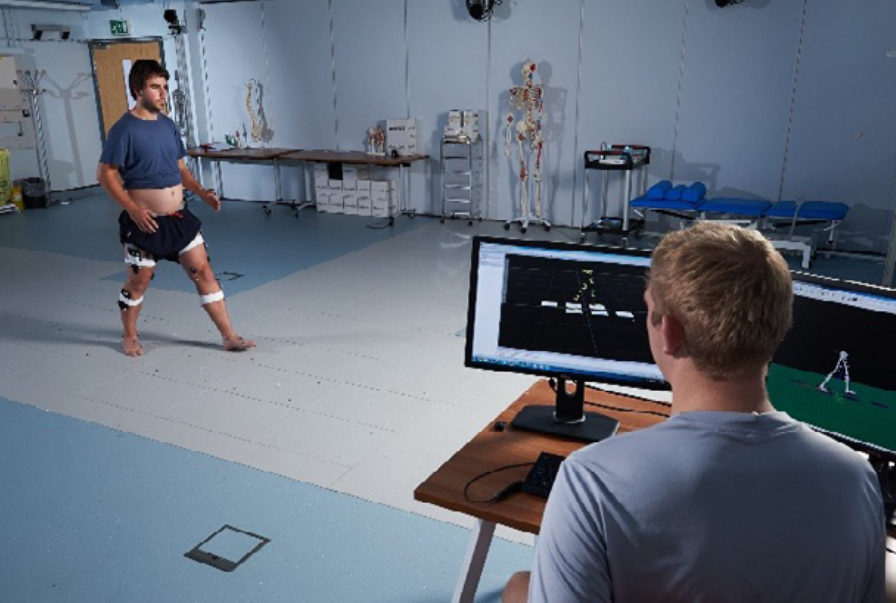 Overview
Musculoskeletal patient waiting lists in Wales are growing, as is the use of digital technology to support healthcare. This highlights a demand and an opportunity to explore new options for monitoring musculoskeletal patients outside of traditional clinical settings.
Agile Kinetic are a Welsh company that have developed a platform called MobilityHub. This allows interaction between surgeons, physios and patients undergoing rehabilitation, through an online application. The company are now looking at developing a pose estimation tool for the remote measurement of patients undertaking their exercises via a camera (web/smartphone). Such an application offers patients the opportunity to engage in the rehabilitation process within their home environment.
The Musculoskeletal Biomechanics Research Facility, based in Cardiff University's School of Engineering, has a long-standing history of undertaking patient and healthy volunteer-based biomechanics research. Their research experience can help to develop the work initiated by Agile Kinetic, under the direction of clinical specialists in musculoskeletal rehabilitation.
Accelerate is supporting the delivery of a collaborative project between Agile Kinetic and Cardiff University to combine their expertise and deliver shared outcomes.
This will include:
Validating the pose estimation tool

Capturing 3D movement data

Integrating the data into Agile Kinetics' data set
Expected Outcomes
A validated tool

Three-dimensional dataset

User experience / interface design for final integration and functions

Artificial intelligence (AI) model fully integrated with MobilityHub Mobility tracking functions deployed

Opportunities for further collaboration between project partners

Case studies and peer reviewed publications
Future Impact
Positive impact on individual patient care and experience, through empowerment and engagement

Opportunities to expand the platform to support the rehabilitation of specific conditions

A platform that contributes to sustainable practices

Tangible deliverables contributing to the Well-being of Future Generations (Wales) goals including a prosperous, healthier, resilient and Welsh language inclusive Wales
To learn more about Agile Kinetics' latest projects, visit their website.
This project is part of the Accelerate programme which is part-funded by the European Regional Development fund, through Welsh Government.