A partnership project setup between Cwm Taf Morgannwg University Health Board (CTMUHB) and Baxter Healthcare, a company providing innovative technology solutions for the healthcare industry, has developed a strategy for safer intravenous (IV) fluid administration.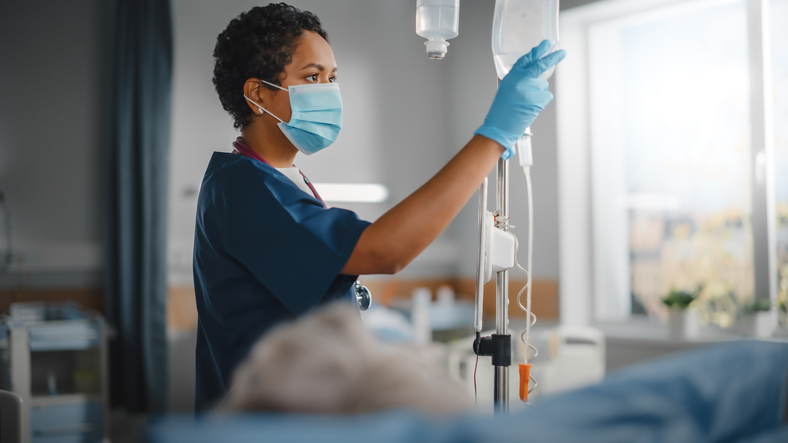 The challenge
Evidence suggests that misadministration of IV fluids in acute hospitals and non-compliance with NICE guidelines significantly contributes to the morbidity and mortality of patients in a short-term setting. IV fluids are liquids administered into a vein through a drip, providing water, sugar and salts. These are the fluids that patients might need if they are unwell or having an operation and can't eat or drink as they would normally.
The solution
As one of its pre-existing fluid suppliers, CTMUHB reached out to Baxter to collaborate on an improvement project aimed at increasing the safety of IV fluid administration as well as compliance with NICE guidelines within ward-based multidisciplinary quality improvement teams.
Leading the project team is Dr Helen Lane, a Consultant Physician and Improvement Advisor and Associate Medical Director at CTMUHB, and Dr Huw Davis, Consultant Anaesthetist and CSG lead for Critical care, Surgery & Anaesthetics.
Dr Helen Lane said:
"This is an improvement project that's desperately needed. Currently, fluid administration is not standardised across the board or taught to junior health workers.

"Our goal is to ensure IV fluids are administered as safely as possible to all patients. We aim for this change to reach every stage of the chain to better educate doctors, nurses, and healthcare assistants. The behavioural change we're asking for has the power to make a real difference to patient outcomes in Wales."
The project will focus on several key elements where improvements are needed. These areas include prescribing, ordering, storage, dispensing and education on how to administer safer levels of IV fluids. The methods used to improve these areas included developing a prescription guide and offering advanced education - providing teaching at a medical student grade level to ensure a better understanding of the procedure of prescribing before entering a hospital setting. Visual prompts were also implemented including colour labelling for easier identification and a digital storyboard aimed at raising awareness of these issues within hospital staff.
The outcomes
A pilot study carried out on wards in the Royal Glamorgan Hospital saw the IV fluid stockroom rearranged into a more appropriate ordering of substrates and indications that were in line with NICE guidance. There was more signage displayed, which included a colour coded system for the different types of IV fluids used for resuscitation, replacement, or maintenance. The tests of change showed sustained improvements in the compliance with appropriate code of IV fluids and the monitoring of fluid balance.
The improvement of administration from just one impact area demonstrates the positive outcomes of the safer IV fluid administration project. The aim is that, once fully developed, the project will be implemented across CTMUHB, resulting in more appropriate prescribing and better patient outcomes.
The project is part of a wider commitment at CTMUHB to drive forward improvements across a variety of clinical pathways and services in line with the objectives laid out in A Healthier Wales - Welsh Government's long-term plan for health and social services in Wales. These goals will be assisted with the creation of the Innovation Cwm Taf Morgannwg (iCTM) faculty.
Find out more For more information on the project, contact Dr Helen Lane, Helen.A.Lane@wales.nhs.uk or Rachel Heycock, Rachel.H.Heycock@wales.nhs.uk.