Project Duration: 2 months
Partners: Waterless Ltd and Cardiff University
Project aim: To test the efficacy of Nilaqua's alcohol-free solution against the SARS-COV-2 Virus at different times and conditions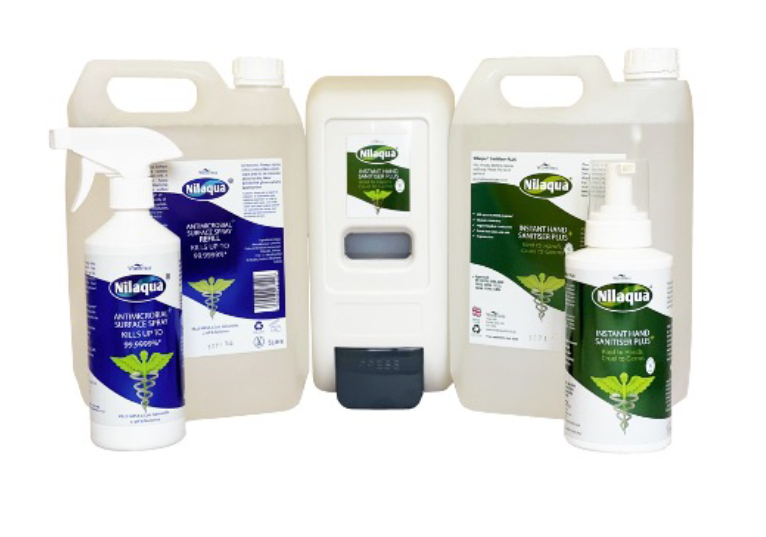 Overview
The recent COVID-19 pandemic and the resulting public health advice that emphasised regular and thorough hand washing or use of a hand sanitiser as crucial to slowing and preventing infection has raised the need for better and more effective hand sanitising products, particularly those with a long lasting action. This would improve on the widely used alcohol based products which are effective against micro-organisms present on the skin but have a short lived action.
Alcohol based sanitiser (>60%) is being used widely as it is known to be effective. However, these types of sanitisers have no residual protection, are very flammable, can be irritating to skin and costly. Waterless have developed 'Nilaqua', an alcohol-free formulation with post application protection to reduce cross infection.
The aim of this study is to test the Nilaqua product and determine the time over which the product remains active against viruses on skin and surfaces or in an ex-vivo model that mimics a real life situation as closely as possible.
Accelerate is supporting the delivery of this project through Cardiff University's microbiological expertise and the specialist facilities. The Accelerate team will provide project management, knowledge transfer advice and administration support where needed. The team from Waterless will provide formulation expertise, materials and consumables for the project as well as hospital experience, knowhow in relation to product stability and its intended application.
Jess Efford, Senior Management Team, Waterless said,
"Waterless Limited has long foreseen the need for kinder, faster, eco-friendly ways to prevent cross contamination through the NHS & Cardiff's excellent, highly regarded team was also looking for an innovative project. This collaboration has allowed us to test our product in different scenarios, close to the real-life situation, which is core to reducing widespread cross contamination.

Part of keeping a high level of compliance & improving clinical outcomes is providing a kind product that people want to use. Sourced locally reducing carbon footprint and proven to work no matter the pandemic or outbreak, so all situations are covered and hospitals have a trusted supply.

Nilaqua is the UK's 1st and largest supplier of alcohol free sanitiser to the NHS, and has always been proud of having a wide range of hand and surface products, validated with over 30 different tests, to cover virtually anything hospitals will come across effectively and quickly."
Expected Outcomes
An optimised protocol to test the ability of the product to inactivate viruses for up to 6 hours on hands and 7 days on surfaces.

Performance data on the effectiveness of the product from by an independent research team.

Evidence to support the use of alcohol free formulations, which will have benefits for those with sensitive or damaged skin or those working in environments where washing hands frequently is difficult.

Peer reviewed publications and public dissemination reports.
Potential Future Outcomes
Further evidence to inform policy makers and Government of the benefits and effectiveness of alcohol-free formulations in kill capability over a variety of pathogens and prolonged action.

An evidence-based approach for the company to support the new product manufacturing lines based at Swansea.

Better hygiene practices through alternative solutions.

Potential to reduce sickness & RIDDOR Reporting.

Public health impact pan Wales and beyond.

Expanded research portfolio in SARS-CoV-2 for the University.
This project is part of the Accelerate programme which is part-funded by the European Regional Development fund, through Welsh Government.