Getting your innovative idea from concept to market is a tough journey. In the healthcare market there is a complex landscape that is highly regulated. Due to insufficient resources an idea that could benefit health care can spend years in development and trials. In some instances the idea may never get to market. Accelerate is changing that.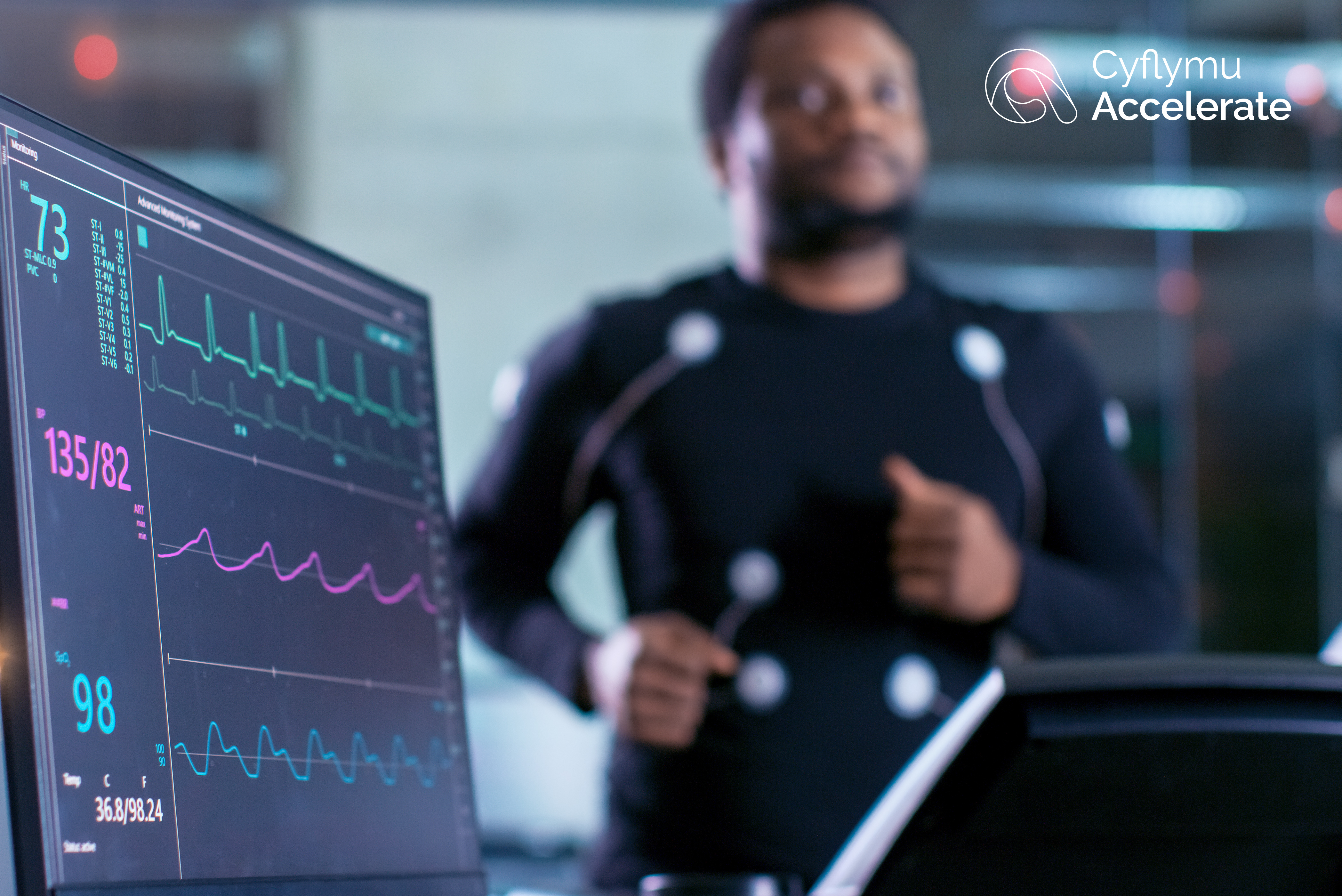 Accelerate provides Welsh businesses with access to expertise and facilities to develop innovative healthcare ideas. Through Life Sciences Hub Wales, companies can build tailored teams to speed up the innovation process and get to market quicker. We look at the experiences of some of the companies who are seeing their innovations come to life, growing their business and helping to improve patient outcomes.
Many Welsh businesses have already experienced the benefits of the Accelerate programme. Health and Her Limited sought support from Accelerate to develop on-line menopause advice and future bespoke products. Watson IBM and Meridian IT UK have been working with Velindre NHS Trust to produce an oncology virtual assistant, called RiTTA (Real-time Information Technology Towards Activation), for cancer patients. Accelerate is helping develop RiTTA's Artificial Intelligence with relevant training sets. Innoture Limited has begun working with Accelerate to develop and test prototypes of an applicator device for its microneedle products. Sugars for Health Limited has tapped into research expertise using Accelerate to study iminosugars that can reactivate the immune system to fight cancer. This will help develop products that can support conventional chemotherapies.
Commercial focus
Cellesce Limited has been working with Accelerate to develop a system for testing drugs that can be used to treat colorectal cancer. The project has been developing tissue, organoids, the drugs can be tested on. This tissue mimics a real tumour and can be produced consistently. Now, the effectiveness of different drugs can be assessed accurately with a standard test using this tissue.  Accelerate provided Cellesce with access to expertise and facilities at Cardiff University. Dr. Mark Treherne, Cellesce's Chief Executive, has been impressed by the commercial focus of the programme.  "This project aligns well with the Accelerate aims by combining academic expertise with pioneering commercial research and innovation in a common enterprise. Not only do we collectively expect to improve patient outcomes, but also build on the notable place of organoids in drug discovery for cancer," he said.
The collaborative project has delivered benefits for both organisations. "The Accelerate support with Cellesce enables the Cardiff University Inherited Tumour Syndrome Research Group to build upon its track record of genetic discovery research and translation of its findings to pre-clinical and clinical trials of novel targeted treatment. This presents a fantastic opportunity to improve care for patients with inherited tumour syndromes and to further develop innovation in precision medicine in Wales," commented Professor Julian Sampson from Cardiff University.
Enhanced resource
Accelerate has also been supporting projects in secondary care. In December 2019 more than 115,000 patients were waiting for a hospital eye examination with chances of irreversible sight loss if their appointment was delayed. "The 354 high street optometrists across Wales send patients to hospital when they find signs of sight threatening diseases. However, optometrists are trained professionally to be able to diagnose, manage and treat these conditions themselves," says Sali Davis, Chief Executive of Optometry Wales.
Optometry Wales is the professional umbrella organisation for all community optometrists, optometric practices and dispensing opticians across Wales. "Optometrists across Wales can provide the public with more than eye tests and spectacles. Most are open 7 days a week and on the high street, so they are easy and convenient to get to. While highly trained they have restricted terms of service, so they can only refer patients to hospital under their terms of service. Only national enhanced services, such as the Wales Eye Care Service, allow optometrists to offer extended eye examinations for patients at risk of sight threatening conditions or for acute eye care. We want to change this, but need a robust, well documented pilot trial. This can provide evidence that we can support patients at pace, reduce the burden on hospitals, reduce patient waiting times and deliver a more cost-effective service," explains Sali.
"We did not have the resources to mount such a robust trial on our own. Then we found Accelerate through our Training and Accreditation Manager at WOPEC who had initially approached Life Sciences Hub Wales.  We were so pleased that they understood the concept and were enthusiastic about setting up the project. They helped us build a collaborative team of experts with the skill sets we did not have, from economists to research teams and even communications specialists to engage optometrists."
Saving jobs
The initial project meetings in October led to a launch meeting for the trial in February with opportunities for optometrists to meet the project team and ask questions. "It was important to get optometrists on-board and tell them how we intended to conduct the trial. We explained that the trial would be evidence-based and could build confidence and trust in the proposed future service. As the 12 month trial got underway I was impressed by the collaborative nature of the project. It was refreshing how on-board the team was. We generated collaborative ideas with each stakeholder taking on specific elements of the work. Regular conference calls to discuss and assess progress has kept the trial on track," reports Sali.
The trial sees 9,000 patients examined by skilled optometrists in community practices using state-of-the-art imaging technology, dedicated software and electronic patient records.  Acute care ophthalmologists could be sent digital data from the high street practices for diagnosis.  "We could not have done this effectively without Accelerate. We need robust impartial analysis of the effectiveness of the pilot trial. This could lead to the health board allowing all the high street practices in the Cardiff and Vale area to offer this sight saving service. That's not just good news for patients, it will also improve economic prosperity in Wales. Ultimately, this project will protect the livelihood of the 142 independent high street optometrists. Businesses reliant solely on eye tests and spectacle sales are not sustainable. The new service would bring significant income to practices who can utilise the raft of skills and training that comes with their profession," concludes Sali.
Get in touch
Accelerate is part funded by the European Regional Development Fund through Welsh Government. It is helping position Wales as a centre of excellence for healthcare innovation and the place for businesses to be. If you have an innovative healthcare idea then come and talk to the Accelerate Team. They are keen to help your Welsh business thrive in the health technology market. You can contact the Accelerate team at Life Sciences Hub Wales on 029 2046 7030 (rydym yn croesawu galwadau'n Gymraeg / we welcome calls in Welsh) or email accelerate@lshubwales.com to discuss your latest health care innovation.