During the coronavirus pandemic we have seen a kindness in people and communities like never before. We've seen key workers going above and beyond the call of duty to care for the sick and vulnerable. And, we've also seen other hidden heroes who have taken to the challenge of developing innovation at pace, in a bid to help fight the pandemic in Wales and across the globe.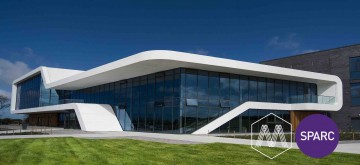 The coronavirus pandemic has not only impacted the global economy, but also our health and wellbeing at a significant scale. Without a doubt, it's the biggest public health crisis in decades, but it's not all bleak. Innovative companies in north Wales have managed to thrive during this difficult time.
Menai Science Park (M-SParc) on Anglesey's focus is to create well-paid careers in the local area and incubate businesses from seed. During the coronavirus pandemic the focus for M-SParc became about supporting NHS Wales' areas of critical need and helping stop the spread of the virus.
Our thinking at M-SParc shifted from how we innovate and boost the local economy in north Wales to how we innovate to support NHS Wales in a time of crisis.
Cymru vs Covid-19
The UK's first online health hack hosted by the Bevan Commission, Awyr Las Charity and Life Sciences Hub Wales, was held on 20 May 2020.
The event attracted over 100 attendees, and £13,000 was awarded to innovative projects from six different teams. Each solution aimed to helped fight Covid-19 related issues within the NHS.
The pan-Wales event invited Health and Care workers to pitch Covid-19 related issues to an audience of product designers, tech experts, businesses, manufacturers, industry experts, academics and NHS colleagues.
Issues varied from PPE shortages, to services that could no longer run due to lockdown restrictions. In one week, 13 teams were formed and pitched their ideas to a team of 'dragons'.
The team who took the £8,000 main prize on the day were MaskComms. MaskComms responded to one of many challenges faced due to the Covid-19 outbreak, after the NHS identified that the wider use of facial masks within the hospital environment reduced the ability to communicate effectively.
This innovative design includes a microphone small enough to fit inside a face mask. It transmits the voice through wireless technology to a wearable loudspeaker to help NHS staff communicate effectively with patients.
Virustatic Shields
Virustatic Shield is a brand-new protective product for the whole family designed and produced in north Wales. The shields have a unique antiviral protein coating, Viruferrin™, that is scientifically proven against the virus that causes Covid-19.
The team at Virustatic Shield has grown immensely, from one lone innovator back in January to a team of 18 in May. This has brought new jobs to north Wales at a time of enormous economic downturn and job insecurity.
Virustatic Shield are the fastest growing company ever to host their business on PayPal.
Paul Hope, the founder of Virustatic Shield made it his life ambition to help the fight against pandemics when he found out that his Great-Grandfather lost his life to the flu pandemic of 1918-1919. We can't help but think that Paul is seeing his ambition come to life now!
Innovation during a pandemic
Covid-19 has forced businesses to be more agile and explore new avenues of income. We have seen businesses adapt, develop and produce to get their product to market in a matter of weeks, whilst retaining staff and avoiding redundancies.  This is a significant achievement and one that many businesses can be proud of.
Businesses have been supported by organisations including, Life Sciences Hub Wales, Public Health Wales and Welsh Government to supply NHS Wales with certified products at a significant pace. Before the coronavirus pandemic this could have taken months if not longer in some cases.
The support for innovative new businesses during this time has been invaluable and we are grateful for the support.
My hopes for a post-covid Wales is that we keep the innovative spirit and energy we have seen, and that Wales continues to grow as an innovative nation with a world-class health system.
To find out more about the work of M-SParc and Virustatic Shield listen to the Healthy Thinking podcast episode below.
If you have an innovative idea to help NHS Wales at this time submit it through Life Sciences Hub Wales' innovation portal.