A consortium led by Agile Kinetic Limited is proud to announce that it has been awarded funding by Innovate UK, the UK's innovation agency for a ground-breaking project titled "Movement Analysis for Musculoskeletal Precision Medicine."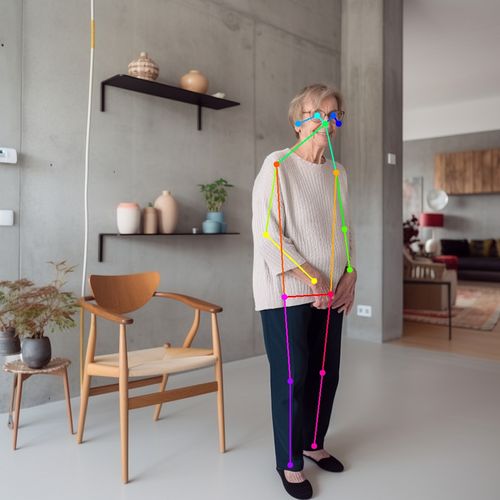 A consortium led by Agile Kinetic Limited is proud to announce that it has been awarded funding by Innovate UK, the UK's innovation agency for a ground-breaking project titled "Movement Analysis for Musculoskeletal Precision Medicine". This funding is part of the Innovate UK's "Advancing Precision Medicine" competition, aimed at supporting innovative research and development projects that could transform the field of precision medicine.
The project, in partnership with Cardiff University's Musculoskeletal Biomechanics Research Facility (MSKBRF) and Acumed Ltd, aims to reshape the way movement analysis is performed for the diagnosis and monitoring of musculoskeletal (MSK) conditions, as well as recovery from surgery or injury. By replacing current costly, inconvenient and time-consuming in-person methods, Agile Kinetic will build upon their existing MoveLab® platform that people can access using a mobile phone.
This innovative solution will enable remote, validated clinical movement assessments for earlier identification of conditions or complications, leading to faster, more targeted treatments and ultimately better patient outcomes. While the project will primarily focus on frailty, it also holds potential for use in targeted proactive management of other MSK health and chronic conditions.
Peter Bishop, Agile Kinetic's Founder, said: "We are thrilled to have been awarded Innovate UK funding, which will enable us to further develop our cutting-edge movement analysis system that has the potential to transform the field of musculoskeletal precision medicine. By making movement analysis more accessible and efficient, we aim to improve patient care and outcomes across the UK." 
The project will also benefit from the expertise of other Wales based collaborators including Swansea Bay University Health Board, Cardiff and Vale University Health Board, Big Lemon Creative, and Supercomputing Wales, this project will harness the power of big data, precision medicine, and enhanced delivery of high-value care to improve the patient experience across a range of MSK conditions. 
Cathy Holt, Professor of Biomechanics and Orthopaedic Engineering, at Cardiff School of Engineering, said: "This prestigious award of UKRI R&D funding is great news for the Musculoskeletal Biomechanics Research Facility, allowing close work with Agile Kinetic to create new precision functional analysis tools that can be used easily in people's homes, health and sports centres. The resulting improvements to clinical and patient access will be of great benefit to the provision of care for musculoskeletal diseases and disorders." 
The Director of Sales, UK & Europe at Acumed Ltd said: "We are thrilled to be supporting Agile Kinetic with this exciting emerging technology. Their vision to support patient rehabilitation, coupled with their ongoing commitment to exploring the development of precision movement analysis to fulfil an unmet clinical need is exactly the collaboration that fits well with Acumed's own mission of innovating with purpose." 
The project builds upon prior research and collaboration supported by the Welsh government, Accelerate Wales and the Alan Turing Institute. Life Sciences Hub Wales supported Agile Kinetic with the application process, providing a review and guidance on writing a standout entry. 
Sarah Taylor, Sector Intelligence Lead, said: "Congratulations to Agile Kinetic on their successful bid! It was great to support them and review their application. We're really looking forward to seeing how their work progresses with the financial support of UKRI R&D funding, and seeing how their technology can drive the remote monitoring of MSK conditions." 
For more information on this project, please visit the Agile Kinetic website.
---
About Agile Kinetic Limited: 
Agile Kinetic Limited is a software company based in Newport, South Wales using artificial intelligence to digitise movement using devices that people already own. Their mission is to make learning from movement simple, accessible and sustainable. 
About Innovate UK: 
Innovate UK drives productivity and economic growth by supporting businesses to develop and realise the potential of new ideas. They connect businesses to the partners, customers and investors that can help businesses turn ideas into commercially successful products and services and business growth. They fund business and research collaborations to accelerate innovation and drive business investment into R&D. Support is available to businesses across all economic sectors, value chains and UK regions. Innovate UK is part of UK Research and Innovation. For more information visit the Innovate UK website.