Did you attend the panel event our Chief Executive Officer, Cari-Anne Quinn, hosted at NHS ConfedExpo exploring the All-Wales National Robotics-Assisted Surgery Programme? In case you missed it, here is a summary of the key discussion points and key information about the programme…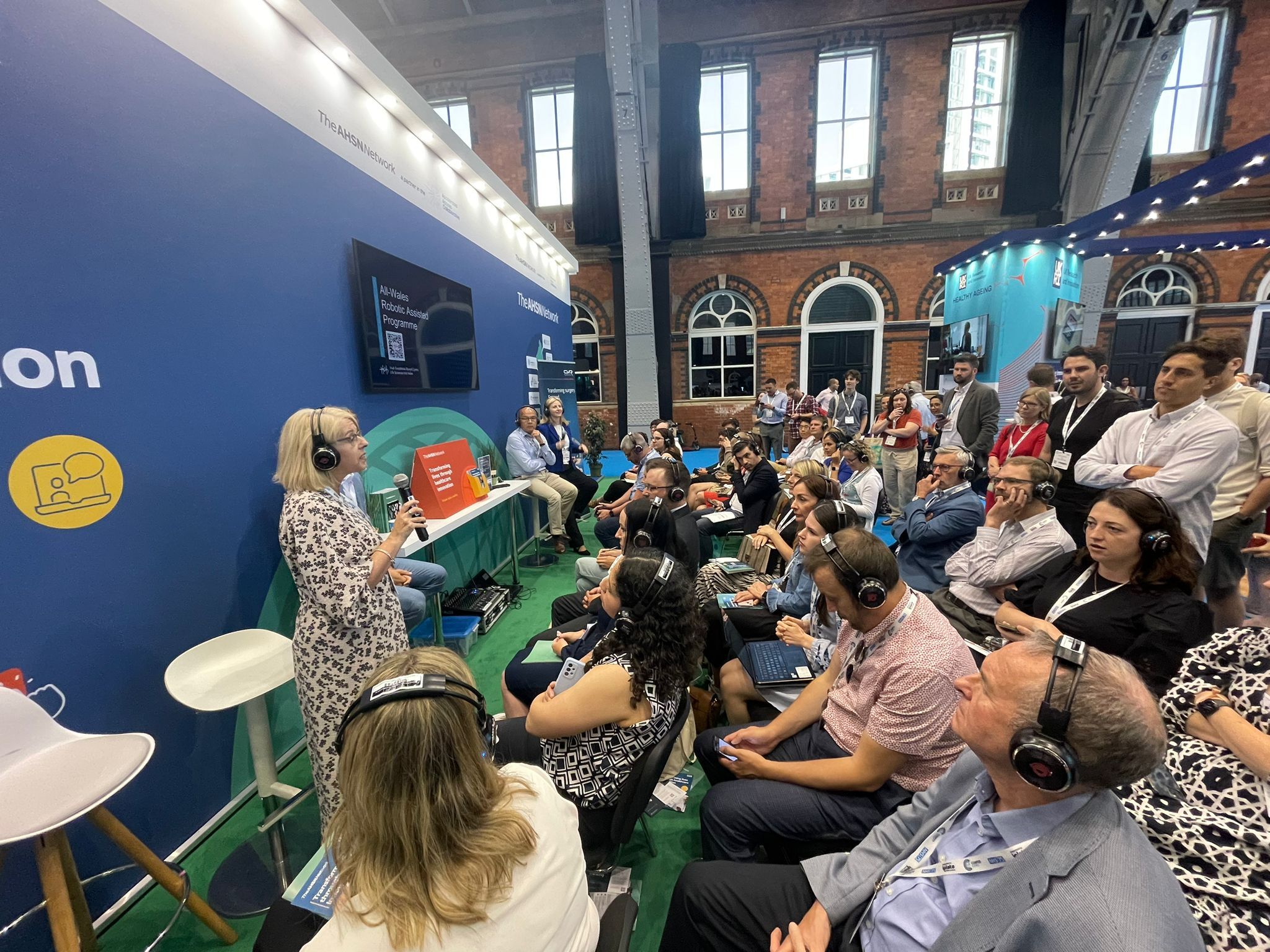 The All-Wales National Robotics-Assisted Surgery Programme launched in March 2022, providing CMR Surgical's minimally invasive and highly precise surgical robotics system for cancer patients at Cardiff and Vale Health Board and Betsi Cadwalladr University Health Board. Since inception, over 150 patients have had surgery with over 60 staff trained in the technology. 
At NHS ConfedExpo 2023, our Chief Executive Officer, Cari-Anne Quinn hosted a panel discussion about this incredible work in the AHSN Innovation Zone. It provided a platform for people involved in the programme to share their experiences. Participants included: 
Jonathan Morgan – Programme Manager, All-Wales National Robotics Assisted Surgery Programme   
Ana Raduc - General Manager UK & Ireland, CMR Surgical    
Ken Lim - Consultant Gynaecological Cancer Surgeon, Cardiff and Vale University Health Board  
Through the session they discussed their thoughts and experiences of the programme so far and its future direction. 
How the programme began 
The session began with Jonathan Morgan who explored how the programme started. Wales had been lagging behind its counterparts in implementing an assisted robotics surgery initiative for cancer and a bold approach was needed to counter this.  
There was an appetite to coordinate an ambitious approach for change that could be actioned across Wales. And the incredible result was the world's first national programme for assisted robotics surgery. This helped put Wales firmly on the map for innovation in this field by not only adopting transformative technology but doing it in a whole-system way. 
Life Sciences Hub Wales supported this process by developing the National Business Justification Case in close consultation with partners. This helped secure approval and funding from Welsh Government. 
CMR Surgical were then selected as the programme partner following a centralised national tender process. Ana Raduc complimented this process, praising how robust and comprehensive it was.  
An insight into the technology and its benefits  
Next, the panel explored the application and benefits of CMR Surgical's Versius Surgical System  which has been installed in theatres across Wales. It has enhanced precision and control due its design and movement imitating a human arm and wrist. 
Ken Lim spoke of "thinking laparoscopically and operating robotically". Many cancer surgeries need a laparoscopic approach which can be complex for surgeons, requiring many hours of standing up. The Versius Surgical System means they can sit down and remain comfortable. It is also simpler to learn how to do a robotic assisted surgery than using traditional laparoscopic methods. One surgeon summed up using the technology by saying "you've made it easy". 
The programme's positive impact on cancer patients was also highlighted. The precision of the surgery and reduced size of the wounds speeds up recovery time and means a shorter stay in hospital. 
What does the future look like? 
The programme is a 10-year collaborative partnership, where the collective goal is to deliver a range of long-term benefits for the health and well-being of cancer patients in Wales.  
Panellists commented on how the All-Wales National Robotics-Assisted Surgery Programme has helped bring employment and training into the nation. This is set to continue; equipping surgeons with the skills they need and investing in our skills play a fundamental role in how we can effectively treat cancer patients in Wales, whilst also encouraging vital jobs and economic growth. 
They all commented on plans to further roll out the technology across Wales. Jonathan Morgan highlighted the importance of constantly talking to all partners across the nation to avoid siloes and continue the collaborative approach. He finished by highlighting the importance of working together, saying "when you're aligned with common goals, you can push boundaries."  
If you'd like to find out more about the All-Wales National Robotics-Assisted Surgery Programme, then visit and bookmark our Project Page for important information and to follow its journey.