On 28 – 29 June, we exhibited at Coventry's EBME Expo. It was fantastic to see the vast array of innovative MedTech across the two days, a reminder of the UK's strong life sciences sector.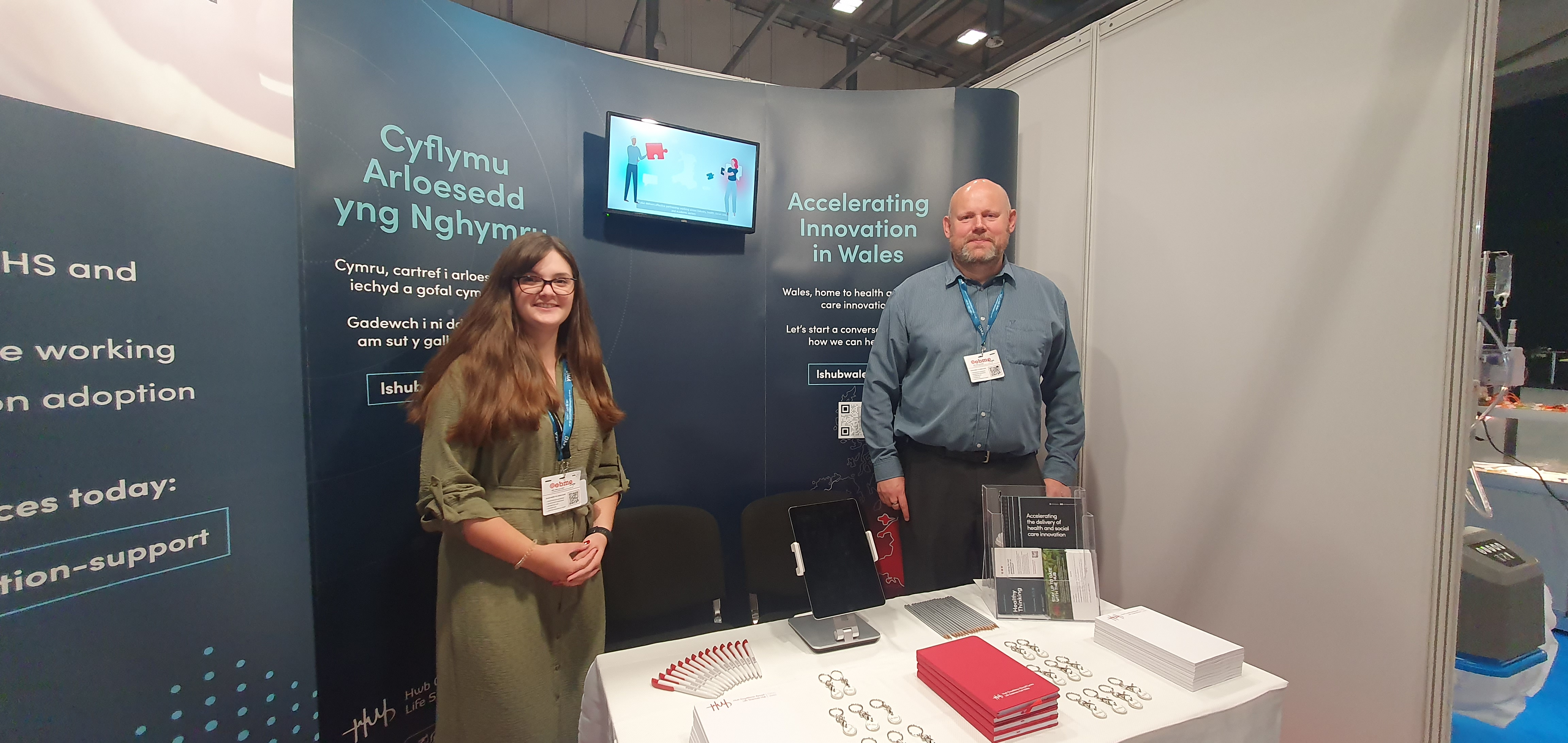 Most exciting was the opportunity to represent Wales at the event. We elevated our nation's dynamic innovation landscape and demonstrated our tangible impact. Networking with industry gave us many new connections, each with the potential to deliver new technologies to Wales' health and social care frontline.
The EBME Expo is the UK's largest independent medical equipment exhibition and conference dedicated to healthcare technology. Its focus is to support healthcare professionals to deliver sustainable improvements using technology. In attendance were a variety of industries showcasing numerous innovative technologies, NHS professionals, and academics.
We attended a numerous talks over the two days and saw the advancements in improving patient medical experiences and outcomes within the UK. One was Ahmed Fayed (Senior Medical Engineer and Dialysis Technician at Newcastle NHS Foundation Trust) presenting dialysis improvement impact in the healthcare system. At present, dialysis covers 5% of the NHS patient population, with 2% budget for dialysis treatments. However, some dialysis treatments are moving into the home for patients in England. Not only does this empower patients to understand and take control of their own treatment and health but, in enabling them to remain within their homes and communities, home dialysis can save 35% of NHS costs.
Another key presentation from Mark Hitchman (Managing Director, Canon Medical Systems UK) outlined the intricacies of AI in diagnostics, and how it can improve image quality of CT scans, streamline staff workflow, and support diagnostic interpretation. From recent experience of applying AI in healthcare, it's evident that we need to remain cautious. Still in the early stages of development, software upgrades can cause reducing diagnostic accuracy, and the delicate ecosystems of machines means human judgement needs to be honoured above all else.
It was a moment to reflect that nothing can replace the expertise, empathy, and human judgement of staff on our health and social care frontline who work tirelessly to support patients and service users. However, new technologies can be crucial in supporting their work, helping to improve service deliveries through streamlining workflow. At the heart of this lies the potential improvement in outcomes for both staff, patients, and service users. Through empowering patients to work with healthcare professionals whilst also taking ownership of their own health, it was a reminder that we're all in collaboration to improve the health and wealth of the nation. The EBME Expo also highlighted the passion of individuals at the forefront of MedTech innovation. Behind every innovation is a person with a genuine desire to make a difference and leave a positive legacy.
We're grateful for the opportunity to exhibit and the chance to meet so many new individuals with a passion for improving patient experiences and outcomes for everyone in the nation.
If you have an innovative idea that could support our health and social care frontline staff deliver crucial services across the nation, please get in touch. Together, we can make a positive difference for people cross the nation.