As part of its latest series of films to showcase Welsh innovations with the power to revolutionise healthcare, we reveal how virtual reality training could become the future for healthcare professionals.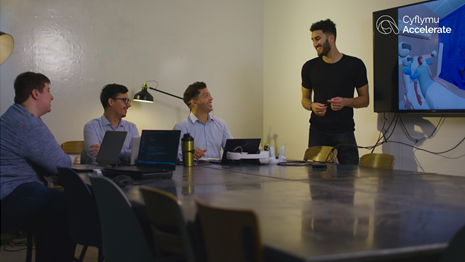 The demand for virtual training dramatically increased during the pandemic as healthcare professionals sought safer alternatives to face-to-face training.
Goggleminds specialise in combining gamification and immersive technology to help healthcare professionals and students learn more effectively.
Utilising their knowledge of the challenges faced by healthcare providers, the Life Sciences Hub Wales' Accelerate team were able to quickly establish collaborative partnerships that allowed Goggleminds' developers to work directly with clinicians and care providers.
The resulting training programme uses virtual reality (VR) headset technology that gives healthcare practitioners the opportunity to train in a safe and controlled environment, with content that accurately replicates real clinical scenarios.
Azize Naji, Founder of Goggleminds said:
"What we want to do is really engage health care staff in the training process. I've actually worked in healthcare for a number of years. I saw the problems firsthand and for me it was about providing solutions for what I saw was a big problem. And that problem is training that's unengaging, inaccessible, and ineffective. We think it's really important that healthcare staff are provided with the right tools, and for us, that's about providing excellent quality training for them. So, Accelerate has provided us with the tools, the resources and the information to really expand what we're doing."
Accelerate is led by Life Sciences Hub Wales, in partnership with Cardiff University, Swansea University and University of Wales Trinity Saint David. Rather than providing funding or grants, this programme offers SME's and Enterprises in Wales the opportunity to tap into academic expertise, and the latest facilities needed by innovators and entrepreneurs to realise their ideas.
With first-hand experience working in public healthcare, the Accelerate team understand the training challenges faced in the NHS. That insight is critical to assisting companies like Goggleminds to effectively engaged with healthcare workers when designing engaging and accessible training programmes.
Chris Jones, Business Engagement Manager at Life Sciences Hub Wales:
"Accelerate plays a vital role in the development of health care across Wales. Not only do we turn new ideas into new technology processes and services within the health and social care sector, but we also liaise closely with those colleagues, so we understand their daily challenges and pressures. And then we link that to our industry partners, and we try to come up with innovative solutions to those problems."
To date, Goggleminds' results demonstrate that retention rates of individuals who have received virtual training exceed that of traditional training methods. The programme's partners believe that this indicative of the power digital transformation has to offer for those seeking to achieve new levels of quality in training that can be delivered in new safe environments.
Rhodri Griffiths, Director of Innovation Adoption at Life Sciences Hub Wales:
"We're happy to be working on such a meaningful project with Goggleminds that is leading the way using digital transformation to impact challenges faced by colleagues' health."
The Accelerate programme has now been extended to December 2022. If you would like to find out more about how the programme might be able to support your bright idea or innovation, contact us today via hello@lshubwales.com