Life Sciences Hub Wales delighted to partner with MediWales to deliver this year's Innovation Awards. This brought together innovation leaders across health, care and industry in Wales to recognise outstanding achievements.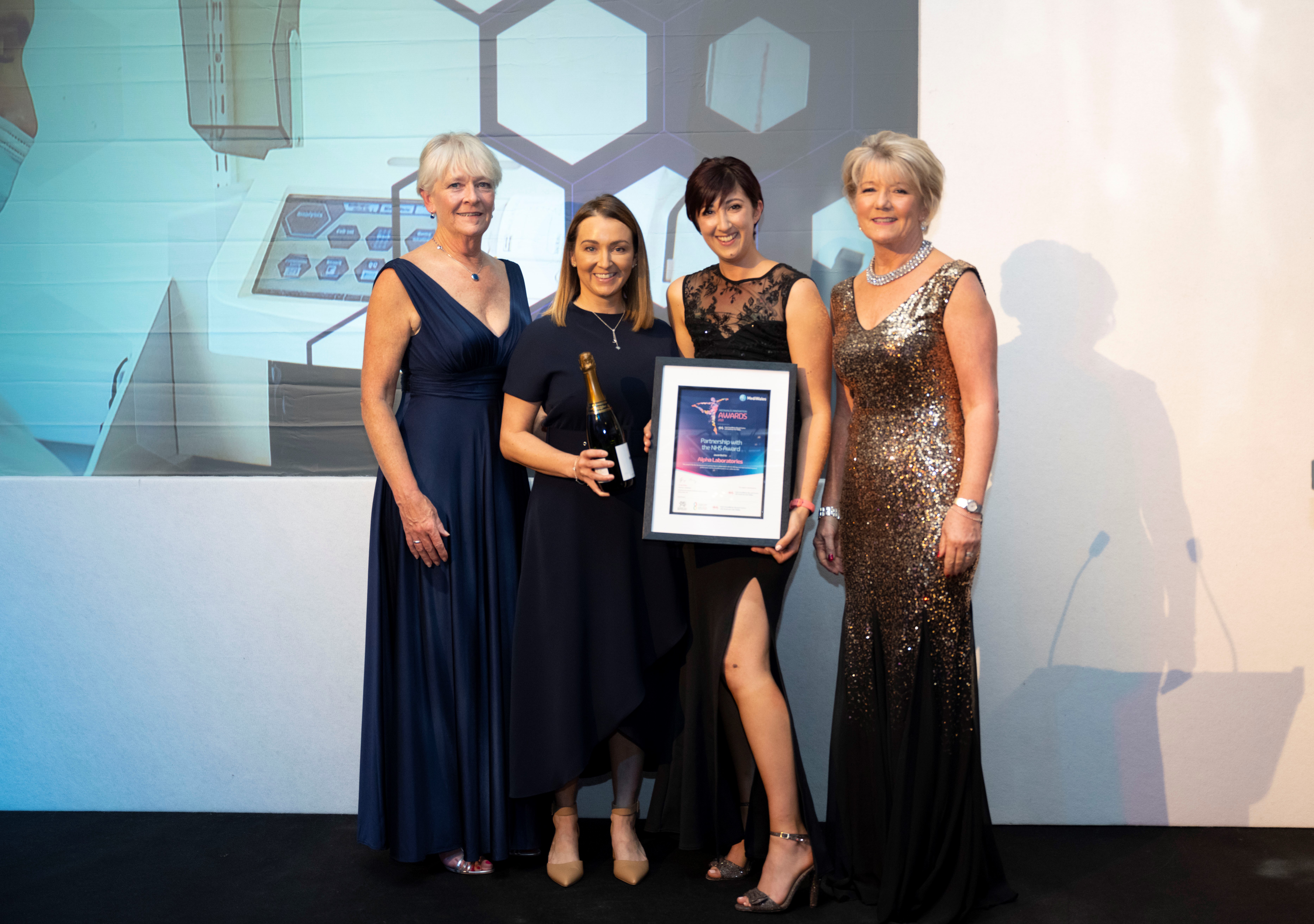 The evening saw a return to in-person celebrations at the Mercure Holland House Hotel in Cardiff on 2 December. The event allowed those attending to celebrate the successes of the healthcare innovation community in Wales, who have continued to demonstrate their ability to adapt and innovate in the face of continued change and uncertainty. 
The awards, co-hosted by Life Sciences Hub Wales' Chair, Chris Martin, were split across 11 categories. These covered both healthcare and industry, attracting a diverse selection of applicants making a marked difference to health and economic wellbeing in Wales. This highlights the thriving innovation landscape found across Wales, supported by strong collaboration between healthcare and industry. 
Industry Award Winners 
Innovation: Awarded to Creo Medical for its pioneering endoscopic surgical devices that are minimally invasive. 
Start Up: IQ Endoscopes won this category due to its development of clinically effective single-use flexible endoscopes that help reduce cross-contamination and address inefficiencies found in current reusable technology.  
Export: Awarded to CellPath who manufacture the global supply of various products to the cellular pathology market and has seen significant export growth. 
Partnership with the NHS: Alpha Laboratories won this award for its partnership with the Clinical Biochemistry team at Cwm Taf Morgannwg University Health Board. They successfully introduced a quantitative Faecal Immunochemical Test (FIT test) to help identify patients with colorectal disease who need urgent referrals. 
Outstanding Achievement: BiVicTrix received this award, who are a company developing therapeutics that target particular cancers. This allows higher dosing and more aggressive cancer eradication, without the side effects usually associated with this type of treatment. 
Covid Response: Awarded to British Rototherm for its ability to repurpose its manufacturing operations to produce face shields for the NHS to support the Covid-19 response. 
Industry Judges Award: Virustastic Shield won this award for its patented single-use face coverings. These have been trialled nationally by the NHS to investigate financial and environmental efficiencies. 
NHS Award Winners  
NHS Wales Working with Industry: Awarded to Cwm Taf Morgannwg Improvement for its partnership with Baxter Healthcare to create a strategy for safer intravenous fluid administration. 
Digital Impact: Betsi Cadwaladr University Health Board Pharmacy won this category for its project trialling technology that identified acute kidney injuries in admitted patients, allowing prompt diagnosis and harm reduction. 
Scaling Up Innovation and Transformation: Awarded to All Wales Medical Genomics Service and Velindre Cancer Centre due to their work as the pilot site for implementing the first NHS-commissioned pharmacogenetics test for patients receiving the chemotherapy drug fluropyrimidine. 
Health and Social Care Research Partnership Award with Industry: Awarded to Hywel Dda University Health Board and Tritech Institute working with Bond Digital Health for developing a digital mobile phone app, COPD Pal, that enables patients to manage chronic obstructive pulmonary disease (COPD). 
Cari-Anne Quinn, CEO of Life Sciences Hub Wales, said: 
"Life Sciences Hub Wales is thrilled to be partnering with MediWales to celebrate the fantastic achievements of the flourishing healthcare innovation landscape in Wales through this year's award ceremony. It was fantastic to get together recognise the hard work that so many pioneering companies and organisations are undertaking to create a more prosperous and healthier Wales." 
Gwyn Tudor, CEO of MediWales, said: 
"This year's Innovation Awards are taking place at a time when health technology and life science innovation has never been more important. This innovation relies on the close cooperation of research, manufacturing, and clinical partners across the sector.  

For these reasons, our partnership with the Life Sciences Hub Wales in delivering the awards, has provided a tremendous boost helping us to reach the widest possible participation across Wales.  We have seen a huge number of fantastic projects and it was a delight to share the stage with Chris on the night to celebrate these successes." 
Learn more and get in touch!  
Wales is home to a dynamic innovation ecosystem that is transforming our health, wellbeing, and economic landscape. Life Sciences Hub Wales is working collaboratively with health, social care and industry partners to help make this happen. 
Whether you are a small business, large-scale international company or a health and social care provider, we are here to help through our diverse range of support services. Find out how we can help accelerate your innovation.