The University of Wales Trinity Saint David's (UWTSD) Assistive Technologies Innovation Centre (ATiC) recently hosted a one-day workshop for Year 12 and 13 pupils in partnership with the Mullany Fund.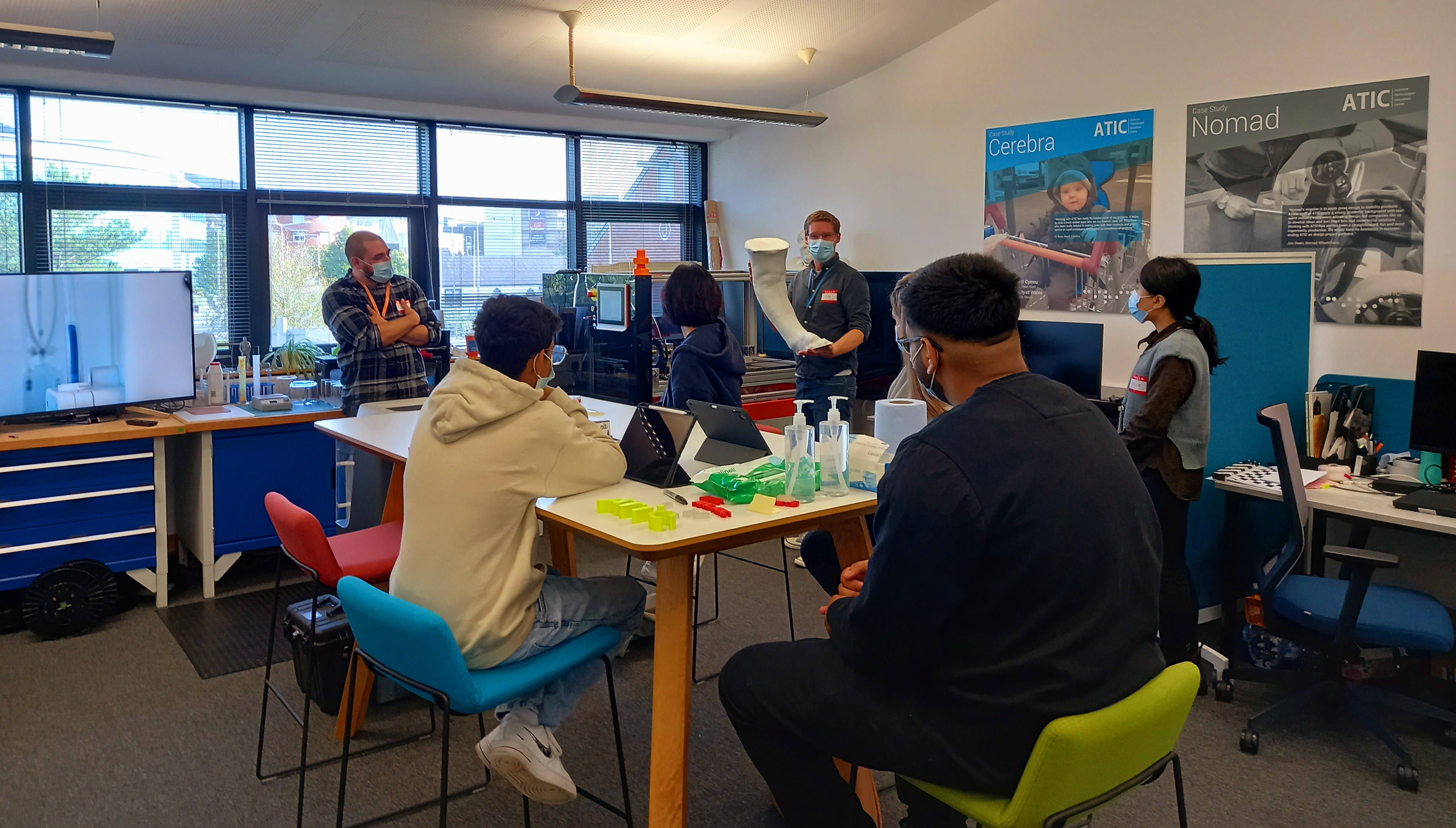 The Mullany Fund is a social mobility charity that works to engage young people with life sciences, and to provide tailored advice, guidance and support to help them achieve their goals.
The workshop included an introduction and tour of ATIC's state-of-the-art facilities on the SA1 Waterfront, with morning and afternoon sessions where the pupils gained knowledge and experience on 3D prototyping and user experience (UX).
The 3D prototyping session helped pupils to understand how 3D scanning and 3D printing can be implemented to  develop bespoke health and well-being solutions tailored specifically to fit the user.
The UX session helped pupils to understand and measure a person's experience when evaluating products and media, using eye tracking and facial expression recognition technology to better understand human responses.
The workshop day concluded with a round-up session, where pupils had the opportunity to recap on what they had learned during the day and reflect on how this experience inspired their potential careers.
Workshop co-organiser and ATiC Innovation Fellow Yolanda Rendón-Guerrero said:
"ATiC is proud to have hosted previous Mullany Fund workshops, working with pupils to help them gain an understanding of UX and design research methods for healthcare innovation. 

"It was fantastic seeing pupils engage with our team as they made their own 3D designs and 3D printed them, taking something tangible with them out of the workshop as a reminder of the day."
Co-organiser and ATiC Innovation Fellow Tim Stokes said:
"It's always great to work with young people and show them our research and how we problem-solve, prototype, and test health products here at ATiC

"They may be the researchers and clinicians in the future, and it was interesting to discuss what medicine may be like in the future with new assistive technologies."
Sioned Jenkins from the Mullany Fund said:
"We are thrilled to have the opportunity to partner with the ATiC team who provide these fantastic workshops for our e-Mentoring students.

"Our students really enjoy the interactive elements of these workshop and learn a lot about professions many of them may have never considered before. It has been an eye-opener for them, as well as the Mullany team!"
Feedback from the pupils who attended the workshop included:
"It was a great opportunity to find out about a wider range of healthcare, and the different uses of VR and 3D printing technology.  I never had a chance to be familiar with those technologies before, however I enjoyed the aspects of them, and it led me to think more open minded."

"I really enjoyed the workshop, and it has made me rethink my career path. The people were lovely, and I would love to do something similar in the future. I could see that everyone had a passion for the job which I hope to also have for my job in the future."
And one of the things one pupil found the most enjoyable about the workshop was:
"Meeting the team and getting to know more about their individual backgrounds and how they got to where they are today. I found it fascinating that they all did different degrees in completely different subjects, but they all work in the same team and really complement each other. I'd love to be a part of a team that works this well in the future."
Further information:
Bethan Evans
ATiC Project Officer, Marketing and Communications 
Assistive Technologies Innovation Centre (ATiC)
University of Wales Trinity Saint David (UWTSD)
Email: bethan.evans@uwtsd.ac.uk