By joining together primary and secondary health care, and maximising the use of digital advancements, a series of eye care reform initiatives led by Cardiff and Vale University Health Board (Cardiff and Vale UHB) are helping to reduce waiting times and improve outcomes for patients with urgent eye conditions.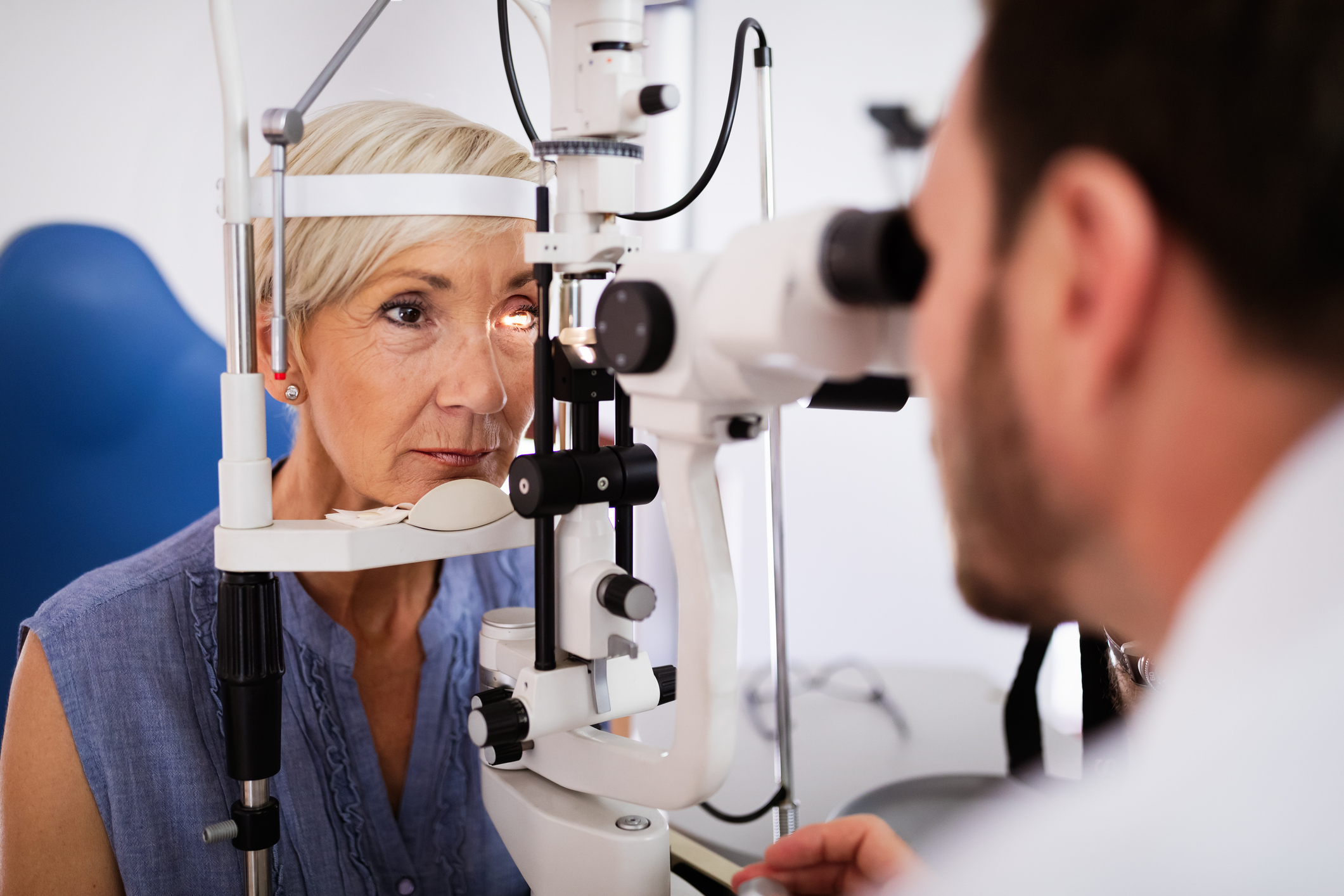 The Challenge 
With a growing and ageing population, and established links between the development of eye conditions and diseases such as diabetes, the demand for eye care has risen exponentially over the last decade, placing increasing pressures on an already overstretched health care service.   
A lack of capacity to meet increasing demand and properly assess and manage eye care patients within the acute care sector meant that patients were not being seen within target timelines. The Welsh Government categorises eye care patients within three bands - R1, R2 and R3 – depending on the seriousness of their conditions, with R1 patients being those most at risk of irreversible harm or sight loss if their target date is missed. The delays in being seen left R1 patients in a more vulnerable position.  
The Solution  
To tackle this issue, in 2018, Cardiff and Vale UHB announced a five-year plan to address patient waiting times and outcomes by increasing optometrist training and getting primary care and secondary care working together 'shoulder to shoulder.'  
The initiative was spearheaded by Gareth Bulpin, National Architect Eye Care Digitisation NHS Wales, at Cardiff and Vale UHB, who was inspired by his own experience facing the challenges of the system to come out of retirement to support the project. Following a stroke, and with delays being seen, Gareth unfortunately lost an eye, fuelling his passion and drive to improve the experiences of other critical eye patients going forward. 
Sharon Beatty joined Cardiff and Vale UHB as the Optometric Advisor to the Health Board, and working with Gareth as a team, helped with the roll out of a shared care model utilising the skills of prescribing optometrists on the high street, to support the residents of Cardiff and the Vale of Glamorgan. While the idea had been in the planning for some time, the effects of the pandemic and the subsequent 40% reduction in the number of patients who were able to attend hospital, accelerated its development and implementation.   
Four out of the 64 optometric practices across the health board had staff that held an Independent Prescribing qualification, which enables them to prescribe treatments.  
As part of the project, these four prescribing optometrists were mobilised to move unscheduled care patients into primary care. They would assess high priority patients from all 64 practices and use the OpenEyes electronic system to upload images and digitally share patient data with consultants for their virtual review and confirmation of treatments. More complex cases that could not be treated within primary care would then be referred to a consultant, minimising the need for hospital appointments and ensuring that only those requiring immediate intervention attended eye casualty.  
This meant that the majority of eye conditions were able to be managed and treated by independent prescribing optometrists in the local community. It also allowed consultants who were isolating during the COVID-19 outbreak to assess patients virtually.  
In addition, five optometry practices were connected to imaging centres, enabling them to safely and securely submit glaucoma patients' images to be reviewed by consultants at the University Hospital of Wales (UHW) remotely via virtual clinics.  
Following the success of the project, Cardiff and Vale UHB is supporting the training of optometrists from across Wales. It has collaborated with Cardiff University to help establish the NHS Wales University Eye Care Centre which will offer Welsh Optometrists the opportunity to obtain the Higher Certificate in Glaucoma and/or Medical Retina which will enable them to provide a wider range of services in their optometry practice. These fully funded courses will provide them with clinical placements at the Centre where they work alongside consultants and senior tutors to treat patients and gain invaluable experience.  
The Centre, in collaboration with the School of Optometry and Vision Sciences at Cardiff University, is currently providing training for nine optometrists from across Wales, with a further 12 set to start later this month, and plans for another 21 places to be funded by 2023.  
In addition to its work implementing a shared care model, Cardiff and Vale UHB has also been developing software to detect critical eye cases using artificial intelligence (AI). Over the Christmas 2021 period, it trialled the use of its 'electronic referral system' (OpenERS), which enabled opticians to submit anonymised photos and patient details digitally to be screened by AI for eye pathology conditions. The images were evaluated and confirmed for accuracy by three NHS Wales consultants. 
This 10-week project, funded by the Welsh Government, provided valuable evidence that this advanced imaging technology will be a 'game changer' when it comes to fast tracking screening referrals to the acute sector.   
Outcomes 
The initiatives implemented by Cardiff and Vale UHB have enabled patients to be seen and treated much more quickly and effectively, circumventing the need to go to hospital in many cases. Since they were introduced (April 2020) the number of R1 patients being seen on time has increased and is currently at 69.1%, compared to 46.8% for the NHS Wales average (as published by the Welsh Government for December 21 statistics).  
As well as improving patient experiences, the initiatives have helped to release consultant capacity and clinic space, enabling them to focus on treating complex patients that need urgent care.  To date, more than 6,500 patients have been treated in local optometry practices in Cardiff and the Vale of Glamorgan, releasing capacity in the UHW for complex patients to be seen more quickly. For patients with these more serious conditions, this resulted in shorter waiting times and allowed them to be treated by a consultant within target timeframes, reducing the risk of them developing irreversible harm.   
The advanced training of optometrists has helped to build knowledge within primary care.  After completing their qualifications, optometrists spend four days a week at their community practices, located all over the country, allowing them to share their skills with their local teams, while using their expertise to directly help patients and cut waiting times. Alongside their community work, these upskilled optometrists attend hospital clinics one day a week, where they are able to perform procedures including eye injections and laser treatment, relieving pressures on consultants.  
What's next? 
Cardiff and Vale UHB is working with Cardiff University to increase the number of training places available on the NHS Wales University Eye Care Centre. Its goal is for half of the primary care optometry practices within Cardiff and the Vale to have prescribing optometrists within the next two years. The Health Board is also looking to support the rollout of the shared care model using OpenEyes across the rest of the nation. 
Following the success of the AI project, it is also in discussions with two Global organisations to support further development of this technology. 
Speaking about the work of Cardiff and Vale UHB, Gareth Bulpin said:
"Our initiatives so far over the last four years have shown just how much adopting a shared care model and harnessing the skills of optometrists and technological advancements working" shoulder to shoulder" with the acute sector can benefit patients and reduce pressures on health care staff".  

"Our work has had a significant impact on the outcomes of patients and, by improving treatment timelines, has prevented those with more complex cases from developing avoidable more serious conditions or even sight loss. We are looking forward to seeing the additional benefits we can bring over the next year as we lead on the national roll out of OpenEyes and OpenERS and supporting the training of further highly qualified optometrists."
Sharon Beatty added:
"As highly skilled eye care professionals in primary care, optometrists are best placed to safely manage a range of eye conditions to avoid the need for patients to see a hospital consultant.  

"Our five year plan includes providing training and clinical placement opportunities to enable optometrists to provide an even wider range of services in their optometry practice closer to the patient home. This will free up essential hospital capacity so that only patients who need hospital appointment care attend and can do so in a timely manner". 
For more information on the ophthalmic work of Cardiff and Vale University Health Board, contact Gareth Bulpin on gareth.bulpin@wales.nhs.uk  or Sharon Beatty on Sharon.Beatty2@wales.nhs.uk.
This project is part of the Accelerate programme which is part-funded by the European Regional Development fund, through Welsh Government.