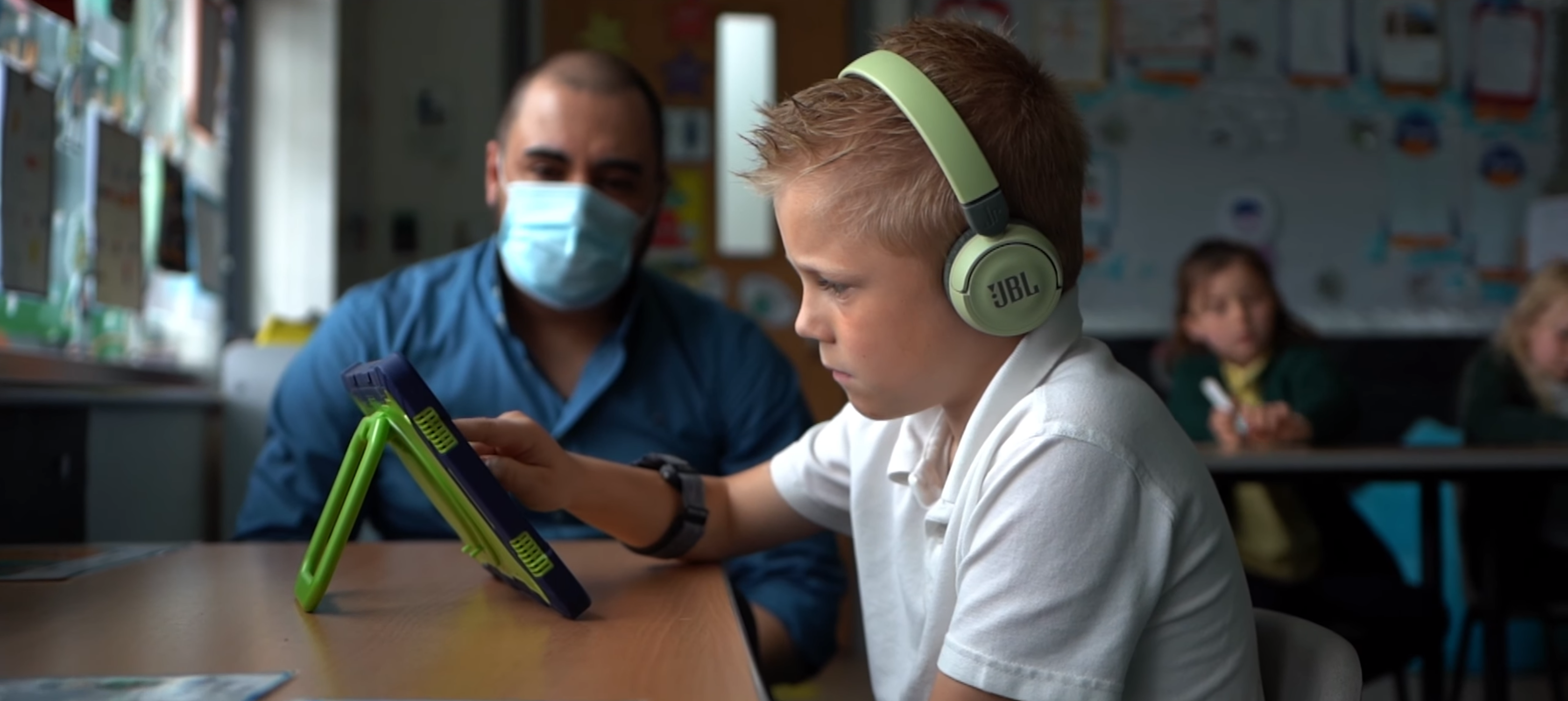 Project overview
ATiC worked with Pembrokeshire-based Gwylan UK to evaluate and develop Sleeping Lions, a product which aims to help children manage their mental and physical health. This is achieved by performing exercises which help them increase their mindfulness, reduce their breathing rate, connect to their bodies, and calm themselves down.
Traditionally, emotionally overwhelmed children have been removed from the classroom, which is difficult for the school and doesn't help the child's educational attainment.
Schools are looking for ways to help their pupils learn how to regulate their own emotions, and calm themselves down when they become angry, upset, or emotionally overwhelmed in the classroom setting.
Lowering a person's heart rate is a very effective way of calming down. It is proven that lowering a person's rate of breathing also lowers their heart rate. 
Gwylan UK is developing a piece of software which will be used as an app on a device such as a tablet in the classroom, used with Bluetooth headphones and a wrist-worn heart rate monitor. 
It takes an upset child through games, exercises, and techniques designed to slow their rate of breathing, which enables them to calm down themselves without having to leave the classroom. This helps increase that child's wellbeing, reduces the amount of education they miss, and enables schools to support more of their pupils emotionally.
Accelerate's involvement
Accelerate is supporting the delivery of this project through the provision of academic expertise and state-of-the-art facilities at ATiC.
Gwylan UK approached ATiC to assist with evaluating their product prototype in a pilot rollout involving young people at two Welsh schools.  The app offers a range of immersive, distraction and relaxation exercises that engage and guide the young people, providing them with a private space to encourage their relaxation and emotional wellbeing.
The ATiC team performed a series of studies in schools to evaluate the product's ability to promote mindfulness, regulate their breathing, and lower their heartrate to help them feel more relaxed.
ATiC carried out user-centred behavioural research in the classroom to understand how the pupils were using the app and its effect on both their behaviour and the classroom dynamic.
When a pupil used the app ATiC would also capture a lot of data, such as physiological measurements (heartrate and breathing rate), along with other digital metrics such as facial responses to better understand the user's experience and their engagement.
The data gathered provided evidence for the product's efficacy, as well as recommendations to improve the final version for sale to schools and academic customers.
Expected outcomes
Independent research has shown that Sleeping Lions appears to be needed in nearly every school, and that schools are willing to invest in this technology.

Sleeping Lions additionally provides the young user with transferable techniques which enable them to manage anxiety beyond the classroom.

Sleeping Lions is useful for a wide age range, from primary to early years of secondary.
Impact
This research collaboration has generated PPS (product, process, services) new to the firm; PPS new to the market; non-financial support has been provided; and a new enterprise has been created.

Sleeping Lions would be a first-to-market product with many USPs.

Sleeping Lions is a truly bilingual product, impacting positively on the development of the Welsh language and providing support for young people in their first language, the language of their home and wellbeing.

Sleeping Lions' PulseBAND technology, containing components including cardiovascular sensors and headphones, could potentially be developed for use in the areas of elite sports, and has potential military, security, and medical applications.

The development of Sleeping Lions and PulseBAND is already providing additional employment opportunities for Gwylan UK's software development team, hardwear team, and textile fabricators.
This project is part of the Accelerate programme which is part-funded by the European Regional Development fund, through Welsh Government.