The All-Wales National Robotics Assisted Surgery Programme is part of a wider ambition to improve outcomes for cancer patients across Wales. James Ansell, Colorectal Surgeon for Cardiff and Vale University Health Board, explains why we should be excited about this dynamic approach and how robotic assisted surgeries are changing lives and pushing the boundaries of what is possible.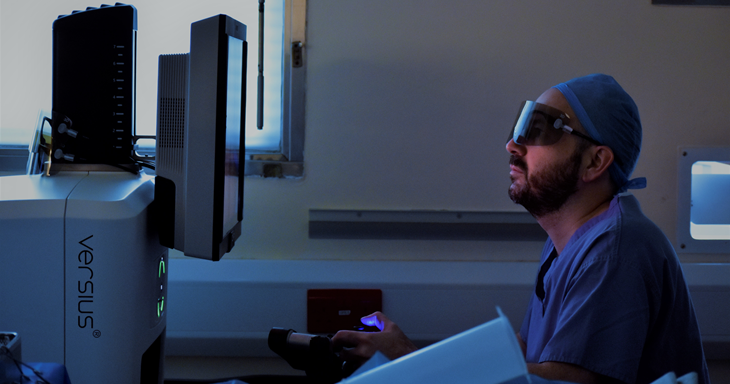 Cancer is the main cause of mortality in Wales but innovative diagnostic pathways are making progress to improve treatment times. As part of a national ambition to better outcomes for cancer patients, Welsh Government launched the All-Wales Robotic Assisted Surgery Programme in 2022.
This revolutionary approach allows operations to be performed using highly advanced robotic surgical instruments controlled by the surgeon using console controllers. Meanwhile, the operation is viewed by the surgeon from a high-definition screen. This is the first nationalised robotic surgical programme in Wales and is a partnership between CMR Surgical and Welsh health boards.
As a colorectal surgeon for Cardiff and Vale University Health Board, it's a privilege to be on the frontline of robotics innovation and exciting to see boundaries being pushed. Tumours that we previously couldn't operate on are becoming operable thanks to this technology, which is life changing for patients, families, and communities across Wales. The programme means we're boldly stepping into new ways of working together on a national scale to improve services.
My robotics journey started in 2018 in Minnesota where I had the opportunity to learn how to do robotics surgery at the Mayo Clinic. It was Jared Torkington (Clinical Lead for the National Robotic Assisted Surgery Programme) who initiated the conversation about introducing robotics to Wales, inspired by the robotics assisted surgeries at the Mayo Clinic. The ambition was to link Welsh health boards on a national programme, enabling a new way of working by comparing surgical outcomes and sharing best practice. This is a world first; we are eager to embrace Wales's unique infrastructure and size to make this a reality.
Deliverables, data, outcomes, and benefits
The primary intention of the All-Wales National Robotic Assisted Surgery Programme is to improve cancer outcomes for people across Wales. The results speak for themselves and impact greatly on a patient's quality of life. Robotic surgery is far less invasive, meaning patients spend less days in hospital for post-operative recovery and can return home sooner to friends and family. The articulating robot limbs makes it much easier to navigate the human body, reducing the risk of hernias, pain, and trauma to neighbouring tissues when obtaining a bowel dissection.
Progress is also happening outside the operating theatre. Data collection methods are changing and we're embracing digitalisation as a vehicle for improvement. Traditionally, surgical records would be handwritten and manually input into IT systems. The Versius robots, supplied by CMR Surgical, are changing this. A unique QR code on each robot is scanned via an app prior to surgery which automatically uploads key surgical data to a dashboard recording patient information, time of entry and exit from theatre, and a video recording of the operation. For me, this is the most exciting part as we're using it for training, development, and quality improvement. Sharing best practice through video recordings will potentially benefit future patients and improve our surgical development, too.
Leading the way in Wales
In Wales, we're boldly pushing forward to approach things differently. For instance, CMR Surgical supply our robots but they are also our partners, which hasn't happened elsewhere. We help develop their systems, advising them on best practice for data collection.
Being able to link all health boards together in Wales will prove to be a huge advantage, allowing us to standardise the approach to robotic assisted surgery. The data dashboard also allows health boards to see what's going on elsewhere in the country, generating real-time information. Together, we have the chance to develop a single system and I'm hoping it will provide easier access to ongoing professional development. For example, a registrar travelling to a site in Wales can embrace the opportunity to perform an operation instead of waiting for a chance in their current location.
Challenges, learning, and research
Introducing new technologies can be daunting. Our usual approaches are familiar to us, and it can be challenging to learn a new way of doing things from the ground up. Integrating them into how we work now takes time but, in my experience, it's completely worthwhile.
We're still learning what the advantages are with robotics, and some outcomes will need long-term monitoring. Adopting new technologies results in new outcomes being measured, things that perhaps weren't so apparent before. For example, robotic surgery provides improved visibility of nerves which, when traumatised, can impact bladder and erectile function. We can now preserve those nerves more effectively than with other surgeries. At present, we're not measuring these outcomes but, over time, I believe this will change as conversations gain momentum.
One of the most exciting developments for NHS Wales is the immersive technology. CMR Surgical are developing a VR headset to assist with training. Setting up the robot takes a few days of training, so we're trialling an immersive experience with medical students to determine if they can learn how to prepare a robot for surgery in a virtual environment.
Looking forward, I'm of the opinion that most things will become robotic, with laparoscopic surgeries being replaced entirely. Robotic surgery breaks the boundaries of what we can do. We're getting closer to challenging tumours that may have caused problems in the past being next to large blood vessels and nerves, as the technology improves our control and view of the human body. The innovation is limitless, and I think it's a fantastic time to be operating right now. The landscape is going to change quite a lot, and it's already begun.
You can find out more about the All-Wales National Robotics Surgery Programme and follow its progress on our projects page