Public
Once again, the NHS ConfedExpo proved to be a remarkable event this year! We thoroughly enjoyed connecting with like-minded partners and immersing ourselves in a diverse range of inspiring and insightful discussions on advancing health and social care outcomes. This blog delves into the key highlights and takeaways I gathered from this fantastic event.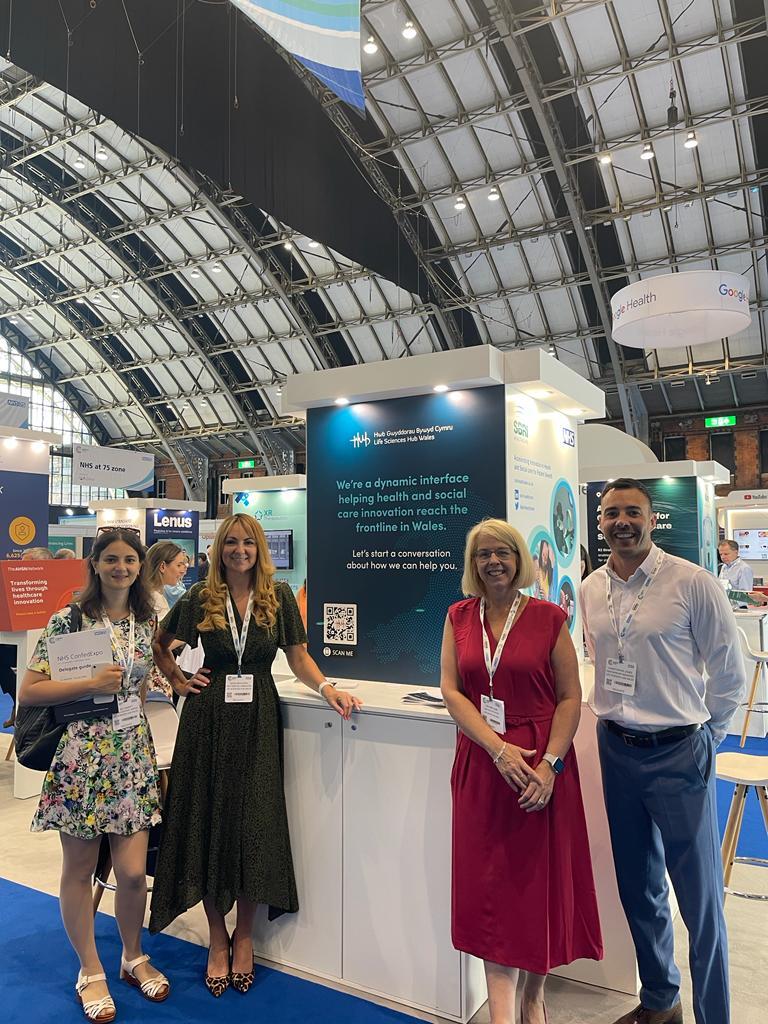 "Every idea, connection and collaboration has the potential to lead to improvement in healthcare." 
These words from Amanda Pritchard, Chief Executive of NHS England highlighted the importance of doing things differently and working together. This really resonated with the work we deliver as connectors, facilitators and drivers. The talks and networking opportunities we experienced strongly emphasised the crucial role of collaboration and innovation in driving improvements in health and social care.  
The event made it clear that collaboration and innovation are crucial for fostering positive change, providing us with valuable insights on efficiently and ideas around implementing life science innovation across the health and social care frontline. 
Putting patients and service users at the heart of social care  
Patient empowerment and experience were mentioned throughout the majority of the talks. This includes Matthew Taylor, Chief Executive Officer of the NHS Confederation, emphasising the need to empower people and have a two-way partnership with the public. 
But what does this mean in practice? At the 'Innovation and rapid evaluation helping address health inequalities' panel, we heard of the importance of building trust in the community and accommodating peoples' needs and values. An example of this was a culturally tailored programme to help diabetes management within ethnic minority communities. Participants were recruited to help co-design the project with extensive community outreach, using lived experience to inform its design.  
It might also mean keeping care in the community. At the same panel, we heard about the successes of Community Assessment and Treatment Units (CATUs) for older people in rural Cornwall. They provide care closer to home, whilst encouraging rapid decision making and easing resource constraints on hospitals and the ambulance service. 
Digital innovation for all 
Digital inclusion was also a big focus. There's a deluge of exciting digital innovations emerging in health and social care. Lots of these were highlighted across talks, including remote monitoring to manage heart failure patients at home and using virtual wards for care. However, such transformation can exacerbate inequalities.  
A Google Health panel highlighted how we can help tackle the digital technology and trust divide by inclusive design. People traditionally access healthcare through conversations, whether this is chatting to a GP or a specialist consultant, so building this into product design helps. Ufonia is one example of this, combining AI and clinical evidence to automate routine telephone consultations. 
Conversely, much more is needed for people who prefer to use digital technology in their everyday life. Healthcare has historically lagged behind other sectors and industries when it comes to moving away from a paper-based process. This is changing, with initiatives like the Community Pharmacy System Innovation Fund supporting the delivery of an electronic prescription service in Wales, but we need continued digital innovation adoption that reflects peoples' current healthcare pathways. 
Indeed, the 'Delivering NHS transformation through patient empowerment' panel session highlighted that three quarters of people search for information about their health before going to a doctor. There's a real need for credible information presented in an accessible way to prevent misinformation and support a patient journey many already take.  
Prevention, early intervention and diagnosis 
We propel health and social care innovation to the frontline to stop people from becoming unwell and encourage earlier disease diagnosis and treatment. It was great to see that we're aligned with other partners who are also prioritising this vital work.  
One of the highlights was an informative session on the NHS-Galleri trial, which explores a groundbreaking blood test capable of detecting early signs of various types of cancer. It's hoped this could be part of a screening process to pick up cancer before symptoms develop, encouraging earlier diagnosis and treatment. It was encouraging to hear the initial results and learn how they plan to rapidly scale up the trial to larger scale evaluation from 2024 if successful.  
Early intervention and prevention can also help limit cardiovascular disease through initiatives like the Blood Pressure Optimisation Programme launched by the AHSN Network. We heard how it aims to transform prevention by optimising the clinical care and self-management of people with hypertension. This is through risk stratification, remote monitoring and virtual consultations, adapting pathways to local area needs and using the wider healthcare workforce more effectively. 
Driving integration 
A holistic approach to health and social care is vital for improving patient outcomes and service efficiencies. It's a fundamental part of what we do; acting as an integrator to create and deepen ties between cross-sector partners.  
Richard Meddings, Chair of NHS England, echoed this importance by discussing the need to coordinate care between the NHS and local authorities. We also heard on the ground feedback from delegates at an interactive group session focusing on collaboration who spoke about how we should be "silo smashing" to improve working and make it more joined up. 
We attended a brilliant talk on innovation in social care delivered by Jon Glasby, Director of IMPACT, who spoke about organisations' four nation approach to addressing common problems and solutions found across a fragmented sector. He discussed how social care needs to be better understood by colleagues in health care if we want true integration. It can be seen as adjacent to the NHS and focused on hospital discharge and older people. We must all be more informed on the social landscape, including its workforce, its culture and its procurement processes. Working closely with organisations like IMPACT and Social Care Wales can help with this.  
Wales: a place of choice for health and social care innovation and investment 
It was truly inspiring to witness the strong Welsh presence at the event! We had the opportunity to connect with valuable partners from health boards, other arm's length bodies in Wales, and outstanding Welsh companies like Concentric Health. 
I was honoured to chair a panel on the All-Wales National Robotics-Assisted Surgery Programme to a packed out audience at the AHSN Innovation Zone. We explored the journey of this pioneering national programme found in Wales that's delivering highly precise robotic surgery to patients across the nation. If you missed the talk and would like to find out more, then read our write up for more information. 
This demonstrated the importance of innovation in health and social care in Wales. There's a real drive by partners from across all sectors to improve patient experience, make services better and encourage jobs and economic growth. We're really proud to be a playing a role in this and creating a better tomorrow for people in Wales and beyond. 
If you didn't meet us at NHS ConfedExpo and want to learn more about how we can support you in propelling innovation to the health and social care frontline, then please get in touch by emailing hello@lshubwales.com.