We consider precision medicine a non-negotiable part of future healthcare. It holds the potential to change the way we diagnose, treat, and prevent detrimental diagnoses that have huge impact on patients, families, friends, and communities across Wales.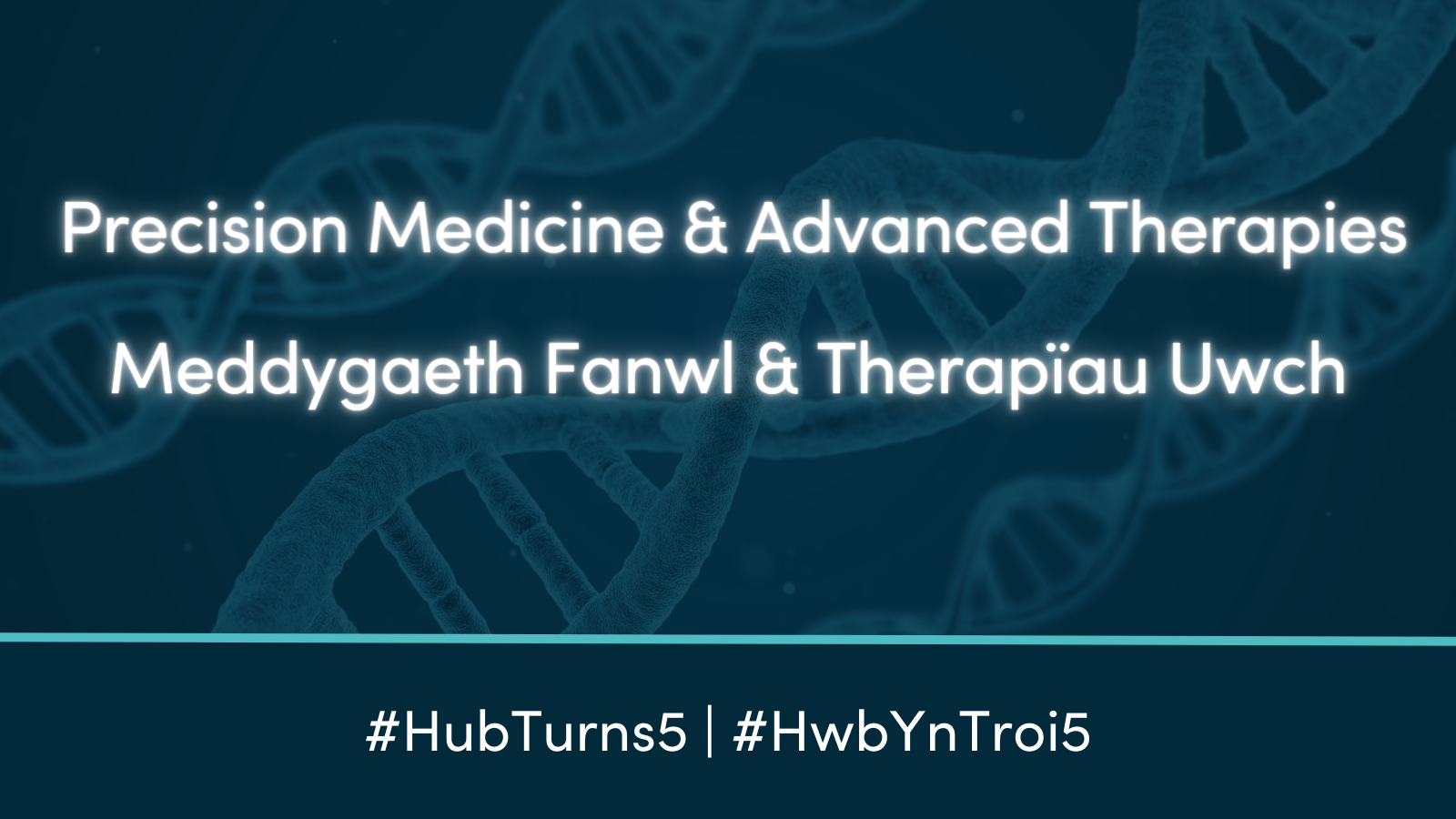 A cancer diagnosis has huge ramifications for patients, family, friends, and communities. It poses a harm to physical health and emotional wellbeing, with depression and anxiety being common consequences that can hinder treatment and recovery. 
In Wales, 19,500 people receive a cancer diagnosis each year, whilst on a national level, one in two people will be diagnosed within their lifetime. Survival rates are slowly improving, and further research is happening all the time to make sure that this is an upward trajectory. This is where the power of precision medicine can be harnessed to improve health outcomes across Wales. It can better the physical health of people across the nation and support the emotional wellbeing of everyone impacted by cancer. 
At Life Sciences Hub Wales, we see precision medicine as a non-negotiable part of future healthcare. From nanotechnology-enabled disease diagnosis to gene therapy, these dynamic new ways of treating illnesses can potentially reduce the burden of chronic disease on health and social care, empower people to take control of their own health, and increase health longevity for people across Wales. 
Why precision medicine? 
Traditional approaches to treating chronic disease can often fall into the 'one-size-fits-all' approach, with majority of patients receiving the same first treatments despite being only 30 – 60% effective. Cancer treatments are usually comprised of chemotherapy, radiation, immunotherapy, or surgery. These treatments are invasive and have disruptive side effects, impacting the patient's quality of life and harming healthy cells as well as cancerous cells.  
Precision medicine combats the assumed universality of chronic disease by tailoring treatments based on a patient's unique genetic makeup, lifestyle, and environmental influence. It encompasses many approaches which may have fewer side effects than traditional therapies. This includes targeted therapies (drugs that target specific mutations), personalised vaccines (cancer vaccines tailored to an individual's tumour), and cell therapies (using a patient's own cells to treat disease.) 
Not only does precision medicine consider the uniqueness of each patient, but current research in next-generation sequencing (NGS) is increasing our understanding of what causes chronic diseases. It can help identify mutations that drive cancer growth, screen for drug resistance mutations, and detect rare genetic variants that may be associated with disease risk. 
Driving precision medicine to the healthcare frontline 
Welsh Government recently released the 'Wales Innovates' plan which centres on improving the lives of people in Wales, elevating the importance of preventative health and diagnostics and integrating innovation to get diagnosis and treatment right first time. 
As part of Life Sciences Hub Wales precision medicine remit, we focus on how we can embed advanced therapies into healthcare systems. Advanced therapies use cutting-edge technologies to target disease at a genetic or molecular level, often derived from or based on the patient's own cells. They hold great promise for treating many serious diseases where there are currently no effective treatments available, such as some cancers, heart disease, allergic conditions, and neurological disorders.  
Most exciting is the potential overlap between precision medicine and innovation across life sciences. Developments in nanomedicine, nanotechnology, and artificial intelligence-driven data analysis are leading to the next generation of health monitoring and remote diagnostic devices for many health conditions. NHS England's precision medicine plan ('Improving outcomes through personalised medicine') outlines patient participation as key to personalised treatments. For example, lifestyle data gathered from wearable technologies can generate new ways of thinking about chronic disease development and treatments.  
In the long run, this will enable care closer to home, allow for real-time monitoring of health conditions, and improve healthcare access. Not only will this enhance disease management, but these new technologies also empower patients to take an active part in their treatment, supporting positive lifestyle choices that have the potential to reduce dependency on health and social care systems.  
Precision medicine: meeting unmet medical needs 
In December 2022, Welsh Government's Genomics Delivery Plan for Wales set out how the NHS can embrace genomic revolution in healthcare; for example, we've been supporting an exciting evaluation of taking liquid biopsies at an earlier stage of cancer development to inform personalised treatment and care. Not only do liquid biopsies reduce patient discomfort but could also significantly shorten routes to diagnosis and improve disease management. 
Ultimately, this can provide better outcomes for patients and reduce costs for healthcare providers. Genomics is already benefiting people in Wales, as the Wales Infants' and Children's Genome Service (WINGS) being the first service in the UK to provide standard of care rapid whole genome sequencing for acutely unwell children with a likely underlying genetic cause. 
Precision medicine is revolutionising the way we treat diseases by giving patients access to personalised treatments that provide better outcomes. These developments are paving the way for a brighter future in healthcare - one that will extend lives and improve quality of life for countless individuals across the nation. 
Our team are always looking to engage with national and international organisations working in precision medicine to help accelerate opportunities. If you want support for your organisation, let's start a conversation. Email hello@lshubwales.com to find out how we can help you.