Life Sciences Hub Wales
State-of-the-art surgical robots will soon be helping to treat colorectal and gynaecological cancer patients across the Cwm Taf Morgannwg area as part of the All-Wales National Robotic Assisted Surgery Programme.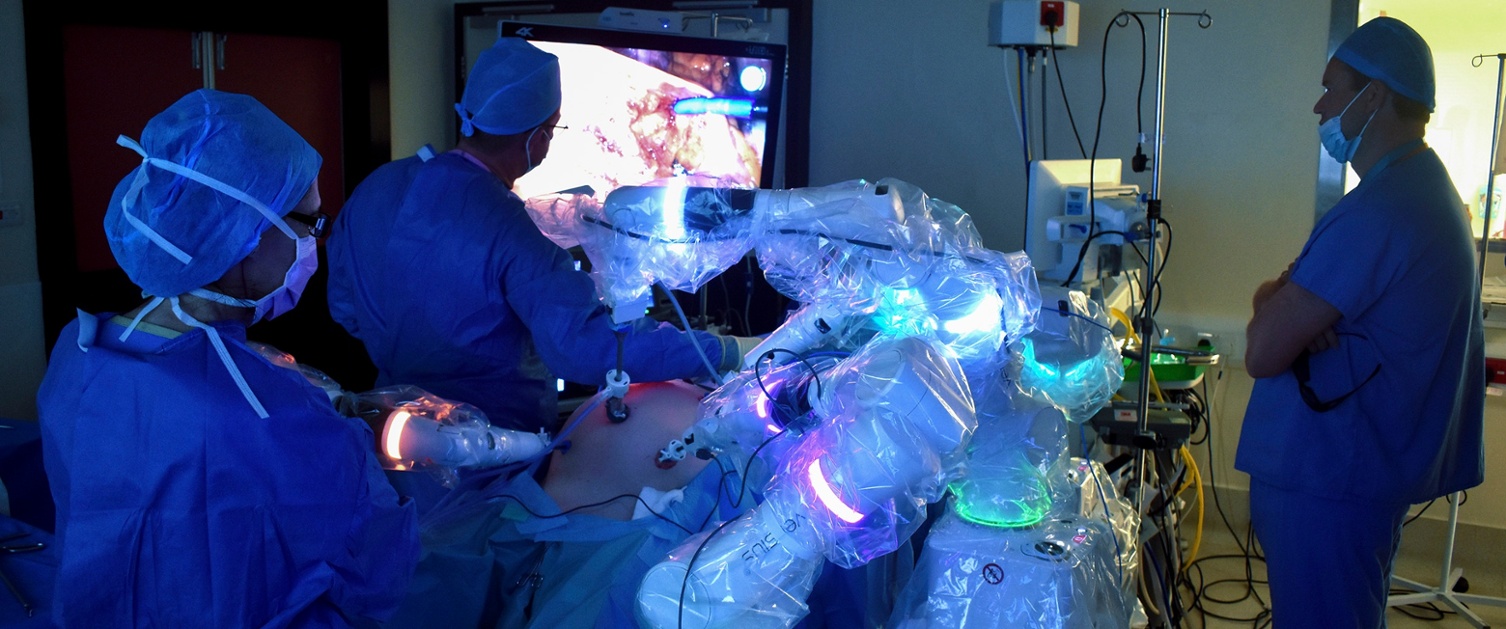 The Health Board is now part of the programme, which improves outcomes for cancer patients by increasing the number of patients across Wales able to receive less-invasive, minimal access surgery. This offers well-recognised benefits to the patients when compared to open surgery, including reduced pain, scarring and recovery time. It also supports surgeons by allowing them to stand in a comfortable position during surgery to reduce stress and fatigue. 
In the long term, the programme is also helping to deliver major jobs benefits to Wales. It's starting to bring new training and recruitment opportunities here, as specialist staff are welcomed to learn and practice. 
The programme is supported across Wales by £4.6m in Welsh Government funding and has been developed by Health Boards, Life Sciences Hub Wales and the Moondance Cancer Initiative. 
Industry partner CMR Surgical's Versius robot enables surgeons to perform complex procedures precisely and accurately, with the surgeon operating four robotic arms from an independent, open console. 
Consultant surgeon Paul Blake who is the clinical lead for the programme at CTM said: 
"This is a fantastic and very exciting opportunity to provide the most modern and advanced minimal access surgery to the people living within Cwm Taf Morgannwg University Health Board region. 

"Robotic surgery will allow us surgeons to operate on our patients with even greater precision and visual acuity, thereby improving cancer outcomes while reducing post-operative pain and length of hospital stay.  

"Having robotic surgery in our Health Board will help us to attract the very best of surgical and nursing colleagues to work here with us, which again will be of enormous benefit to the patients we serve.  

"I am proud to be part of this incredible advancement and very much look forward to seeing the benefits this will bring to the people undergoing operations." 
Cwm Taf Morgannwg University Health Board joins Cardiff and Vale and Betsi Cadwaladr University Health Boards who, as part of the programme, have been using robotics to treat colorectal and gynaecological cancer patients over the last year.  
Lead clinician for the national programme Jared Torkington said: 
"Wales is progressing towards a unified robotic programme across all its hospitals to provide the highest possible standard of surgical care and to attract and retain the best people to work in the NHS in Wales. This announcement is great news for the staff and patients of Cwm Taf Morgannwg and further strengthens the All Wales Robotic Assisted Surgery Programme." 
Life Sciences Hub Wales has played a key role during the initial phase of the programme. Efforts focused on developing the National Business Justification Case, which helped secure approval and funding from Welsh Government. 
Rhodri Griffiths, Innovation Adoption Director, said: 
"We're proud that Wales is hosting such a collaborative national programme and warmly welcome the addition of its latest partner, Cwm Taf Morgannwg University Health Board. This initiative exemplifies how multiple Health Boards and partners can come together and deliver vital benefits for patients and staff living and working across the country." 
Learn more about this pioneering programme, visit our project page.