Aimee Twinberrow, Digital Innovation Lead for Social Care Wales, explores the reality of digital exclusion across Wales. She explores what needs to happen to make sure that people in Wales can benefit from innovative digital technologies, identifying the unique challenges faced by social care, and the exciting projects taking place to build digital equality.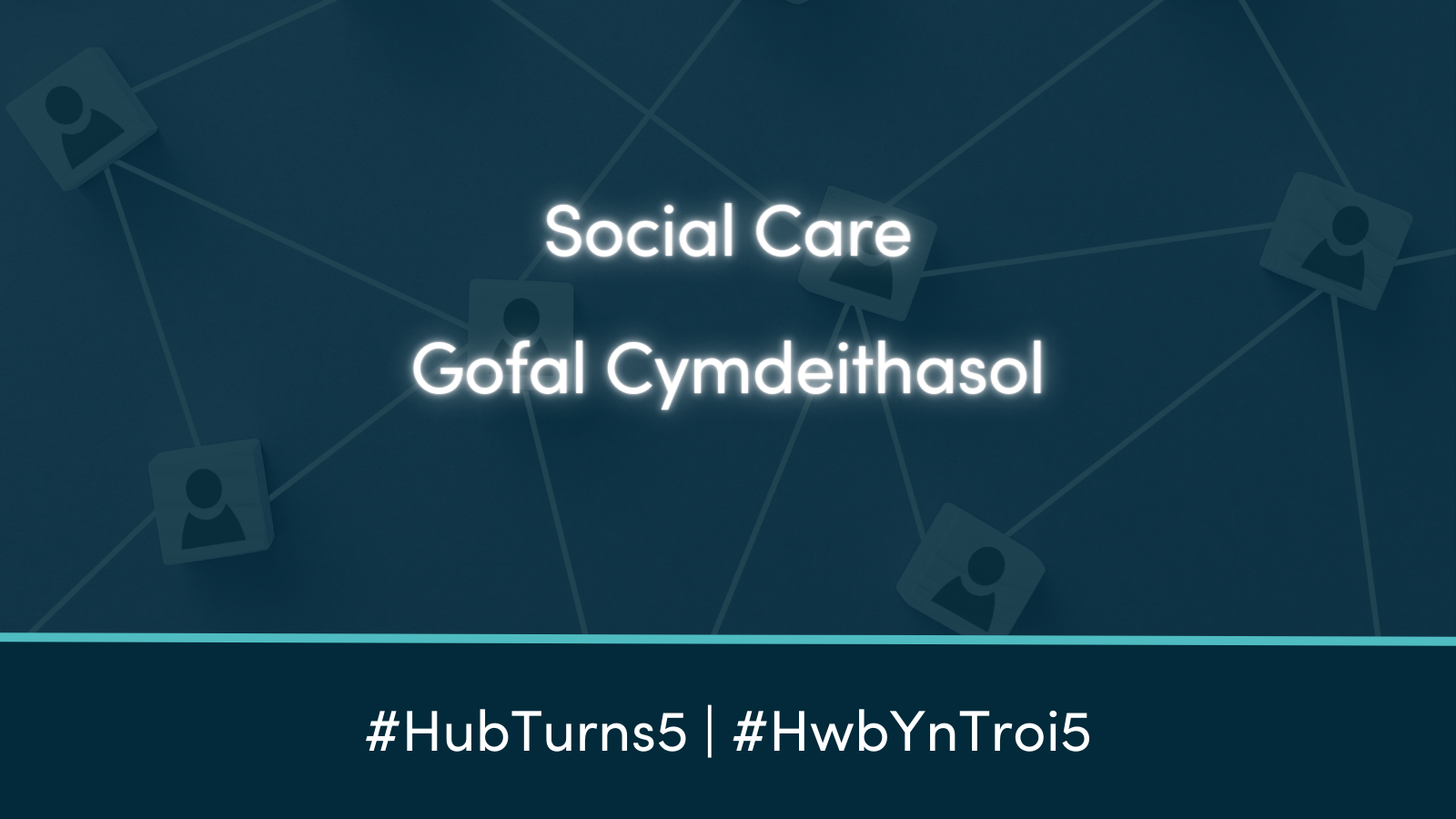 Digital innovation is gaining momentum within health and social care. Having worked on the social care front line during the Covid-19 pandemic, I witnessed first-hand the resulting rapid uptake of technologies and digital apps to support people with their health and wellbeing. For example, Torfaen County Borough Council distributed smart speaker technology to help people turn on the television and other tasks connected to smart systems. Many of us might take such technology for granted but, for those who have limited experience with digital technologies, it can life changing.  
It is undeniable that a digital future is emerging. However, to integrate new technologies effectively, we must first establish a strong foundation to build upon. It's important to discuss the key considerations we need to keep in mind to help create an inclusive system for digital innovation in social care and demonstrate what we're already doing to make this happen.  
The digital future I imagine is one that empowers staff in providing the best care and complementing existing expertise, and supporting citizens to access the right care, at the right time. 
Online or offline? The reality of Wales' digital landscape 
It's easy to take our access to the internet for granted, whether we use a smart phone, tablet, or laptop. However, this is not a shared reality for everyone across Wales. With an estimated 7% of adults currently not online, the number of individuals currently not connected to the internet in Wales are amongst the highest in the UK. As of 2019 – 2020, 40% of single pensioner households do not have internet access.  
However, contrary to popular belief, it's not just older adults that remain disconnected. People with disabilities and long-term health conditions, who are unemployed or have a lower income, whose educational attainment is lower than average, and whose first language is not English are amongst the digitally excluded. The conversation about digital health innovation needs to also consider the current cost of living crisis which places additional strain on families and communities, running the risk of increasing the amount of people who are digitally disconnected. Regardless of socioeconomic status, health, age, or disability, everyone deserves the opportunity to be digitally included to access the right services at the right time, should they need to do so. 
 The unique challenges faced by social care in Wales 
Our social care staff work hard to make sure that people across Wales are represented, cared for, and empowered to live their lives to the best of their capacity. However, implementing new technologies can come with unique challenges. The social care system is highly nuanced. What works well in one area may be more challenging to implement in others, even down what some may consider basic technologies such as WiFi. 
For instance, care homes in rural areas are likely to be disadvantaged from slower connectivity speeds, placing barriers to adopting innovation that relies on internet connection to deliver data efficiently. Fortunately, digital connectivity in care homes is improving, and Welsh Government's Digital Standard for Care Homes document outlines the expected connectivity standards for care homes in Wales. 
However, we need to consider other challenges that are more difficult to quantify. Staff skills, capacity to quickly integrate new technologies, and time limitations can make it difficult to integrate new technologies. 
This is where it is pivotal to maintain an open dialogue with social care staff, collaborating with them from innovation adoption to implementation, and beyond. Their insight is invaluable to the innovation pathway as they directly experience the challenges faced by people who interact with social care services. Listening to them means we can drive innovation to where it' is most needed, delivering results, and ensuring that it's a sure help for our frontline services. 
Challenges are the foundation of opportunity, collaboration, and success 
Challenges are fertile ground for opportunities to flourish. Despite the complex issues we face, several organisations are partnering to find solutions. Together, we're discovering new ways of working together to build a digitally inclusive Wales.  
Creating a nation that is digitally inclusive requires an integrated approach that equips people with the skills and access needed to engage with the digital world and consequently any innovation in social care. This is done in Wales through Digital Communities Wales (DCW), a programme funded by Welsh Government and delivered by Cwmpas, which forms part of a wider digital inclusion strategy 
It works with organisations to help them embed digital inclusion and empower people through increasing digital skills. Between 2019 – 2022, DCW has: 
Supported 76,986 people cultivate basic digital skills 
Helped 4377 health and social care (public, private, and third sector) staff to become digitally confident 
Engaged with 1648 organisations 
Trained 2160 volunteers to provide digital support to people in Wales.  
We know that social care services are keen to use data and innovation effectively to improve care, planning, allocation of resources, and collaboration between teams. This ambition is highlighted in Social Care Wales and Health Education Improvement Cymru's 'A Healthier Wales: A workforce strategy for health and social care, delivery plan 2022 to 2023.' 
The policy aims to ensure that digital innovation can thrive in social care. This makes it an invaluable step forward to upskill our staff and care for the people across Wales who would most benefit from new technologies.
One step at a time: Forming the pathway into a digitally inclusive future together 
My work with Social Care Wales involves assessing where we are to understand where we can go next with digital innovation. We're looking at existing structures that support digital innovation in Wales and where further support is necessary to help staff in adopting new technologies. We want to nurture a culture that encourages and supports the use of digital innovation, as well as providing them the means to use the innovation (internet connection, access to equipment, etc.)  
Social Care Wales is starting to work with partners to progress the digital inclusion agenda, first by producing a baseline assessment of digital inclusion in the sector, and then a programme of work to support inclusion. Working with Life Sciences Hub Wales will be integral to giving support to social care in Wales with identifying dynamic digital innovation and helping the wider adoption of proven technologies.
As part of my role, Life Sciences Hub Wales will be a key partner with their steadfast commitment to driving innovation to the social care frontline, already evidenced through supporting digital projects in Bridgend and Gwent care homes, and backed up by their vast experience and expertise to guide the journey from beginning to end. 
Innovation will continue, and it's an exciting time to be involved and see the life changing impact. However, we're also mindful of getting the basics right so that digital inclusion is a golden thread, anchored into a strong understanding of needs, and woven throughout the services we provide for the people of Wales.  
We're starting to build this strong foundation, and I've no doubt that a thriving digital future awaits social care. The future is now – let's work together to make it happen.  
If you work in social care and have identified a challenge that calls for an innovative solution, let's talk. To start the conversation, please complete our innovation enquiry form and see what we can achieve together. 
---
About Aimee:
With 15 years in various social care roles, Aimee has encountered transformative experiences that have broadened her perspective on life. As a qualified Social Worker, she has gained valuable insight into the necessity for innovative approaches to support people who use social care services, and the people who deliver them.
As Digital Innovation Lead for Social Care Wales, she has the crucial role of shaping the organisation's approach to digital innovation. Her responsibilities include offering expertise and guidance, compiling and sharing evidence on digital approaches, and actively seeking opportunities to enhance support for digital innovation. Aimee believes that learning from the past, acknowledging the present, and continuously striving for better outcomes in the future will be key in unlocking the full potential of digital innovation in social care.