Wales is an ideal location for developing and applying life science innovation in health and social care, with many ground-breaking companies choosing to do business here. This includes Halo Therapeutics who are beginning clinical trials for a simple nasal spray therapeutic treatment for coronaviruses.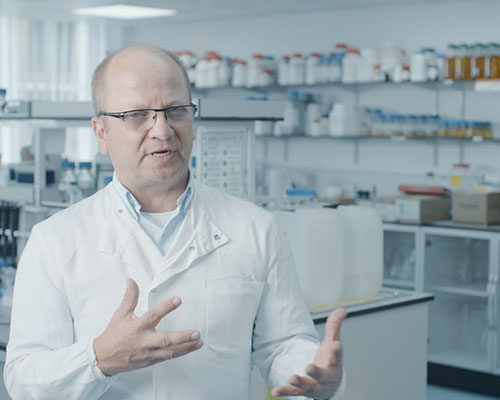 The impact of Covid-19 on health, economy and wellbeing highlights the importance of future pandemic preparedness. Caerphilly-based Halo Therapeutics' novel antiviral nasal spray, which has recently received £1.5 million investment, could play an important role in this. 
Halo Therapeutics was founded in 2021 after scientists from the University of Bristol discovered a molecule known as linoleic acid could prevent or limit SARS-CoV-2 viral infection. However, it's effective for treating not only mutations of Covid-19, but also SARS, MERS and other coronaviruses. 
The Bristol team discovered that linoleic acid works by binding into a small pocket of virus spike proteins, which can be found cross most infectious coronaviruses. Once bound, the shape of the virus changes and prevents it from binding to, entering and multiplying within cells found in the nose where the virus enters the body. This in turn limits spread of the virus within the throat and/or lungs. 
Linoleic acid belongs to a class of molecules called Free Fatty Acids (FFAs). FFAs are already well known in pharmacology and used in the treatments for other respiratory diseases, such as an additive in asthma pumps. This means FFAs have already been tested in numerous clinical trials and are considered safe. However, it's the first time the molecule has been used as the main active ingredient  of a therapeutic, so it's now entering human clinical trials for safety and tolerability prior to subsequent studies on Covid-19 patients or those at risk of becoming Covid-19 positive. 
Halo Therapeutics are taking these exciting steps forward from their new base in Caerphilly. Life Sciences Hub Wales supported this by coordinating discussions with key stakeholders to provide location options and contacts within Wales. 
Halo Therapeutics is working closely with the Development Bank of Wales, who are the lead investor and providing expert guidance and knowledge into the financial innovation landscape. 
Professor Imre Berger, Co-Founder of Halo Therapeutics, commented on the strength of the Welsh innovation ecosystem: 
"Wales is an ideal location for us to do business. We've been well supported by the Development Bank of Wales and are delighted with the direction we're going in. Everything in Wales is closely knit, where there's excellent collaboration and shorter distances between partners, and we're really grateful for the support from Life Sciences Hub Wales for connecting us up with key stakeholders. It's also home to some fantastic companies undertaking ground-breaking work relevant to our own organisation such as CatSci, a Cardiff-based Contract Research Organisation." 
"Our therapeutic is a potential game-changer for tackling new strains of Covid-19 and other coronaviruses, and could be a critical tool in an arsenal in preparing against future pandemics. We're really excited about our product and the impact it could have, and look forward to seeing how our journey progresses." 
Halo Therapeutics have now closed Seed B fundraising to enter clinical trials, following a £1.5 million investment led by the Development Bank of Wales alongside Science Angel Syndicate (SAS) members and the KBA Group, a grouping of high net-worth individuals with expertise in respiratory diseases. 
To find out more about Halo Therapeutics, please visit their website.