Public
We recently hosted the Advanced Therapy Medicinal Products Symposium, which took place on the 16 June, where we explored how the NHS can help shape the delivery of these therapeutics in Wales. Read on for a summary of the insightful talks delivered by key decision makers across the day.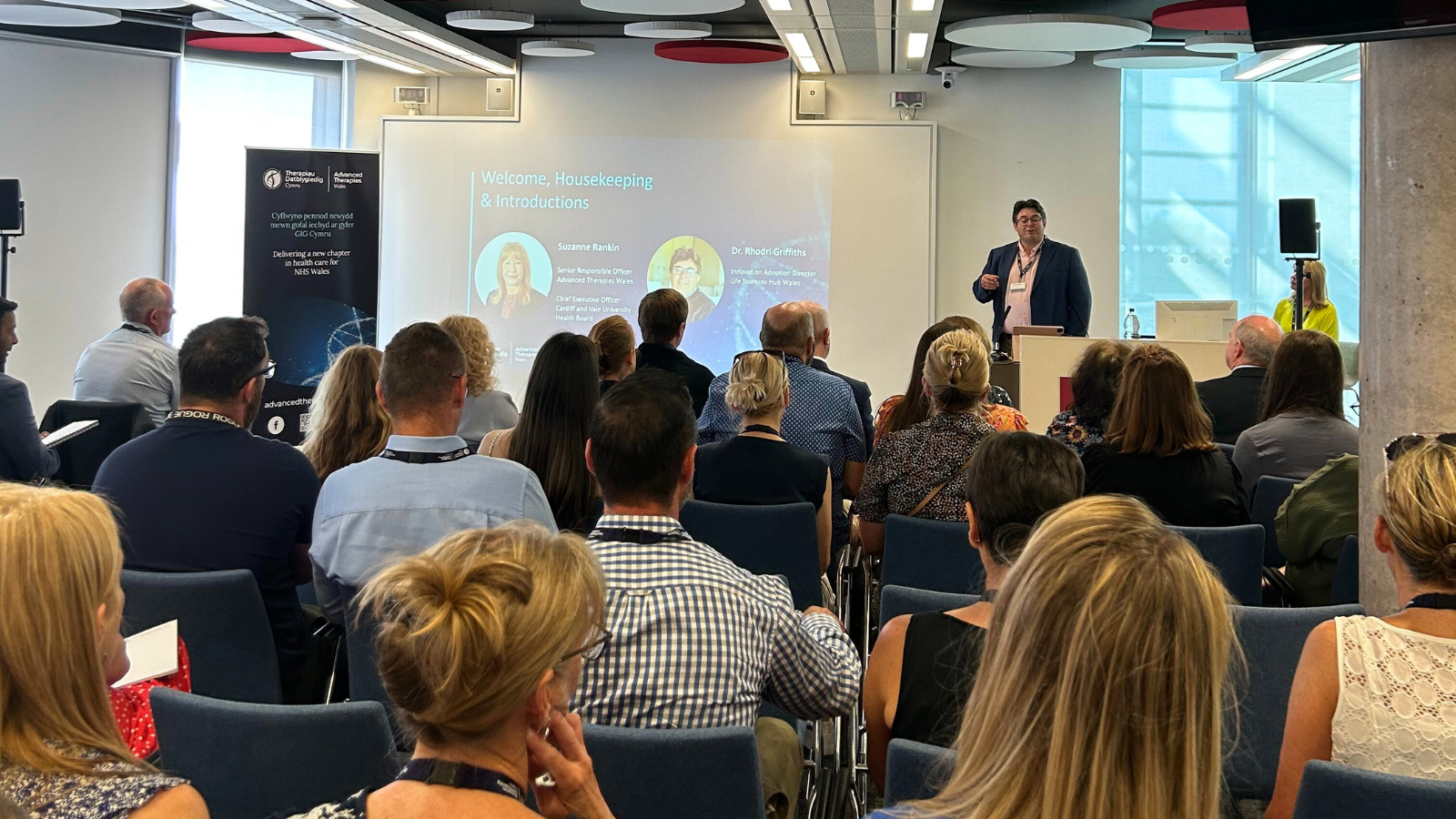 Advanced therapies have the potential to transform healthcare as we know it. By repairing, replacing or re-engineering cells or genetic material we could improve outcomes or even cure patients where other treatment options are currently limited, or simply do not exist. Using these novel therapies to treat patients is becoming a reality, with dozens of Advanced Therapy Medicinal Products (ATMPs) approved or expected to gain approval this year in Europe. 
The day-long event welcomed people from across healthcare to hear from sector leaders. Speakers provided an overview of this emerging landscape and what needs to be done in Wales to shape a delivery plan. 
What happened throughout the day? 
Opening session 
The event was chaired by Suzanne Rankin, Chief Executive Officer of Cardiff and Vale Health Board, who is also the Senior Responsible Officer (SRO) for both the Advanced Therapies Wales and the Genomics Partnership Wales programmes. She opened the day and gave the first talk alongside our Innovation Adoption Director, Rhodri Griffiths. 
Suzanne highlighted the importance of large-scale collaboration beyond initial Welsh Government support, with Rhodri also highlighting the need for a whole system approach across the NHS. Everyone from estates to digital and procurement need to help clinical teams with workforce and system redesign. 
Providing a government perspective 
Professor Chris Jones, Deputy Chief Medical Officer for Welsh Government noted that these types of implementation discussions were an important step on the advanced therapies journey in Wales. In 2017, Welsh Government established the Cell and Gene Therapy Special Interest Group at Life Sciences Hub Wales, which subsequently led to the 2019 Welsh Government Statement of Intent for Advanced Therapies. 
He then spoke on where we are currently in the advanced therapies adoption journey. The existing Bone Marrow Transplant Unit at Cardiff and Vale University Health Board was a key highlight, which has treated dozens of patients since 2019. Here, they have developed knowledge and skills that will be important in the delivery of these therapies across the wide range of clinical indications in the pipeline. 
The challenges of delivering advanced therapeutics into the NHS 
Professor Fiona Thistlethwaite, Medical Oncology Consultant at The Christie NHS Foundation Trust, delivered the next session exploring hurdles faced on the path to adoption. 
This included the changing landscape around ACT trials, which have faced a multitude of challenges including increased regulation, safety precaution and reduced clinical capacity. 
Like other speakers, she emphasised the importance of collaboration, as well as sharing expertise and learnings to overcome issues, especially due to the complex nature of advanced therapies around procurement, manufacture and delivery.  
Delivering advanced therapies to the brain 
Professor Liam Grey delivered a session on the applications of advanced therapies in neurology through the Brain Repair and Intracranial Neurotherapeutics (BRAIN) Unit in Wales, of which he is the Director. 
He spoke about BRAIN's research and development into using advanced therapies to treat Huntington's Disease, which is caused by a single gene mutation. He highlighted challenges of this procedure where therapeutics are delivered directly into the brain, such as accuracy in targeting areas of the brain and difficulties in the process of injection. However, they're refining their technologies and processes to help overcome this. 
Liam also highlighted why Wales is a place of choice for advanced therapies innovation, with the fantastic neuroscience research and institutions being a strong draw.  
Horizon scanning 
Next up was John Spoors, Head of Commercial Medicines Policy Analysis at NHS England exploring advanced therapies horizon scanning. 
He spoke on the need for enhanced horizon scanning including scoping, desk research, clinical engagement, thematic analysis and reporting. Also, on the importance of primary research with input from clinical leads to understand the impact for ATMPs, specifically around product efficacy, patient uptake and care pathways. An overall key concept that was repeated throughout the day however, was that it should all come back to the patient – however exciting the technology, its impact should be seen through the lens of how it benefits those who need it most – the patients. 
Commissioning advanced therapies in Wales  
Andrew Champion, Assistant Director at the Welsh Health Specialised Services Committee (WHSSC), highlighted the role of his organisation, which commissions services for rare and complex conditions in Wales. 
He gave the WHSSC's perspective on the growing pipeline of ATMPs and how it's impacting commissioning. He highlighted the importance of horizon scanning and spoke about WHSSC's involvement in the adoption of CAR-T therapies into Wales. He also mentioned their upcoming plans for a new value-based health care (VBHC) outcomes programme to support the routine collection of ATMP outcome data across Wales, which aims to support sustainable adoption of these therapies. 
Working in collaboration in the delivery of advanced therapies   
Owen Marks, Head of Rare Diseases for Pfizer in the UK, discussed the impact of the Association of the British Pharmaceutical Industry's (ABPI) dedicated project team for ATMPs. Their work focuses on leadership in ATMPs, innovative payment models, raising awareness and understanding, and continued collaboration. 
He also spoke about the need to evolve how NICE assesses new technologies to ensure it addresses issues around ATMP uncertainty and captures the value they deliver. New reimbursement models could also allow sustainable commercial access agreements for the NHS and industry​. 
Re-dosable gene therapies 
Rui Sousa, VP of European Medical Affairs at Krystal Biotech, gave an overview of their gene therapy product, a topical, re-dosable treatment for Dystrophic Epidermolysis Bullosa (DEB), a devastating rare skin disorder. This therapy has recently gained FDA approval for use in the US, but has not yet been approved by any other regulatory bodies. 
Rui highlighted the diverse nature of the therapies in the development pipeline and showcased that not all ATMPs are a one stop shop with tertiary care requirements. He sparked excitement in the room by painting a picture of a future where ATMPs could be administered in the comfort a patient's home by a clinical professional due to being topical. This exemplifies just how 'everyday' ATMPs could one day become. 
Using gene therapy to treat haemophilia 
Next up was Sujan Sivasubramaniyam, Head of Medical Affairs and Patient Advocacy at UK & Ireland​ CSL Behring. His talk examined the considerations in using gene therapy to treat Haemophilia B, which is currently undergoing it's appraisal by NICE. Here, a single dose can offer sustained activity to stop bleeding and improve quality of life.  
He highlighted the importance of multidisciplinary teams to support patient management. Psychological support is a key component for a patient undergoing gene therapy, meaning more than just clinicians are needed. He also stressed the importance of collecting long-term data to understand the impact of gene therapy and its efficacy over longer periods of time.  
The public voice and ATMPs 
Samantha Barber, Chief Executive of Gene People discussed the importance of the patient voice with respect to gene therapy, emphasising how crucial lived experience from both the patients and their families is within the decision making process. ATMPs could potentially transform the lives of peoples with rare diseases, 95% of which currently don't have treatment. 
She spoke about how patient organisations can be change makers in progressing the research and development of ATMPs. Groups such as FOP Friends, Tuberous Sclerosis Association and The Batten Disease Family Association were all highlighted as examples of this. 
Closing session 
Suzanne Rankin finished up the day of talks with feedback and reflections from attendees. The breadth of talks reflected the multidisciplinary nature of advanced therapies innovation and highlighted the need for continued cross-sector collaboration. 
Other key themes from across the day were the need for data collection and using a whole-system approach. A lot has been achieved but there is still so much more to come, which could help deliver transformative outcomes for people in Wales. 
Do you work in advanced therapies innovation and need support in propelling these transformative treatments to the health and social care frontline? Get in touch with Life Sciences Hub Wales to see how we can support you by emailing hello@lshubwales.com.