Last week our team travelled to Liverpool, flying the flag for Wales at this year's NHS ConfedExpo. Here, I was delighted to give a talk at the AHSN Innovation Stand, providing a Welsh perspective on innovation in health and social care.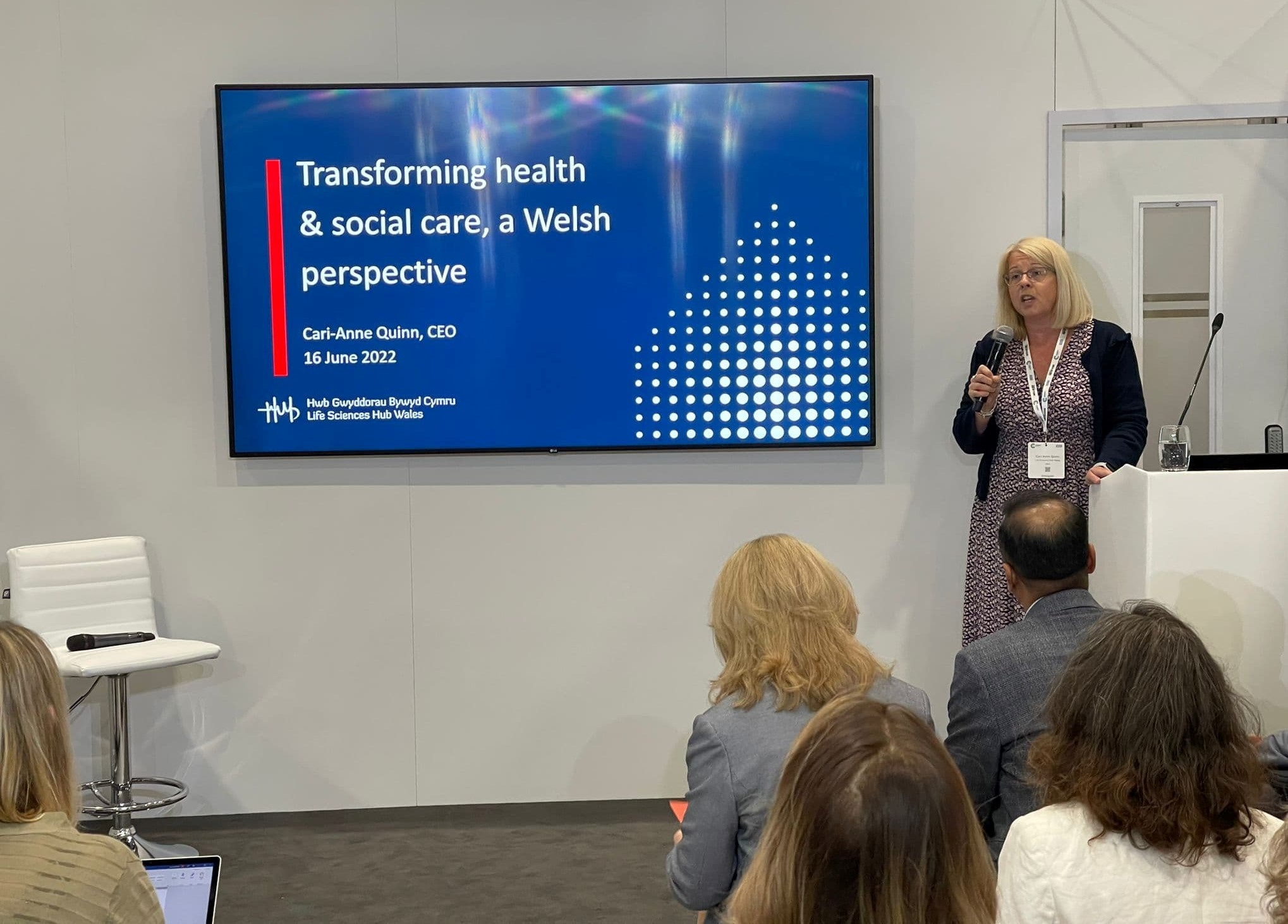 Whilst we were there, we also got to hear from leaders working at the forefront of healthcare and understand more about their priorities and challenges, alongside having the face-to-face opportunity to foster new connections and strengthen old ones. The range of workshops, presentations and networking opportunities demonstrated the diverse innovations that are currently being developed, trialled and adopted in across health and social care.  
The event certainly provided us with some key take home thoughts and messages, which will help us to shape our strategies on engaging with industry and supporting health and social care systems in Wales. 
The importance of patient experience 
Our organisation has long focussed on putting patient outcomes and experiences at the forefront of healthcare innovation. Many of our projects and wider transformation strategy have a Value-Based Health Care focus – something that has been prioritised in Wales through collaboration between organisations like Pfizer and Swansea University.  
It was fantastic to see this need to focus on patient outcomes highlighted across talks and conversations throughout the conference. Creating a healthcare system that reflects this not only improves patient experience but can also help providers to provide services more cost-effectively and sustainably. Indeed, the Chief Executive Officer of the NHS, Amanda Pritchard, discussed the importance of asking "what matters to you, rather than what's the matter with you." 
We need to create a more sustainable system 
The importance of creating a greener healthcare system cropped up across many conversations and presentations. As the fifth largest contributor to climate change, the global healthcare sector certainly has a role to play in reducing its impact. 
This was highlighted across the agenda with talks such the AHSN Network's "Sustainability in health and care" session. This explored how we can get green projects off the ground and tangibly get healthcare to reduce its carbon footprint, focussing on themes such as the power of staff engagement, using rigorous data management for reporting and making sustainability a primary metric in procurement. 
One of the speakers, Kathy Scott, Director of Operations and Deputy CEO - Yorkshire & Humber AHSN, has recently featured on our Healthy Thinking podcast further exploring this topic if you would like to hear more about it. 
Harnessing the power of digital technology 
Digital innovation is one way that we can reduce our carbon footprint. The initial and long-term Covid-19 response has helped our health and social care services to deliver remote services and avoid patients and staff travelling.  
The conference highlighted this, and other ways that digital innovation can support system-wide transformation. We heard how the Population and Person Insight (PaPI) dashboard uses pioneering population segmentation data analysis to help drive forward a preventative healthcare approach by developing new models of care, better understanding co-morbidities and supporting resource pressures through forecasting and planning.  
Another example was the collaboration between Novartis, Cievert and an English NHS trust that uses a patient management system to address backlog issues through rapid assessment and prioritisation. Here, we were lucky enough to hear first-hand from an ophthalmology patient about the positive impact it has had on their life, as they had been able to make more informed decisions around their own care choices. 
People want to innovate in Wales 
We were thrilled with the AHSN Network's invitation to exhibit at their Innovation Zone and deliver a talk on the health and social care landscape in Wales. There are a whole host of reasons why innovating in Wales is desirable: our joined-up healthcare system, life sciences research strength and population size are just a few. 
I was delighted to present our talk to a full room of delegates who were all interested in finding out more about these strengths and opportunities. This presentation and the networking our team did around the exhibition floor demonstrated just how many people are interested in getting their innovations into Welsh health boards and local authorities. We look forward to following up these conversations and supporting them on their journey to innovate in Wales. 
Doing things differently 
Throughout the conference, no-one shied away from talking about the challenges that our healthcare systems face. This was highlighted by Matthew Taylor, Chief Executive Officer of NHS Confed, in his keynote speech, who spoke of the importance of continuing to publicly recognise and accept that such pressures are present. 
Both Matthew Taylor and Amanda Pritchard discussed the importance of tackling inequalities and the intrinsic link between health and wealth – demonstrating why whole-system transformation and the integration of services, systems and policies that go beyond health is so critical. 
The power of innovation when adopted at a system-wide level was highlighted throughout the conference as way to encourage large-scale transformation. It was encouraging and inspiring to hear about all the fantastic solutions that are being presented to help us achieve this. 
Our own organisation is on hand to help health and social care systems in Wales in delivering this bold vision. We can also support industry with the development and adoption of their innovation in our health and social care sectors in Wales. 
If you didn't meet us at NHS ConfedExpo and want to learn more about how we can support you, then please get in touch by emailing hello@lshubwales.com.