Life Sciences Hub Wales
It's been half a decade since we transformed our organisation into a dynamic interface dedicated to propelling the delivery of life science innovation to health and social care's frontline. These past five years have been incredibly fulfilling, and I'd like to take this opportunity to share some of my reflections from our journey so far, as well as our aspirations for the future...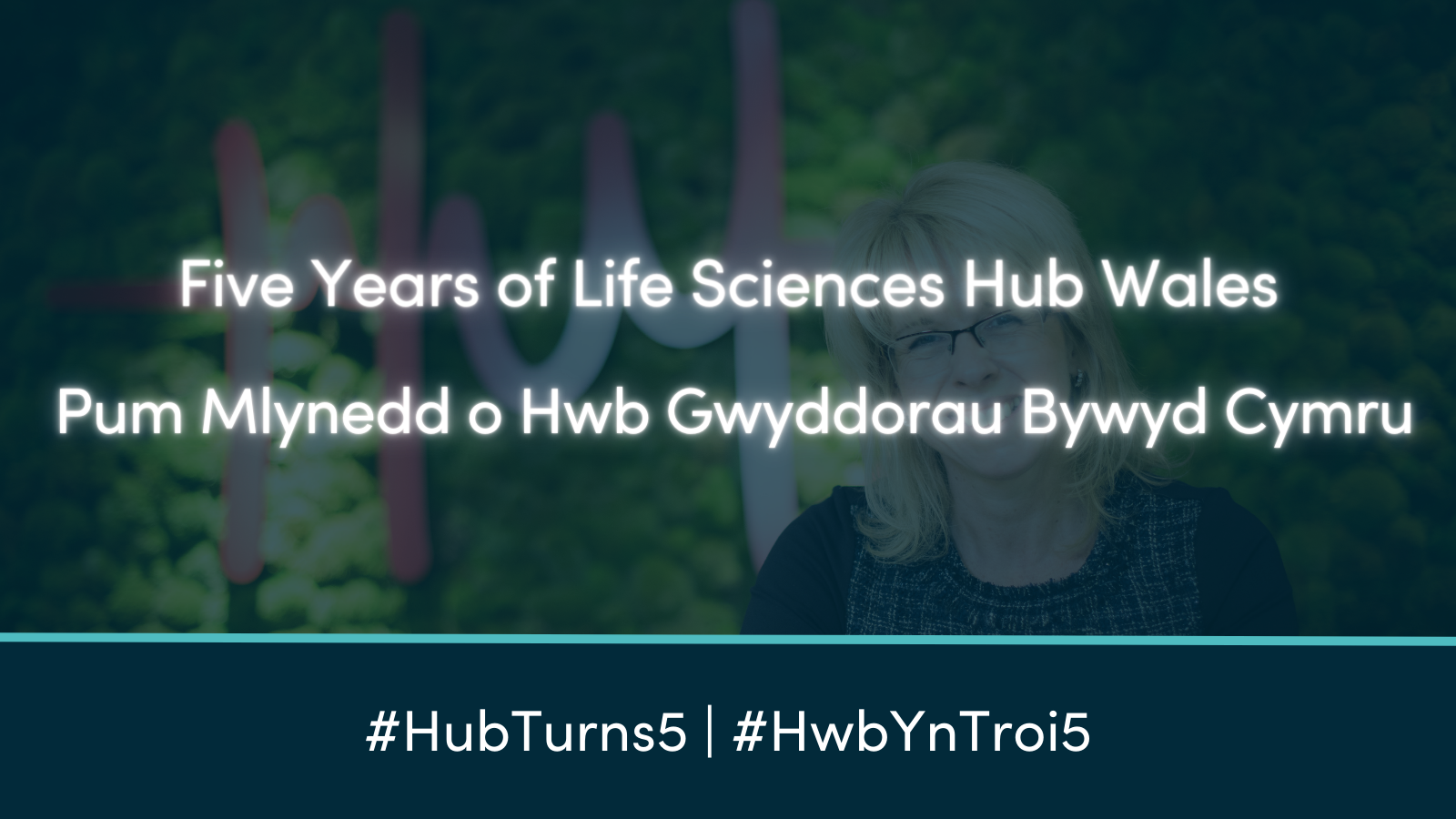 July has seen us getting balloons and streamers out to celebrate our fifth birthday! It's been a real privilege to be at the helm of the organisation over this time, where we've helped generate a whopping 1,207 jobs, supported over 1,419 organisations and increased GVA by over £58,513,500. 
One of the most remarkable aspects has been collaborating with so many diverse partners across the fields of health, social care, industry and academia. Our purpose is to provide support, but it's your resourcefulness, commitment and perseverance that have led to numerous crucial innovations that enhance patient and service user outcomes, foster efficiency, and stimulate economic progress. I'd like to express my deepest gratitude to each and every one of you.
The story so far
So much has changed since 2018. Take precision medicine as an example. Using a patient's unique genetic makeup allows us to create targeted therapies to improve existing disease treatments or even conditions that have been untreatable until now. 
We see this as a non-negotiable part of the future of healthcare, which our Head of Economic Development, Gareth Healey explores more in our fifth birthday blog focusing on precision medicine.  
In 2018, getting this type of technology into our NHS was still in the early stages. Just a year prior, Welsh Government established the Cell and Gene Therapy Special Interest Group through our organisation, subsequently leading to the Statement of Intent for Advanced Therapies. Since then, NHS Wales has started using CAR-T therapy treatments for blood cancer patients and began a large-scale evaluation of using genomics to detect cancer quicker.  
Digital innovation adoption has also exponentially accelerated. In 2018, almost all healthcare interactions in Wales were face to face. However, as an indirect impact of the Covid-19 we've seen the rise of digital technology to access services. This includes remote monitoring; where we supported a number of projects through initiatives like the Digital Solutions Fund to make care closer to home – including one for patients with heart failure and another to assess wounds in the community. We've also seen incredible advances in cancer treatment through digital innovation, where Wales has played to its strengths by launching the world's first national programme for robotic assisted surgery. 
Acknowledging the significance of Covid-19 is essential. The term "unprecedented" was frequently used to describe the situation, as every individual worldwide had to adapt and react to the pandemic in an unprecedented manner. And innovation played a vital role in this. From vaccines to rapid testing kits to the digital transformation discussed above, it was a guiding light in navigating us through the pandemic. As of course were our key workers, which included health and social care staff, working tirelessly to continue delivering services to the people of Wales; thank you. 
During this time, we were appointed as the single point of contact for companies seeking to provide certified PPE and other essential supplies. Witnessing the remarkable adaptability of companies, such as Transcend Packaging, as they redirected their resources towards addressing significant unmet needs, was truly inspiring.
Where we're going next
From pioneering new techniques to address major unmet needs to simply keeping people better connected through digital innovation, we've seen how much has changed in the past five years. It's exciting to ponder where we're going in the next five years… 
We appreciate that our health and social care systems are facing a range of pressures that cannot be ignored. A backlog of people needing care, the population living longer with co-morbidities and economic and resource constraints are all having an impact. 
Innovation holds the key to helping transform health and social care to address these challenges. We don't just mean supporting the adoption of new products and services that will benefit people – although this is vital. It's also all about the bigger picture and doing things differently. We can drive transformation by creating a fully integrated health and social care system that puts impetus on wellness; with teams from different sectors and backgrounds working holistically together.  
Wales has long led the way in encouraging a more joined up system and it's really heartening to see how our nation is continuing to drive and build upon this, as exemplified in strategies such as the Programme for Government. 
However, we should consider that each of these environments has unique cultures and ways of working. Aimee Twinberrow, Digital Innovation Lead at Social Care Wales, explores the reality of digital exclusion in social care innovation in Wales in a fascinating recent blog. 
A major focus for us is prevention. Empowering people to live healthier, happier and longer lives will not only improve their outcomes, but also support our health and social care systems in the long term. We're also encouraging care closer to home, where innovation means people can receive the vital care they need in communities or in their own houses, rather than travelling to hospitals. 
At the very core, our vision is for Wales to be a place of choice of health and social care innovation and investment. And for the people living here, we want them to have access to a system fuelled by cutting-edge technologies that delivers the best care. We firmly believe that through innovation and collaboration, we can transform this vision into a tangible reality. 
We propel inspiring life science innovations into frontline use in health and social care in Wales. If you need support with this, then get in touch to see how we can help you: hello@lshubwales.com