Several care homes across Wales are trialling PainChek's innovative AI pain assessment app which uses facial analysis technology and non-facial indicators to assess pain in people with limited communicative abilities. The first evaluation identifies key challenges that are steppingstones toward new solutions and improving processes in preparation for further rollout.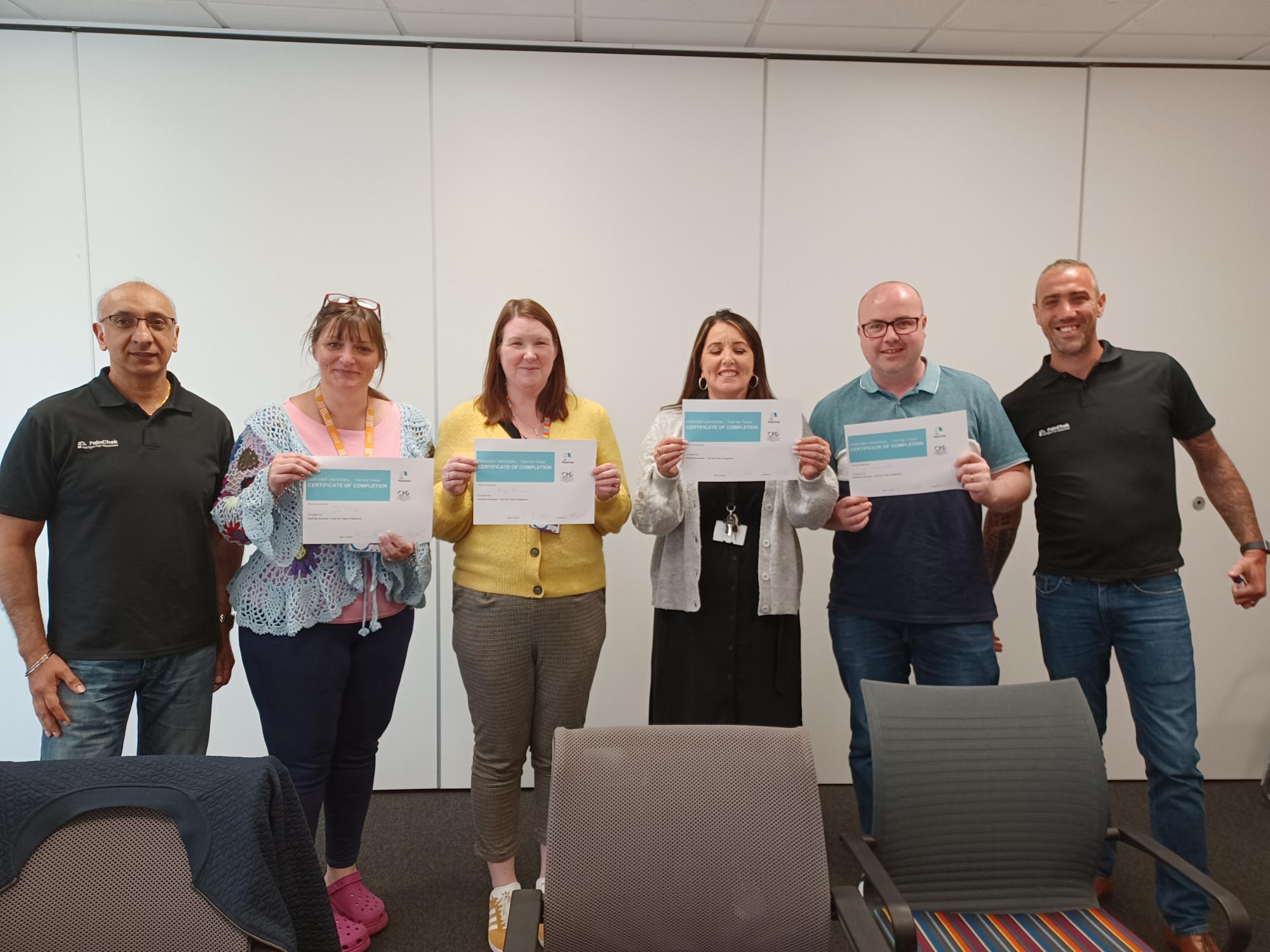 With increasing interest in using digital technologies in health and social care, supporting this implementation is critical to success. The journey of adopting new technologies involves understanding key challenges and using them as opportunities to adapt, learn, and move forward.
This 12-month pilot, funded by the Gwent Regional Partnership Board through the Technology Enabled Care fund, trials an artificial intelligence application that provides baseline pain assessments. The app, provided by PainChek, uses facial analysis technology, voice, and other non-facial indicators to assess pain in people with limited or no communicative ability and aims to create a more accurate understanding of pain to tailor appropriate pain management. A variety of local authority and privately owned care homes across Gwent are using PainChek, with Life Sciences Hub Wales supporting access to funding, collaboration between health boards, and providing project management.
The first evaluation, conducted in March 2023, identifies some challenges of early implementation, including hesitation around digital and AI technology being a replacement for existing skillsets. However, promising opportunities for developing training in accordance with findings is starting to roll out, with emphasis placed on the technology as an additional tool, complementing expertise and benefitting residents who require the technology most as opposed to replacing valuable clinical experience.
Key learnings include how implementing digital technologies like PainChek can free up time for clinical staff. This allows them to divert their time to other important responsibilities, such as cross-team collaboration, group decision making, and caring for those with more immediate needs.
With 775 assessments completed, 289 residents assessed, and 10 care homes taking part, frontline social care staff report positively on the ease of use of the technology, with early feedback centring on medication adjustment because of the app assessment, proving to be beneficial for residents and services. This feedback provides positive sentiment for the future of potentially promising results as the evaluation continues.
Cwm Celyn Care Home have been part of the pilot. Leanne Smith, Manager, reflected:

"This is a tool that complements nurse discretion in administering pain relief medication, providing additional evidence of pain levels being experienced by residents. Through using the technology, we have seen residents benefit greatly and we've been able to tailor pain relief medication according to findings. Sharing our findings from the app with the GP has resulted in one resident no longer taking regular pain relief medication, whilst another resident has experienced a significant improvement on quality of life."
More care providers have signed up to the pilot, including Pobl Group who will be adopting the technology for people with additional learning needs and limited communicative abilities.
Lynne Whistance, Inclusion and Assistive Technology Officer at Pobl Group, stated:

"We're excited to take part in the pilot as part of our assistive technology journey. To have a pain assessment app for our frontline colleagues and people they support with will be a game-changer, ensuring people are offered the right interventions at the right time. Frontline colleagues are looking forward to developing a more comprehensive pain profile for individuals through using this technology."
Life Sciences Hub Wales value collaboration as an integral part of innovation adoption and the evaluation proves how vital teamwork can be in supporting frontline staff on the innovation journey. Ongoing support has been provided by Life Sciences Hub Wales, offering monthly drop-ins as a space to provide feedback, celebrate success, and voice concerns. On the ground, it will be visiting homes alongside the PainChek team, offering support, guidance, and answer queries about the technology.
Christopher Rolls, Project Lead at Life Sciences Hub Wales, said:

"The PainChek platform affords health and social care providers the ability to assess pain easily and efficiently, allowing the assessment of pain to act as the fifth primary vital sign. PainChek has provided training and support to care homes that have started using the platform. Although this pilot is still in the early stages, the results have been significant and show a profound impact on quality of life for residents. With interest growing in adopting this technology, we look forward to continuing our support of the project."
Interesting in following the innovation journey? Stay up to date by visiting the PainChek project page.