Are you attending NHS ConfedExpo? Our team is heading to Manchester for the two-day event and will be hosting an informative panel session exploring the story so far of the All-Wales National Robotics-Assisted Surgery Programme.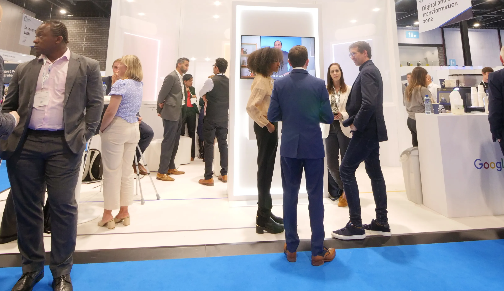 NHS ConfedExpo is undoubtedly an annual highlight for healthcare-related organisations, with over 5,000 people attending with an interest in driving transformation and change in the sector.   
This year, the event is being held in Manchester on 14 and 15 June. The agenda includes influential plenary speakers, feature zones, panel discussions, and networking sessions to equip attendees with the knowledge and tools needed to overcome key challenges facing health and social care. 
We're manning a pod in the Academy of Health Sciences Networks' Innovation Feature Zone. We'll be on hand to discuss how we can support your organisation to get innovation to the frontline, whether you're from industry, health and social care, or an academic institution. 
Our Chief Executive Officer, Cari-Anne Quinn, is also hosting a panel discussion on Thursday 15 June at 11:40 in the Innovation Zone in partnership with SBRI. This will focus on the All-Wales National Robotics Assisted Surgery Programme, highlighting how coordinated transformation and collaboration can accelerate innovation adoption, enhance patient outcomes and improve efficiencies for staff.  
Speakers sharing their unique perspectives on this ground-breaking project include: 
Jon Morgan – Programme Manager, All-Wales National Robotics Assisted Surgery Programme  

Ana Raduc - General Manager UK & Ireland, CMR Surgical   

Ken Lim - Consultant Gynaecological Cancer Surgeon, Cardiff and Vale University Health Board 
Our Chief Executive Officer, Cari-Anne Quinn, commented:
"NHS ConfedExpo is a fantastic opportunity to connect with partners old and new and explore how we can add value to each other's work. I'm really excited to be attending the conference, alongside hosting a panel discussion highlighting how Wales' agile and connected system has facilitated a pioneering cancer surgery programme. I'd welcome the opportunity to speak to anyone attending who's interested in how Life Sciences Hub Wales can support you in getting innovation to the health and social care frontline in Wales." 
If you're attending NHS ConfedExpo and would like to book a meeting with our Chief Executive Officer to discuss how we can support you, then please email hello@lshubwales.com