Life Sciences Hub Wales is committed to supporting the health and social care sector in Wales to accelerate the development and adoption of innovative solutions for better health and wellbeing
We are working with organisations to support them through the innovation cycle:
Identify - We can work with you to identify which of your future priorities objectives would benefit from a technological solution, so that innovation underpins your thinking from the start.
Connect -  We can facilitate connective, informative relationships – putting you in touch with the right people at the right time. To support this, we've established 'The Innovation Network for Health and Social Care in Wales' and host key events, like our innovation in health and care special interest groups.
Develop - We support joined up project development – developing fresh, new ideas by letting you know who and what is already out there, as well as setting industry challenges to kickstart new innovative solutions to health issues.
Support - We can provide guidance on effective, successful bid development and identify routes to funding.
Improve - We focus on continuous improvement. So, we'll always share opportunities for expert learning, developing knowledge, expertise and information – consistently reviewing how things are going.
"With services under sustained pressure, health and care innovation has never been more important. We want to collaborate with our health and social care collagues - working at pace to identify, develop and scale up innovation that makes a real difference."

Cari-Anne Quinn, CEO, Life Sciences Hub Wales
Introducing Dee Puckett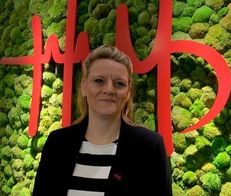 Dee is our Head of Health and Social Engagement. With over twenty years' experience across NHS Wales and the public sector in Wales, she is committed to supporting health and social care services to drive transformational change through innovation. You can find out more about Dee's role and how she can support you in this short interview. To discuss your innovation challenges and opportunities, email: Denise.puckett@lshubwales.com
Do you have an idea we can help accelerate? Find out about our Accelerate programme
Are you working in digital health? If the answer is yes, you need to join Digital Health Ecosystem Wales.
For more information, download our brochure: